Well, it was better. Despite the fact that Auburn only led by a touchdown semi-late in the 4th quarter against a team the likes of San Jose State, it was better. It was much better if you know that 5 is greater than 0. I know that 5 is greater than 0. Do you?
A week after being unable to finish multiple drives that made it all the way inside the 10-yard line, and even to the 1-yard line, Auburn scored four times in the redzone. Three of those four scores came from inside the 2-yard line. That wasn't even possible last week, either. Sounds better.
Peyton Barber ran the ball how you expect a Malzahn offense running back to run it. He has most of the season, but this really looked like it. With his five touchdowns (five more than a week ago), he was one shy of Cadillac's record of six that he set against Mississippi State back in 2013.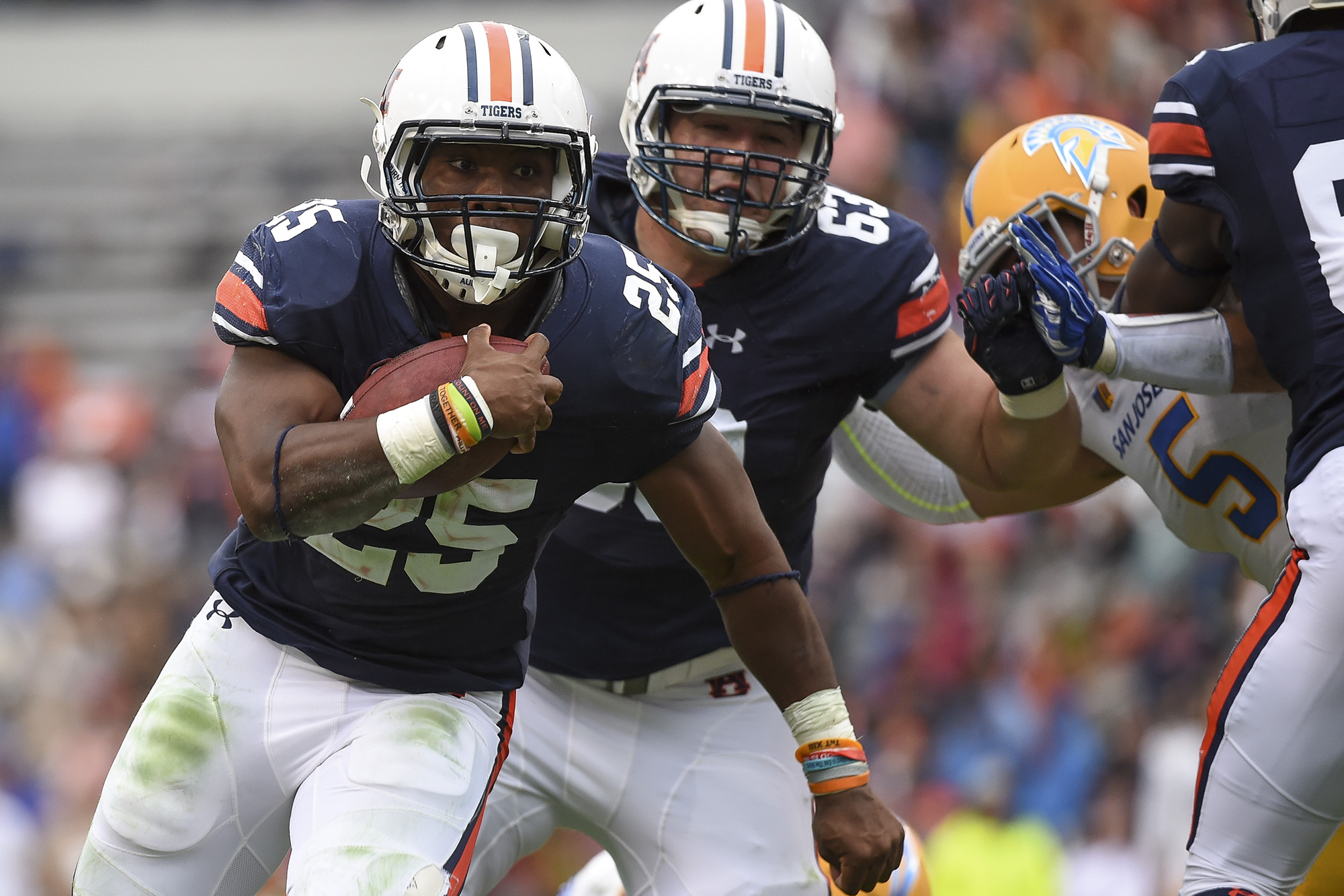 Sean White only threw the ball ten times in the whole game, and only twice in the 2nd half. He didn't have to. Did I mention Peyton Barber, and even Kerryon Johnson running the wildcat? Oh, and that wildcat, it's the first time it's really worked since, when, Kodi Burns? Whenever it was, it worked on Saturday.
It would've been good to get a big lead on the Spartans and let Sean air it out, but it just didn't happen. This new team is still learning. That being said, he did throw a nice pass to Ricardo that was acrobatically caught, and a nice ball to Jason Smith that was not. He can throw it and he will.
Now in terms of giving up yards, the Auburn defense did not appear to do any better. But guess what? They allowed less points than their offense scored. And that's all that matters.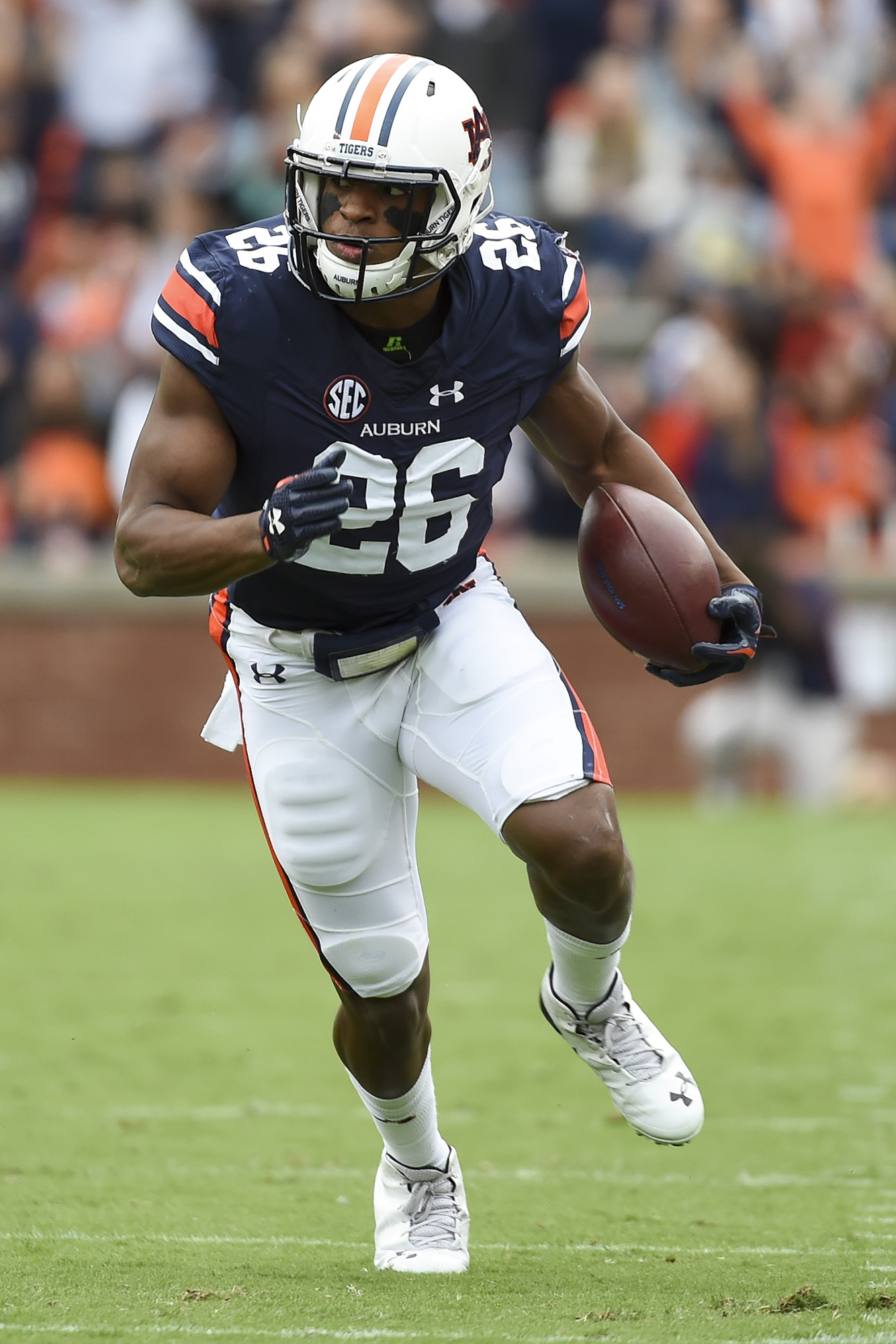 They did that with the help of four turnovers. And they were the type of turnovers that were defensively caused (That's a cool a band name. We are Defensively Caused). Balls punched out, fumbled, and recovered. Balls tipped up, intercepted, and returned. It was an opportunistic defensive performance, as they say.
Yeah, they gave up over 400 yards, but why does it matter? The other team only got in the endzone three times. The yardage numbers piled up because this defense is totally bend-but-don't-break and Al Borges's west coast offense is the ultimate dink-and-dunk. That's all it is.
Hand-off, play-action, bootleg, wide open pass to a tight end. Couldn't you just see Brandon Cox back there? That's what that offense is and does, but what it didn't do on Saturday is score that many points. Yep, just checked, and that's still all that matters.
The kick-return game was nearly immaculate. Rudy Ford and Blake Countess had multiple long returns and kept Auburn on a short field all day, which actually hurt Auburn's offensive numbers. But on the other side of special teams, let's not kick a field goal inside the 10-yard-line ever again. How about it? Auburn is 0-2 this season and both majorly killed momentum and my will to live.
It wasn't a blowout win over a team Auburn would normally blow out, but as I said last week, this is a new team. They are learning, and they learned with a win. The game was never in doubt for me. The only pessimistic thought I had was that Auburn wasn't winning by enough to look good. That's a good problem to have.
Here's to many more games of just worrying about a larger margin of victory, because as I was told last week, it didn't matter how they played, it only matters if you win.