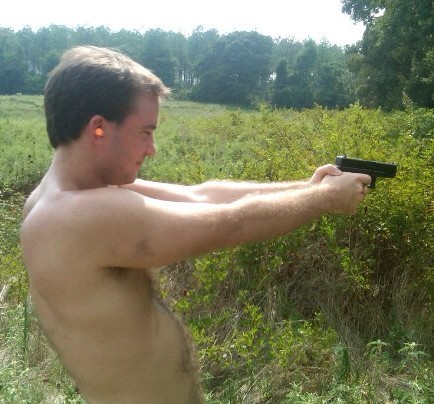 Rick Muscles (@rickmuscles) is an Alabama fan and Ole Miss season ticket holder, who is making his 5th appearance on the Other Sideline series (he claims it's 15). He has written for EDSBS, Friends of the Program, and Roll Bama Roll. In real life he's a recovering alcoholic claims adjustor who loves to lift weights and see rock concerts.

1. What is an Alabama fan's first thought of Auburn football right now?
The initial thought is luck. That's not fair, though. I'm not convinced the UGA play was luck. I blame UGA's DB coach for that debacle more than luck. There isn't a big difference between last year's SECCG and the Ricardo Louis miracle catch. Honestly, how much do you have to respect Ricardo Louis for coming down with the ball? Nobody blames him if he doesn't catch it. Instead, he showed the mental toughness of a member of SEAL Team 6 and put a bullet in UGA's head.
Based off that game, Auburn is pretty good. We know Auburn can win a tough home game. That's exactly what this Iron Bowl will be. However, I'm not convinced Auburn is on the same level as Alabama. The Tide just has better players.
2. So we've seen Tebow cry, Cam lie, trees die, LSU try, and Teo's fake girlfriend die. What's next?
Gosh, I feel set up for a Jameis Winston joke and there's no way I'm touching that. Sadly, it'll probably have something to do w/ apathy. Normally y'all make fun of us for our overzealous behavior and our Cult of the Most Blessed Saban. Do Bama fans seems that fired up this year? I'm not sure they were until the Ricardo Louis catch.
Bama's 5th year seniors have already won 60 games and Tide fans leave in the middle of games a lot. I'm pretty thankful for this game because Tide fans are jacked up. So, in a weird way, way to go GUS!
3. What do you own with the Houndstooth print? Do you feel like a winner wearing it?
I have a houndstooth scarf! Every time I wear it, it makes me want to awkwardly pour out a bag of Golden Flake potato chips and chug an ice cold Coca Cola. Honestly, nothing make me happier than watching the old Bear Bryant show. Here's Bear eating some nacho cheese tostado Golden Flake chips. I know y'all aren't fond of the Bear, but it was refreshing that a guy that won so much had such a good sense of humor. Also, he didn't pick on the media! Here is one where Charlie Thorton couldn't even get the bag of chips open.
4. Which two Tigers worry you the most and why?
Auburn's pass rush has shocked me this year. They get to the QB. Dee Ford and Carl Lawson are the two guys who scare me the most. AJ McCarron isn't the lynchpin to Bama's success, but that's only because CJ Mosley is the football version of Randy "Macho Man' Savage. Still, if I were playing Bama, my goal would be to put AJ on his back as much as possible. That worked the year y'all sacked Brodie a couple of times.
To add to that, there are rumors Bama's starting center is injured. That could be a problem. However, Bama has 2 NFL players on their offensive line and AJ gets rid of the football.
5. Which matchups favor each team?
On defense, Alabama will load the box on Auburn and slow down the Barn's run game. Notice I said slow down. Auburn will move the ball on Alabama but just not to the success they've had against other teams. This is a weird year in the SEC West. Normally D Lines are the division's horcrux but LSU, Texas A&M, and Arkansas are horrible against the run. Ole Miss and Mississippi State are decent. That leaves Alabama so we'll see how well Auburn does against a top tier D-Line.
Auburn gives up a lot of yards on defense. Jeremy Hill, Mississippi State, and Arkansas all ran on Auburn. I know it's a bend but don't break defense, but Alabama is talented enough to take a hatchet and split it open like a turkey.
6. Should game managers win Heisman trophies? Should running backs that run for 30 yards three weeks before the ceremony win Heisman trophies? Do Alabama fans care about Heisman trophies?
I really, really want AJ to win the Heisman. He's the leader of the team and has "managed" this team to 2 straight National Championships. That's a lot. I do think his love of the camera is a little obnoxious and Katherine Webb declaring that she's nervous about going to the game is embarrassing for Alabama and Auburn. She needs a break from the media.
AJ's problem is he's not the best player on his own team. CJ Mosely is more outstanding. When a play needs to be made, he makes it. It's too bad it's insanely rare for a defensive player to win the Heisman. I care about the Heisman because Alabama has had an amazing last 3 years. AJ and CJ should be honored for their achievements as much as possible.
7. Name two unheralded Bams that Auburn fans should look out for.
There are two freshman that have really stood out this year.
OJ Howard, Bama's freshman TE, has really come on this year. He's the TE equivalent of Julio Jones. I call him the non violent Juice. He's 6-6 237 pounds and caught at 52 yard TD pass against LSU. It's like a sprinter was injected w/ Titan serum.
A'Shawn Robinson is another freshman D-Lineman on the 3 year track for Alabama. This dude is gonna make Marcel Dareus money. He's got 4 sacks so far this year w/ limited freshman playing time. He's 6-4 320 pounds and Bama guard Anthony Steen thought he looked like a 30 year old man. He plays both end and tackle. He's more of a pass specialist, so that's probably lucky for y'all.
8. What's your prediction for the game?
The Iron Bowl is won and lost 3 years before each game on signing day. Bama won it then. Auburn plays really hard and Gus earned himself raise after this year. Auburn is a tough, hard nose team and they will give Bama a game. I think the Tide will score in the late 20s to the early 30s and will always be about 10 points up on Auburn. The game will never be boring but the Tide will control the whole game. Both teams will be sharp. I don't expect either team to lose the game due to major mistakes.
9. Where will Auburn and Alabama end up at the end of the season?
Bama will play Ohio State for the National Championship game in California. I don't think Florida State is mentally tough. That has nothing to do w/ Famous Jameis. The photo of the Noles playing Hangman during the Syracuse game made me question them. That would never happen in the SEC.
Auburn will draw the Sugar Bowl, but they'll be stuck playing UCF. Auburn will give them a Disney World ass whoopin'.
10. Which Tiger is most likely to make a move for the Heisman next year before having a dirty secret unearthed by a fan of a team that is in the direct path of said player's team?
Not sure I can see an Auburn player winning the Heisman since Gus is gonna take the Texas job. Y'all didn't pay Gus enough. Not a good year to test the loyalty of a starving dog.