We are now at week 7 of the college football season, and I don't know about you, but I'm starting wonder when we see a weekend that has good ranked matchups. Since Week 4, there has been less than 5 ranked matchups each weekend. I don't hate seeing upsets or potential trap games, but to me it's nice when there are several ranked matchups to look forward to. Regardless of my complaining there are still a few good games you need to check out.
No. 8 Oregon Ducks at No. 7 Washington Huskies–Kickoff at 2:30 PM CT on ABC
If you love high scoring offenses, you're going to love this matchup between two of the game's best quarterbacks. Bo Nix and Michael Penix Jr. have been outstanding so far this season. Both of them rank inside the top 15 of ESPN QBR rating. The most important part of this game is Oregon's defense. They've had only one game this season where they have allowed more than 10 points. The Huskies defense is giving up an average of 365 total yards of offense to their opponents including 32 points to Cal two weeks.
I'm going to take the Ducks on the road in a shootout. I think the home crowd keep Washington in it, but I believe Bo Nix is able to handle the moment and keep his team unbeaten.
Oregon 42, Washington 31 
No.18 UCLA Bruins at No.15 Oregon State Beavers–Kickoff at 7:00 PM CT on FOX
The PAC 12 might be the only place to find ranked matchups this year as seven of their teams sit inside the top 25. The Bruins and the Beavers are two of them and a win this weekend would be huge to their chances of catching those at the top of the conference standings. UCLA comes in with one of the nation's top defenses. The Bruins are allowing less than 75 yards rushing this year and just 189 yards passing.
The Beavers offense, led by Clemson transfer quarterback D.J Uiagalelei, who's thrown for 1,307 yards and 14 touchdowns. I think this game is another one that UCLA's defense impacts how many points the Beavers can score. I still like Oregon State to win in a grudge match at home.
Oregon State 24, UCLA 20
No.10 USC Trojans at No.21 Notre Dame Fighting Irish
The Notre Dame USC is a classic game on the college football schedule. It's had so many amazing moments in the "Bush Push" which I still remember watching as a kid. USC comes into South Bend undefeated and looking to keep pushing towards the playoff.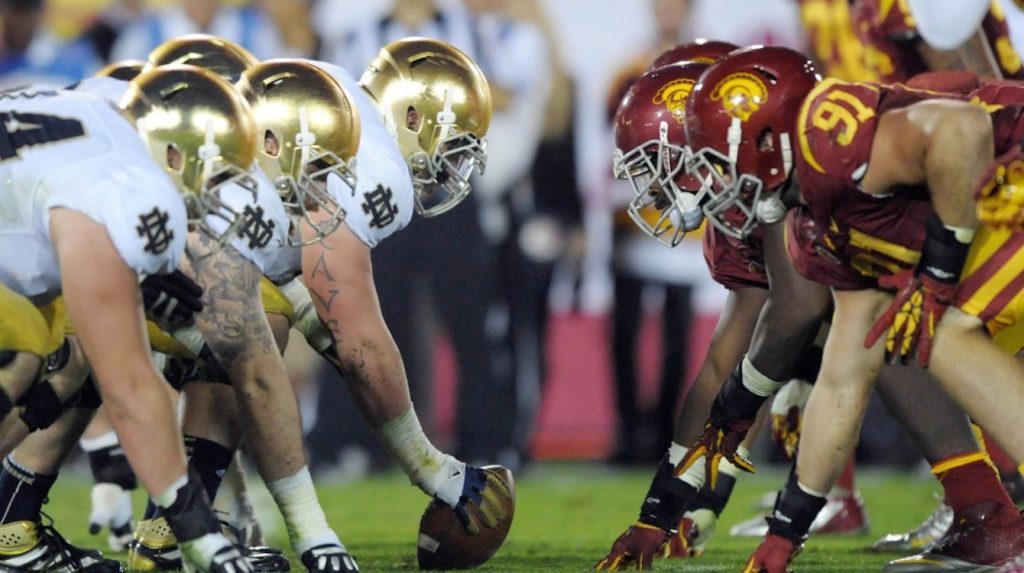 I think this game is a pretty easy one for me. I like Caleb Williams and the Trojans to actually win pretty big. Notre Dame has had a gauntlet of games against tough teams including Ohio State and Louisville. I don't think they have enough offense to keep up with USC even at home.
USC 35, Notre Dame 17
No. 25 Miami Hurricanes at No.12 North Carolina Tar Heels–Kickoff at 6:30 PM CT on ABC
North Carolina looks to keep pace with Louisville and Florida State at the top of the ACC standings. Neither one of these teams plays against each other this year, so there could potentially be an undefeated team left out of the conference title game. The Tar Heels received a huge boost last week when they learned that their transfer wide receiver Tez Walker was deemed eligible to play by the NCAA. I think the Tar Heels roll at home. I don't see Miami being a real threat.
North Carolina 42, Miami 24
Iowa Hawkeyes at Wisconsin Badgers–Kickoff at 3:00 PM CT on FOX
You may wonder why this is a game you should check out, but both of these teams only have one loss this season, but are still unranked. This game will also determine the outcome of the Big Ten West. I expect this matchup to be low scoring and sloppy Big Ten football at its finest. I think the fans at Camp Randall and will be the boost for the Badgers to escape with a win.
Wisconsin 13, Iowa 10
If you're looking for SEC action, check Blogle's predictions for the week.