I received a bevy of questions this week, most of them pertaining to Auburn's new offensive coordinator or the basketball team. For those that didn't ask about either of those topics, I'll get to yours down the road. For those that did ask about those topics, and don't see your question below, I'm sorry. You can't always get what you want.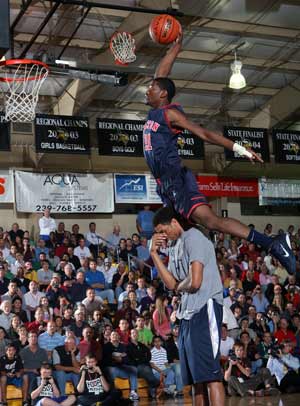 Justin wants to talk about Shaq. No, not that one. He's talking about the guy who's playing for the Auburn basketball team next year.
Have you seen any videos of Auburn basketball commit Shaq Johnson yet? He is hands down the best high school dunker in the country. And he just doesn't wow in contests, he can throw it down big time in games. What do you think of him and the future of Auburn basketball?
First off, yes I have seen the videos of him, and probably too many times to be able to argue against having a mancrush on him. I love dunks. What can I say?
Point blank: the dude can fly, and he's not even that tall. He just looks fearless going after the basket. However, there's a big difference in dunking on a normal high school kid and dunking on a 7-foot SEC center, so we'll see how he does in the next few years.
Aside from the fact that Auburn is adding a high flyer to the roster, his commitment also shows what Barbee is able to do as a recruiter. Johnson was also recruited by Clemson, Florida, and Georgia, but Barbee was able to get him to commit to play for the good Tigers. As we'll see in football in about a week, anything can happen before or on signing day, but Shaq has shown no signs of wavering on his commitment. Bottom line, Barbee is bringing in exciting players, and is able to sell them on immediate playing time in first class facilities. The future should be bright for Auburn in the years to come.
---
Brett asks about basketball, too. Is this a record? Two questions about Auburn basketball in the same blogle. Seriously though, I like talking about basketball, but just need the motivation. Keep em' coming.
Who is your MVP so far for the Auburn Men's basketball team?
Boy this is tough. As Coach Barbee will tell you, there is a severe lack of consistency on this team. Obviously the two best players are Frankie Sullivan and Kenny Gabriel, but they are no strangers to major slumps either. One day you think they've got it all together and are ready to lead the team into a winning streak, but the next game they can't hit the broad side of awBarn.
I guess if I had to pick a player who does the least amount of dumb things, or at least doesn't completely disappear for games at a time, I'd have to go with Chris Denson. He never misses on drives and handles the ball well. Apparently Barbee doesn't think he's ready to be the man, but I think he'll be there one day. So yeah, CD3 is the man for me. Did I just say that?
---
Billy likes new Auburn offensive coordinator Scot Loeffler, but is confused about the timing of the hire.
While I am certainly excited about the Scot Loeffler hire, like many Auburn fans, I am wondering why it took forty days to happen. During those forty days we lost a few offensive recruits who may have been understandably skeptical about committing to a program without a clear offensive direction. Even if these recruits had not been immediately impressed by the hire Loeffler could have at least been in their living rooms reassuring them. Do you think waiting as long as Chizik did cost us some good recruits? And why do you think it took so long to make the hire?
I fully believe, and somewhat know, that Chizik was waiting on an NFL guy to respond to an offer. It was thought that that guy was one of two coaches on the Baltimore Ravens staff. So it was believed that an announcement would be made following the Ravens loss in the AFC Championship Game. Well that announcement was made, but as we know now, it was Loeffler and not an NFL guy.
I was told that Chizik was working on a deal with an NFL guy as late as last Friday or Saturday, but that before the Ravens game was over, Chizik had hired Loeffler. It was just announced after the game. That is the only explanation I can think of in regards to the delay. He was simply waiting on someone on an NFL coaching staff that waited to turn the job down, leaving Loeffler as the choice. Why else would he wait until the time he did to announce a guy that was done with his season in December?
As far as losing recruits, technically only one guy dropped his commitment during that period: Ricardo Louis (T.J. Yeldon was a while back and really had correlation to do the OC situation). He switched to Florida State last week, but yesterday he announced that he was decommitting from the Seminoles and will announce his decision between Auburn and Florida State on National Signing Day. That sounds to me like he likes Loeffler and is coming back to Auburn. Why would you decommit from a school only to sign there a week later? So it looks like Loeffler is already doing his job.
---
Ross, the British dude, wants to know more about Loeffler's impact next season. What do I look like, a soothsayer?
Which player do you believe will benefit the most out of the Loeffler hire, in terms of development and/or system?
Emory Blake. Loeffler likes to run the ball. He had a 1400 yard rusher at Temple. He coached running quarterback Tim Tebow. So why am I saying Emory Blake? Because teams will realize that Auburn is run-heavy after a few games, leaving the passing game open, especially on a play-action pass.
With the departure of Malzahn, you have to think that the departure of the bubble screen is imminent as well. That means that the vertical passing game will be more prominent. As we saw a few times last year, that's Emory's forte. He does a good job of getting open down field and running after the catch.
---
Former Auburn tight end, Cole Bennett, sends in some pretty creative questions. For example…
If you had to take Kimbo Slice style hit from any Auburn defensive player, past or present who would it be and why?
I've been on a Takeo Spikes kick lately (no pun intended), so I'm going to go with him. Why? Because when he hits me it will be quick and painless since I'll die instantly. Well, that, or I'll pass out from the sight of his neck coming towards me, and won't feel the hit anyway. I won't be around to see it, but I hope he'll do one of his sack dances as he stands over my lifeless body.