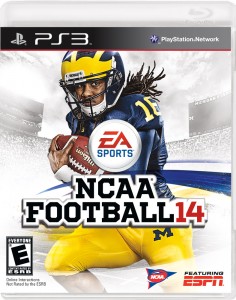 You may get your preseason fix of college football information and rankings from websites and magazines. You may enjoy burning your retinas on Phil Steele's website. I, on the other hand, give full credence to the EA Sports NCAA Football franchise.
Not really, but it does seem a little less biased or "look at me" than a magazine company trying to sell you something. EA Sports is selling a video game, and while ratings are important, they know you're not buying the game because your favorite team has a high rating. They know you're going to buy it because of the realism, graphics, and need to feed that 14-year-old boy hunger for football in July.
As in past years, EA Sports has been showcasing their new iteration of the game at E3, the video gaming expo that goes on this week each year. As they did last year, they have officially released the team ratings for each college football team. These are nothing more than power rankings based on what each team has coming back and what new players are coming in. That's it. They aren't just going to give Ohio State a high ranking because they play nobody. This is based on talent, and probably a little bit of swagger.
The ratings are broken down by overall rating, offensive rating, and defensive rating. Auburn's numbers might surprise you — not because you don't believe they should be there, but because you can't believe someone outside of the Plains have given them not terrible numbers.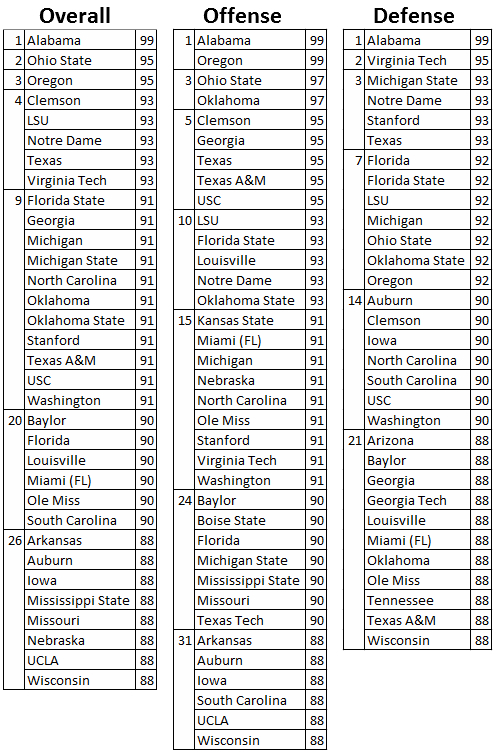 The overall rating isn't a direct reflection on what they would put in their Top 25 poll, but it has to be close. Therefore, according to EA Sports, Auburn (88 rating, 93 last year) is somewhere around the top 25-35 teams in that nation coming in to the 2013 season. I don't think anybody's really saying that, although the homer in me believes they'll end up higher than that by season's end.
The worst of the three ratings come from the offense (88 rating, 89 last year). It's still not very bad, and is the same rating as South Carolina, who some people have in their preseason Top 10. I think Gus will have that rating a little bit higher by the time NCAA 15 comes next year.
The best of the three ratings surprisingly comes from the defense (90 rating, 91 last year). A top 14 defense? Yeah, that used to be standard, but after the last few seasons, it's not expected. Honestly, though, Auburn's defense should be the side of the ball with the most experience and talent. A few years of being able to sell instant playing time to big time recruits has finally caught up.
Like I said, I tend to trust these numbers a little more than someone with marketing on their minds, but I still wouldn't put any money on these ratings. I mean, last year's numbers were generally better than these, and we all remember what happened there.
The game also has a prestige rating that has not been released yet. I'll add it once it is. I'm interested to see what they do with Auburn's rating following last season's debacle. In recent history, Auburn has had the highest prestige rating of 6. We'll see if it stays there.
Update: Ouch, last year was apparently a huge a knock to Auburn's prestige rating. Last season, the Tigers were the highest a team could be (6). This year they have dropped to a 4 (via MadScientst06). One bad year killed an entire program's prestige? I say not.
I don't know about you, but it just got a little more real. Hopefully in the next day or so, as E3 rolls on, we'll start to see more information trickle out as it did last year. So keep it it locked here on the 'Blogle for all things not real football.
Thanks to Tradition Sports for the ratings.