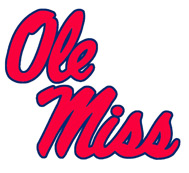 Following a 56-3 throttling of the Arkansas Razorbacks inside the friendly confines of Jordan-Hare Stadium, the 5-2 Auburn Tigers must now travel to Mississippi for the 2nd time in as many road games this season. This time they will be taking on the Rebels from Oxford. You'll remember that the Tigers beat the Bulldogs from Starkville 38-14 in their place earlier this month.
The Ole Miss Rebels aren't having the season they expected. Why everyone expected them to have a season that was remotely close to the season they had last year after losing their top receiver, top offensive lineman, and multiple defensive studs, I will never know. Chad $wag Kelly didn't do it all by himself, and it's showing this season.
They have no running game… at all, and they can't stop the running game… at all. It sounds like Arkansas minus the ability to run. Given that Arkansas beat the Rebels just two weeks ago, it makes sense. Given that Auburn just beat Arkansas by 53, it sounds like a beatdown is coming.
Probably not. Why? Here's why.
Of those two victories I just mentioned in the round robin of Auburn, Ole Miss, and Arkansas, both came at home. As I mentioned earlier, Auburn travels to Ole Miss. They will playing in a well lit and and well "lit" opponent's stadium under the cover of night.
Besides, the blowout can be used to show the progress of Auburn's entire team since the beginning of the season, but it can't be expected multiple times a season. Blowouts like that are special. If Auburn played Arkansas today, they wouldn't win by 53. They'd win, but they wouldn't win that big. A lot worked in their favor, and complete domination like that just isn't normally repeatable on a game-by-game basis.
On top of playing at home, and despite the lack of a running game, the Rebel offense ain't half bad. They built pretty large leads on Alabama and Florida State before their defense collapsed (also aided by turnovers from the Rebel offense). They scored 43 on Alabama, 35 on Florida State, and 45 on Georgia.
However, their scoring has been on a slight decline over the last three weeks: 45 against Memphis, 30 at Arkansas, 21 at LSU. It's a good sign for Auburn's defense.
Also a good sign for this Auburn team traveling on their toughest road game so far is the fact that Ole Miss is now with 4 losses. Their playoff dreams were dashed long ago. Their SEC dreams are probably almost mathematically impossible. They are in the middle of a downward spiral and will be up against one of the most improved and upward-trending teams in the nation.
It's pretty simple: Auburn needs to run the ball as they have been and as they should easily be able to do, and stop Chad Kelly. It sounds exactly like the recipe they used against Austin Allen and Arkansas last week. They can't run, so tee off on the quarterback, and score at least every two times you have the ball.
If Auburn can just keep the home crowd out of it, and 4 losses in the back of their minds should help with that, the Tigers should get away with a win.
They will get away with a win. Kerryon returns and plays the perfect complement to the new star back in Pettway. The defense does give up a deep ball or two, but it won't be enough. Auburn continues their rise as Ole Miss continues their slide.
Auburn 38, Ole Miss 23