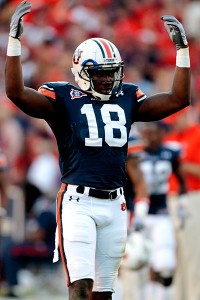 To fans, especially those that live in the state of Alabama, the Iron Bowl is the biggest event of the year. It means a year of gloating or a year of pain, therefore a lot of thought and talk goes into the game each year. But to the players, the game as a whole different beast. While it may appear that it doesn't affect them as much as the common fan, the three guys below may prove otherwise.
In the spirit of the holiday season, Tommy Trott, Andrew McCain, and Kodi Burns were kind enough to answer three simple questions for the Blogle and give us a little bit of insight into their careers and what this game means to them.
Favorite Iron Bowl you played in?
Tommy Trott: If you'll let me claim my Redshirt Freshman year (Honk if you sacked Brodie) as a year I "played" in the Iron Bowl, then I was fortunate to finish my Auburn career with a 3-2 record against Alabama (I never like typing those two numbers consecutively, reminds me of a certain night in Starkville in '08). So, obviously, I got to experience both the highs and lows that often come with an Iron Bowl.
"Honk if you sacked Brodie" was a great way to get it started. "Fear the Thumb" was awesome because theres nothing quite like shutting up a Bryant Denny crowd. Holding six fingers in the air was a blast too. Being laid up on my brothers couch a few days after ACL surgery while watching us get absolutely beat down 36-0… not so much.
But hands down, my favorite memory from Iron Bowl's played had to be my Sr. year. No one gave us a chance to win. Actually, forget winning, we weren't supposed to be competitive. We weren't happy about this… I truly believe we put in the best couple of weeks of preparation I had been a part of in my entire career at Auburn. Film and treatment in the mornings, long practices, ice baths and treatment again, and more film at night. We were preparing like professionals. But we could, b/c classes were out for Thanksgiving and we had nothing to do but get ready to play a football game. We came out that day with a hair on fire. T-Zac scored on an end around that Bama somehow wasn't ready for even though we had run it and scored on it what seemed like countless times that year. Suprise onsides kick. Recovered. Drive it back down the field and we have a 14-0 lead.
We scored on our first drive after half on a Darvin Adams double move against a cornerback that we felt like gambled WAYYYY too much (this one goes back to preparation). We tried like hell to hold on to the lead. But you know what, Bama was good, they were talented. And they were able to mount a comeback with a score in the last minute and a half. I think there was some lame nickname given to the end of this game, it's not important. If you need to know I'm sure Daniel Moore painted a picture about it. But I think that in the end, despite the loss, I may have been as proud to be a part of an Auburn team that day more than any other in my career. We truly gave it all we had, not just on gameday but the two weeks leading up as well. I think Saban summed it up best, "The strong do survive, but the strong do get their (butts) kicked."
Andrew McCain: It would have to be the entire 2009 game experience with exception of the last drive(consult Daniel Moore for details). The atmosphere at tiger walk was the best I have ever seen it as a player or fan. We were an epic underdog that hit them in the mouth from jump street and I think that was the day they realized they weren't as far ahead of us as a program as they may have thought. They ran a corner blitz in the 3rd quarter that I picked up seamlessly and we hit Darvin Adams for a long touchdown that nearly iced the game…
Kodi Burns: It would be the "Comeback." There is no better feeling in the world knowing that you are down by 3 TD's +, on the road, and 100% positive you will win the game. I remember at halftime we knew they gave all they had and we were just getting started.
Favorite Iron Bowl you did not play in?
Trott: Will someone teach me how to Lutzie? It was every TE that had ever played at Auburn's dream actually coming true.
McCain: Three words…Nix to Sanders.
Burns: The 2005 game. Not only was it a continue of the streak, but I loved seeing sack after sack, after sack, even if I am an offensive guy.
Thoughts on this year's Iron Bowl? What does Auburn have to do to win?
Trott: Honestly, I don't like our chances. I remember the naysayers who said we would get run out of our own stadium in '09 but theres something going on this year that just doesn't feel right. I'll be tuned in and supporting my Tigers as always. And, for the record, I fully support hanging on to Chiz. This team needs the offseason (an offseason from hell) in a bad way. But they are going to have to play some "inspired" football to win this game, inspired football that we haven't had the fortune of seeing them play all year. With that said, Bama is a bit overrated this year. Their defense just isn't as good as its been in years past. So hey, it could happen. In the words of Mike + the Mechanics, "All (we) need is a miracle."
McCain: To win on Saturday, we have to play tougher up front on both sides of the ball. Stuff their run game and balance our offense. Give our receivers time to get open and Wallace time to find them because they will and he can. A couple turnovers wouldn't hurt either. We need a big game out of our pass rushers to get inside their QBs head.
Burns: This years Iron Bowl will be an uphill battle for the AU Tigers. Alabama has built a program over the past few years that very few can compete with. They are solid on all phases of the game and as we all know that defense is the real deal. The Iron Bowl is always one that comes down to who wants it more but I do believe we will have to play the perfect game and fight until the end to knock off the Tide. Remember anything can happen.