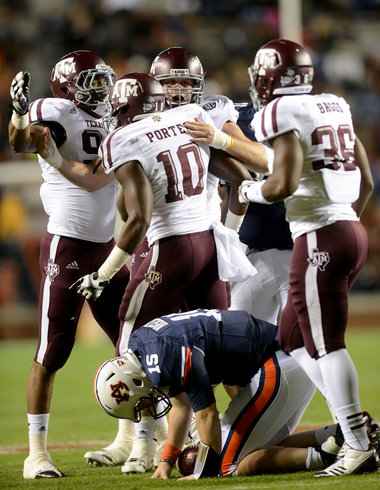 I really thought Auburn would have a chance. I thought the home crowd at night would give them that chance. I thought Texas A&M, in their first road game in a real stadium, would give them that chance. Nope. Auburn had no chance.
For weeks we've seen the offense fail and the defense somewhat improve. However, when that defense has played a hurry up offense this season, they have struggled. Texas A&M runs a hurry up offense to perfection, therefore the defense struggled in the worst sense of the word.
I sit in the North end zone of Jordan-Hare, and watching the holes open up for whoever was running the ball for the Aggies was like watching The Ten Commandments. It got old quickly, but I stayed to the end and watched every play. I tend to do that to myself to make me appreciate the wins more.
I used to hate the nickname "Johnny Football" because I wanted to know why he got the distinction. Now we know. But I don't think we should call him "Johnny Football." After Saturday night, I think we're required to call him daddy for at least a week.
I don't mind Texas A&M head coach, Kevin Sumlin. He seems like a nice guy, and he knows how to run an offense. They have the best offense in the SEC after only one year in. If they take a few steps forward on defense, they could easily move up to the upper echelon of the SEC in just another year or so.
Jonathan Wallace and CJ Uzomah were humongous bright spots for the offense. Yes, by the time they showed their stuff, the Aggies were up by 35+ and were playing with backups, but that doesn't take away the touch Wallace had on his passes and the running through and around people ability of Uzomah. I've been on the Kiehl train all season, but right now you have to start Wallace, especially this next week in what should be an easier game.
All year, I've been saying that the powers that be, whoever they may be by the end of the season, should/probably will keep Chizik one more year as long as he makes some changes on the coaching staff. Saturday night, I wasn't mad. I can't be mad. I just felt like Chiz knew, the coaches knew, the players knew, and the fans knew that a change might have to happen. It almost felt like it was just a given at that point. Sometimes things are unfixable, and it's time for something new. That's not my call, so we'll see.
The day started terribly with my tailgating truck being dead and then with me forgetting all sorts of stuff for the tailgate, but nothing was as bad as what I saw that night. I did, however, come away feeling slightly optimistic with a few pieces of the offense. Wallace looked like he can actually be a real quarterback in the SEC. That's really all Auburn has needed all season, and since one hasn't shown up until now, everything else has gone downhill.
Maybe, just maybe, Auburn can use this next week against New Mexico State to get some guys healthy, and find the guys that are going to lead this program next year and beyond. At this point, that is the most important thing Auburn needs to do. Find some leaders.