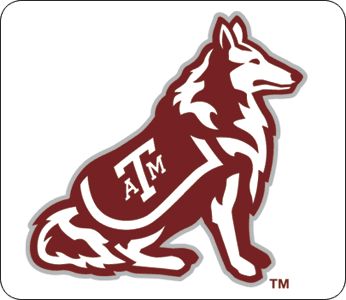 When Texas A&M and the annoyingly nicknamed "Johnny Football" Manziel visit Jordan-Hare Stadium tomorrow night, it will be first time the Aggie Nation has stepped foot on the Plains. They will bring with them a similar history, similar fanbase, and similar mentality to that of Auburn's. What won't be similar would be the all male cheerleaders and the offense.
Texas A&M averages a lot of points. How many exactly? I'm not going to look it up, but it's a lot. At least 40. Auburn has scored over 30 points one time this season. It was their 31-28 overtime win over UL-Monroe. So yeah…
One bright spot, if you can call it that, is that LSU was able to keep the Aggies under 20 points last week. That's much more manageable. Can Auburn score 20 points at this point with no direction on offense and Clint Moseley at quarterback? Not if they go by the same game plan as last week.
Auburn must, must, must run the ball with Tre Mason. I know that you can't run the same play every down, and I know that Mason hasn't been completely devoid of questionable cuts, but he has been without a doubt the biggest spark on offense. Not to mention, he takes almost all of the pressure off of Moseley. Auburn's only success on offense this season has come off a few successful runs followed by play-action. Seriously, it's the only thing I can think of that's somewhat working right now.
Texas A&M has been known as a little bit of nutcase team over the last few seasons. They come out and look like the best offense in the nation, and get a huge lead before halftime, then lay an egg in the 2nd half. They've been this way with two different coaching staffs. That means it's a problem on the players' level.
It's exactly like the Auburn situation is right now. Auburn isn't as bad as they look. They just aren't. It's partly a mental thing. Anytime a negative happens, it just snowballs. It's like the "here we go again" mentality. Texas A&M is the same way. In the back of their heads, they know of their 2nd half problems, so as soon as the opponent appears to be making a comeback, they start to worry and let it take over.
If we're looking at who could have that "soft" mentality affect them more this weekend, it has to be Texas A&M. Not only will they have the thought of losing to a 1-win team in their heads, they will also be playing in their first true road SEC game in a real SEC stadium.
If Auburn shows any signs of positivity, the crowd will get all the way turnt up and put the hex on the Aggies. Manziel, as great as he has been, is still just a red-shirt freshman. We saw how the Auburn crowd affected LSU's Mettenberger with it being his first real road trip. The exact same thing can happen this weekend.
Auburn must score points, because regardless of how great the Auburn defense is, Texas A&M will score. It just depends on how well BVG and company adapt to the Aggies' fast-paced offense. They haven't played that well against those offenses this season, but they've improved each game.
I don't care what the record is, an Auburn night game is one of the toughest games to win for an opponent. On top of the fact that it appears that Auburn is going all out with young players, the fact that this is the Aggies' first trip to Auburn and their first real SEC road game, gives me hope. I have hope for every game, but I have this feeling.
Auburn will have a good game this year, and I think it comes this weekend. If they can weather the storm and keep the game manageable by the half, it will put some negativity into the Aggies' heads. Then Auburn's "12th Man" will take over and get Auburn their first big win of the year.
Auburn 28, Texas A&M 24