Contrary to some reports, Auburn will actually be given the opportunity to share the same football field with Alabama tomorrow. I hear if Gene Chizik is on his best behavior, Alabama will return the favor and agree to play an actual 60-minute game against the Tigers.
That's awfully nice of the Alabama Crimson Tide, given that they have been handed a spot in the National Championship game and needn't play another game this season. Playing an unneeded game only puts players in danger of being injured and not being able to play in the big game. That Saban is a nice fella.
Can you tell I'm being sarcastic? Apparently it doesn't always translate through my 'blogling and tweeting. Anyway…
Is Alabama the better team this year? Sure. Would they beat Auburn at least eight out of ten times this season? Probably. Do they have more to play for than the Tigers do? Absolutely.
That's good and all, but the last time I checked, in the game of football, especially in a rivalry game, it only matters who the better team is for that day, for that one game, and it's not always who it's supposed to be.
The last three Iron Bowls have had national title game implications. In all of those games, the team with more to play for won the game, despite getting the other team's best effort in two of the three. In three straight years, there have been no real surprises. The team that was playing to go the National Championship game has won. There have be no ruined seasons. The team playing spoiler hasn't won. That's a streak. Streaks break.
Is that wishful thinking? Yeah, what you gotta say about it?
Alabama will likely go straight to New Orleans regardless of not winning their own division if they can beat Auburn. Words like ridiculous, unfair, and laughable come to mind. It is Auburn's job to make sure that does not happen.
It would be a travesty for teams that are actually deserving to be held out because the media has convinced themselves that Alabama can do whatever they want and still make it back to the National Championship game. You just think there's a Notre Dame bias…
As everyone has already told you, Auburn will have to play much, much better than they have for most of the season to knock off Alabama. The offense is going to have to score points, something they haven't done much of against a defense with a pulse. Alabama's defense has a pulse. A very strong one.
But let's not go too far and act like Auburn has to perform head and shoulders above their current talent level to do anything positive. Remember 2009?
Auburn came in 7-4. Alabama was 11-0 on their way to a national title. Auburn had Chris Todd who was surrounded by young talent.
This year Auburn is 7-4 and Alabama is 10-1 on their way to a possible National Championship Game berth. Auburn has Clint Moseley who is surrounded by young talent.
In the meeting two years ago, Gus Malzahn hit the Tide with a bevy of new formations and plays that looked like they had been worked on but hidden for weeks. As you know, it worked for 58 minutes, but ended up being just not enough.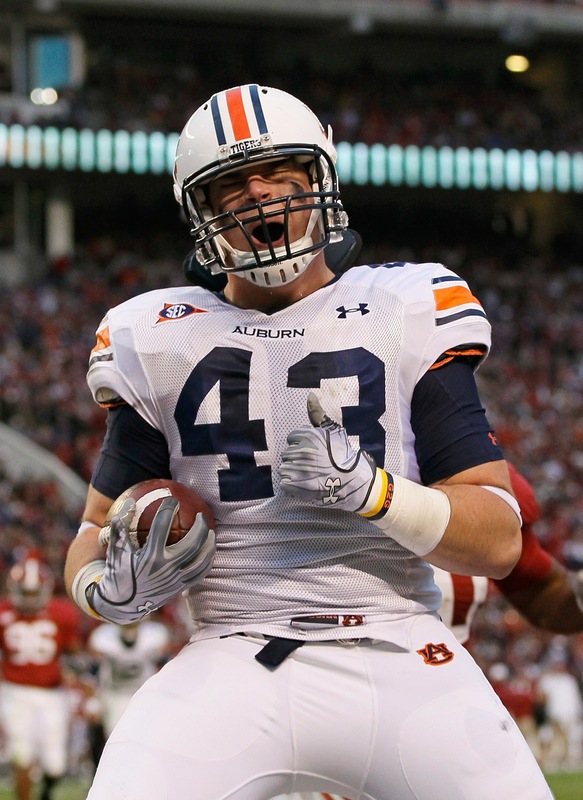 I fully believe that Malzahn will use the exact same game plan this year. The offense has been too vanilla for the last month and will need some new looks and excitement to knock Alabama back on their heels to start the game. Giving Alabama the chance to put their foot in the ground with early three-and-outs will only be the beginning of an ugly day.
The Auburn defense has looked very bad at times this season, but in games, when the offense is scoring some points to back them up, they have made big stops and held big time players like Marcus Lattimore to their worst games of the season. Ted Roof is always good for a big game or two a season and he owes us one this year.
Alabama's offense, like LSU's, is nothing special and simply benefits from what their defense's stops gives them. Richardson is a fine back that wears on you as the game goes along, but if Auburn's defense can get the home crowd behind them with some early stops and force Alabama to use the arm of A.J. McCarron, the match-up will be much more evened out.
I may be a homer, but I'm not stupid. I know when Auburn isn't the better team. This is a high point in Alabama's program, and a small step back after a high point of Auburn's program. I know that Alabama is the better team this year. I know they should probably win.
That being said, I never doubt Auburn in a home game. A crowd hellbent on keeping their rival from championships is much louder than one that's scared their season is about to be ruined. They have nothing to lose so they go all out. Auburn will do the same and get a lead like that of 2009, but this time will hold on.
Auburn 24, Alabama 21