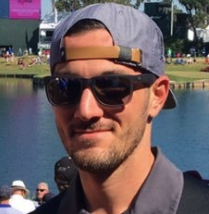 Nick de la Torre (Twitter) has been the Florida beat writer for GatorCountry.com for 7 years now, so he's admittedly seen some pretty grim football during his time in Gainesville. He grew up in South Florida, and played baseball in college briefly before transferring to UCF. He also attended high school (St. Thomas Aquinas) and is friends with Wes Byrum, so I guess he's cool.

1. What are a Florida fan's thoughts about Auburn football historically and what about the program right at this moment?
I think it's not a rivalry to a lot of the younger people in the fan base but one that older fans are really excited about. I know I remember the days when Florida and Auburn used to play all the time. This isn't like the Tennessee, LSU or Georgia rivalry though. I think this is less hate and more respect. Maybe that would be different if the two schools played every year, but there's a lot of respect for Auburn from the UF fanbase.
2. What's the vibe like in the Gator fanbase?
Right now fans are excited about Dan Mullen and the program but I can sense some caution in that. Florida hasn't played a tough schedule this year but the next four games (Auburn, at LSU, at South Carolina, Georgia) are going to show the fan base what this team really is.
3. Who are your two favorite Auburn Tigers of all time and why?
Wes Byrum because we're friends and Bo Jackson because, obviously.
4. Which two Gators should Auburn fans look out for and why?
The first will be a surprise but it's the punter, Tommy Townsend. This is going to be a close, defensive game in my opinion. That means field position will be huge. Townsend had a great first season for the Gators (2018) but has only punted 7 times in 2019. Florida will need to win the field position battle and that starts with the punter.
The second guy is Kyle Pitts. He's a 6-5, super-athletic tight end. Pitts has really started to show up with Kyle Trask at QB and the two are developing a real connection. Pitts is generally too big for corner to cover and way too quick for a linebacker to keep up with him. He's only a sophomore but he's a future NFL tight end.
5. In which positional matchup do you see Florida excelling against the Tigers?
I think Florida's pass rush vs the Auburn OL and pressuring Bo Nix. Florida has been able to get after the quarterback in every game they've played this week and that's been without Jabari Zuniga for most of the season. He'll be back and I'd expect Todd Grantham to dial up pressure to test the freshman early and often.
6. Where will Florida struggle against Auburn?
Florida will not be able to run the ball. At all. The Gators had an opportunity to get some confidence going last week against an FCS team in Towson that was allowing 222 on the ground a game and they only managed 160. Florida just isn't a good running team and there's no way they find anything in the running game Saturday against Auburn.
7. What are your most favorite/least favorite Auburn-Florida moment?
My freshman year of college I remember watching the Auburn-Florida game in my dorm room and Auburn get into range for a game-winner. I already knew what was going to happen. We called Wes "Boomer Byrum" in high school, so while most Gator fans are thinking that no way this freshman would make the kick, I knew.
I watched it happen, twice, then watched him chomp. I called him while he was still on the field and left a nice voicemail congratulating him but told him if he ever chomped on that field again we'd have to fight.
8. What's your prediction/analysis of the game?
I keep going back and forth about this game. I think it's a low-scoring, defensive game where both teams battle for field position. Florida's defense has been great in every aspect other than tackling and third-down defense. Those two go hand in hand. Florida needs to tackle. They can't let a play that would have gone for no-gain or a short gain end up going for 10-15-20 yards and extend drives.
I have a lot of respect for Auburn's defensive line. They're impressive but I don't think they're as good vs the pass and that's where Florida's offensive line has actually been decent this year. They can't run block but they can pass block, go figure. I think if Florida wins this game it's because they can keep a clean pocket around Trask and he can complete throws to Florida's deep WR group and to Pitts.
I'm going to predict Florida wins 21-20, but I'm not very confident about it. I think it's close either way.
9. Where will Auburn and Florida end the season?
This stretch will tell me a lot more about Florida. I could realistically see Florida going 2-2 in October, 3-1 or even 1-3 if they let one loss bleed into another week. I mean, next week in Baton Rouge, Tiger Stadium, 8 p.m. that's no joke. I think Florida will end up winning 10 games this year.
Looking at the rest of Auburn's schedule the only losses I could see are Florida (maybe), at LSU, Georgia, and Alabama. That Georgia game is very winnable. Can Georgia win a game where Jake Fromm has to throw the ball 30 times? I don't know, but I also don't know how effective Georgia will be able to run the ball against Auburn. I think Auburn ends the season with 9-10 wins.
10. Why do half of Florida fans wear jorts and jerseys and the other half look like they belong on Jersey Shore, and which are you?
Fashion is cyclical, so jorts are back in style now, right? I was a jersey guy back in my fan days but that doesn't seem to be the style now.