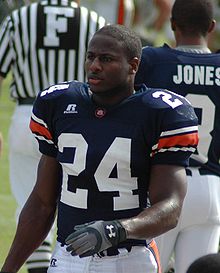 The Auburn Athletic Department announced earlier today that prior to the Auburn-LSU game tomorrow, the Verizon Autograph Tent, located in the baseball parking lot, will open at 4pm. The guests will include Fred Smith, David Housel, Alvin Bresler, Lloyd Nix, Neil Caudle, Tim Drinkard, Tommy Trott, Neal Dettmering, and Richard Shea.
Autograph enthusiasts will have another option as well, with the Sports Illustrated Heisman Tour presented by Nissan coming to town. You know, they're the ones who put those special edition issues of Sports Illustrated in the seats at Jordan-Hare. Saturday's will feature Cam, seen here.
The featured guests at the SI/Nissan "tent" (located in front of the Nichols Center, at the intersection of War Eagle Way and Donahue Drive from 11:00 a.m. until 6:00 p.m.) will be Kendall Simmons and Carnell "Cadillac" Williams. Here are the details:
Two-time All-SEC guard Kendall Simmons will appear from 1:00-2:30 p.m., participating in both an "SI Chalk Talk" session with Sports Illustrated writer Andrew "McLovin" Perloff from 1:00-1:30 p.m. and an autograph session from 1:30-2:30 p.m.
All-America running back Carnell "Cadillac" Williams will participate in an "SI Chalk Talk" session with Perloff from 3:30-4:00 p.m., followed by an autograph session from 4:00-5:00 p.m.
Admission to the tour is free, and fans are encouraged to pick up a Sports Illustrated special edition: "Running to Greatness" … compliments of Nissan.
Get your picture on the cover of Sports Illustrated with the Heisman Trophy
Take a closer look at Nissan's all-new 2013 Pathfinder and Altima
View SI covers and images on 52" touch screen monitors
Participate in autograph sessions with former football greats
Win prizes by participating in fun, interactive games including a virtual field goal kicking challenge
Register for the BCS Championship Ultimate Experience Sweepstakes
Get an RFID credential, allowing you to check in and instantly share your experience on Facebook
Keep tabs on the weekend's action by viewing games and highlights on plasma TVs and a custom 16' x 9' LED screen