The pep talks that I've been doing in place of these traditional game previews have met their end. They, like the Tigers, are 0-2 and it's time to retire them very early in their career. I thought I was good at riling up the troops, but I guess not. I never liked them anyway, but wanted to give you an alternative to the normal pregame thoughts that you'll find on most sites. But in the interest of salvaging Auburn's season, I am bringing the previews back. I'll just do my best to spice them up and make them different than what you'll read most anywhere else. Back to victory we go.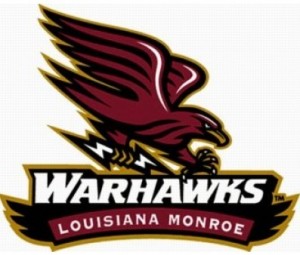 How many times this week have you heard someone who still hates Cam Newton say something like "Awbarn's 0-2, and that La MUNrow just beat tha hawgs. They's gon' send 'em tuh 0-3!" The sad thing is that a lot of people with many more brain cells, much better grammar, and probably a college degree believe that, too. They think Auburn's early struggles against the reigning ACC champions and an SEC team goes together perfectly with UL-Monroe's fluky upset of a less-than-than enthused, quarterback-less, idiot-led Arkansas team.
This may be the beat Monroe team ever, but what's that saying? They are still completely comprised of Sun Belt talent. That's talent that couldn't make it at an SEC school. So how did they beat SEC talent last week? I already told you. Arkansas took them as a Sun Belt team. Arkansas lost Tyler Wilson to injury. Arkansas does not have Bobby Petrino. It was the perfect storm. It was a fluke.
Now I'm not trying to come down on the Warhawks. This is just indirect hate due to the new members of their fanbase; those people that are just loving 0-2 start and think it's the standard at Auburn. You know, showing their ignorance of Auburn's overall resume. So sorry, Warhawks. Sorry, Willie Robertson. It's not your fault. It's them haterz…
If the same Auburn team that showed up against Clemson shows up against UL-Monroe, they'll win by 20+ points. If the same team that showed up against Mississippi State shows up, well, they should still win by at least 20, just as long as the Warhawks haven't figured out Auburn's offensive signals.
I wanted to write about that this week, but never got around to it, but that's a really big deal. The element of surprise is about 90% of an offense. If the defense knows exactly where the ball is going, that pretty much makes your offense useless. That's not an excuse. That's a reason.
Auburn fans have been banging their heads on the wall wondering how the offense went from somewhat decent and not embarrassing to something you wouldn't wish upon your worst enemy. Well, that's why. So that's good. Just hide the signals, and we get back to at least what Auburn was able to do against Clemson. Now replace Clemson's defense with a Sun Belt defense, and things look a little better for Auburn, don't they?
Now Kolton Browning is a good quarterback. He'll throw the ball all over the place and can obviously run as well. The Auburn defense will have to play a little bit tighter and tackle, Tackle, TACKLE the ball carrier by at least the second time he's touched by a defender. That's all I'm going to say about the defense. The offense should be able to give them a little more padding than in the previous two games, but they have to play like three points is all they're getting.
Again, I don't mean to downplay the Warhawks. They are a Sun Belt team, they are already downplayed enough. I just know Auburn will play like a team that's tired of losing, a team finally getting a game at home, and a team certainly aware of what Monroe did last week.
Auburn will come out make a few big plays to excite the crowd and show that they are a real football team, but Monroe will make it interesting in the 3rd quarter before Auburn wears them down in the 4th. To be honest, if Auburn doesn't win by more than 14, I might still consider it a loss. Auburn needs a blowout, and they'll get one.
Auburn 41, UL-Monroe 17