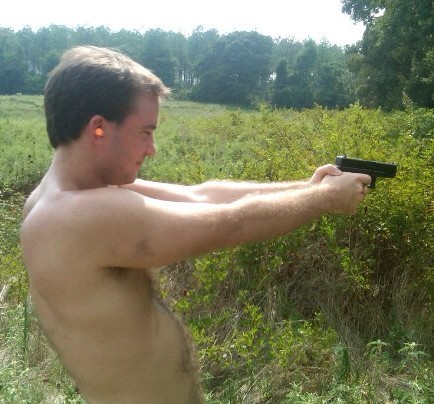 Rick Muscles (@rickmuscles) is an Alabama fan and recovering Ole Miss fan boy, who is making his 3428th appearance on the Other Sideline series. He has written for EDSBS, Friends of the Program, and Roll Bama Roll. In real life, he's married to an Auburn grad, loves to lift weights, and see rock concerts.

1. What is an Alabama fan's first thoughts of Auburn football right now?
My first thought is banged up. Seems like a lot of key guys in the backfield are hurt and some of the younger guys for Auburn will have to step up. The Barn needs a Wally Pipp moment.
2. Has Alabama played anybody?
I thought Ole Miss early in the season, before most of their injuries, was a tough team. Ole Miss's first team has as much talent as anybody but the Rebs have never been able to stock talent. Y'all saw this in your game too. Other than that, TAMU, USC and Tennessee were disappointing opponents. Especially Tennessee. At least they won a life championship. Even Terry Bowden wouldn't claim a life championship.
3. Alabama will likely still make the playoff even with a loss to Auburn. That's like skipping leg day and still getting gains, right?
Hoooo boy!!!!!!!!!!!!!!!!!!!! I'll claim any championship we can get. By the way, I really hope they don't put two Big 10 teams in the playoff. That would be a nightmare.
4. Which positional matchup are you most interested in watching?
Carl Lawson vs both our tackles. The right tackle is a true freshman who is having quietly great season. The other is Cam Robinson who hangs out in parks and will be a first round draft pick.
Auburn's strength is the D Line and keeping Hurts upright and healthy will be a big part of this game. Bama has to move the ball in the air and can't rely on Hurts running if they are gonna win championships.
5. Who are two Tiders that aren't big names that Auburn fans should look out for?
Josh Jacobs and Bradley Bozeman. Jacobs was not the big 5 star recruit you typically get at Bama and Auburn. He's more of a diamond i n the rough. When he gets on the field, he makes cuts and finds holes. He's not flashy but he does the job and has stayed healthy.
Bozeman is having a great season and is another in the line of big time Bama centers. If you like football strategy, remember that Ryan Kelly was drafted well ahead of Derrick Henry last Spring. That should give you an idea of what makes Bama's offense work.
6. Are there any guys on the current Auburn roster that scare you and why?
Carl Lawson will always scare me. He's been healthy all year and Auburn plays D up to their traditional standard when he's on the field. My other fear is that Woody Barrett plays Saturday and totally carves us up like Nick Marshall holding Colada (google it! No? Ok). Fingers crossed his tweet wasn't prescient.
7. Who does Auburn need more on Saturday? Sean White or Kamryn Pettway?
Sean White by a mile. Bama's D has stopped some solid RBs over the years but great QBs are what beats The Tide. If White can hit a few deep balls they could win this game since Bama's offense probably won't score over 28 against your D.
8. What's your prediction/analysis of the game?
This game is gonna be a defensive struggle and it it'll be a miracle if everybody stays healthy. Both teams are gonna attack the edges because only an LSU dummy would attack our front 7s. I think Bama by 4 because bad FG kicking will keep it close for Auburn.
9. Where will Auburn and Alabama end up this season?
For Auburn I hope some place sunny because I know my Barner wife will drag me to the Tigers bowl game. Fingers crossed for Jacksonville.
For the Tide, I'm really interested in the outcome of The Ohio State vs Michigan game. I know I don't want to see Clemson or Ohio State in the first round. I'd much rather see Michigan (they're small) or Washington (they're slow).
10. Lastly, what is your favorite Iron Bowl memory?
I have none. This game is a blood rite. It hurts my stomach every year. Only bad things can happen to Bama on Saturday. The best thing that can happen is Bama doesn't lose.