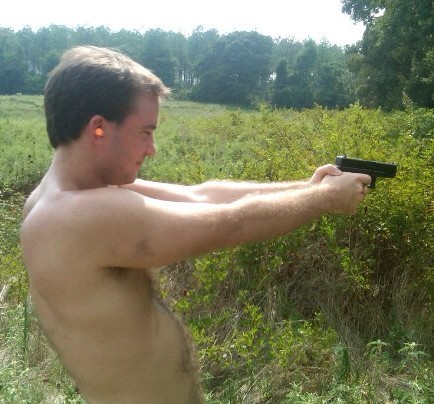 We wrap up the Summer slate of Other Sidelines with a return visit from one of the funniest and level-headed Bams on the Twitter. Rick Muscles (@rickmuscles) is an Alabama fan and Ole Miss season ticket holder. He has written for Everyday Should Be Saturday, Friends of the Program, and Roll Bama Roll. He also does a little podcast called Friends with Muscles (I was on it once). In real life he's a recovering alcoholic claims adjustor who loves to lift weights and see rock concerts.

1. Given the losses on defense, and the departure of a Heisman finalist on offense, it's obvious that Alabama will actually be better this year, right?
It's preseason, so anyone who says they know anything is a dang liar. Except DB, Bama lost guys in the right spots. Bama has done a great job recruiting the defensive front 7. My logic does get faulty because no way the new guys will be better than Hightower and Upshaw. However, there will be some top notch talent.
Losing Trent to the NFL, where he'll buy his own suits, is also a killer but there is a ton of depth in the backfield- even with clandestine Eddie Lacy injury. Where they actually might be better is at O-Line. If you look back at Auburn's BCS, the O-Line was the best unit in the nation. Barrett Jones is still at Bama, y'all.
2. Does having a new offensive coordinator from a Pac-12 school scare you at all?
Al Borges, who drove me nuts while at Auburn, was a PAC 10 guy prior to Indiana. Innovative products such as the iPhone I'm typing this on, came from PAC 10 country. Those things were effective. We saw Washington put up 56 points against Baylor last bowl season. So dude knows how to score. Only thing I'm worried about is making sure Bama continues to have a hard nose running game w/ their big bad offensive line.
3. How confident are you in AJ McCarron?
Very confident in AJ to not screw up a game. He was great at that last year. I'm not confident he can win a big game on his own. He could've been a real hero against Auburn in '10 Also, he really hasn't played a tough road game in career yet. He'll have to do that this year.
I really hope I stay confident he's a tough hard nose player that can he play through pain because the Tide is not deep at QB. Pretty sure Stevie Wonder and Helen Keller would be better options at back up than what the Tide have right now. I'd call nickname those back ups "Blind Ambition."
4. What's this about Eddie Lacey being hurt? Do you know anything? If he's out, how bad does that hurt?
NORAD and the national security agency couldn't get injury info out of Saban. It'd take the cast of Expendables 2 to find out if DJ Fluker had turf toe. Sounds like he has a "high ankle sprain" which is a euphemism for a knee injury. It's not a killer because TJ Yeldon has looked aces in Spring and Fall.
5. Who are two Tiders that Auburn fans haven't heard of that they should worry about?
The two guys I'm excited about are Adrian Hubbard and Xavier Dickson. Both those guys play jack linebacker. However, I've heard Hubbard has looked, "unblockable" during the Spring and the coaches LOVE Dickson. It sounds like these 2 will be the rushing linebackers in the passing situations. Hopefully these two can fill Upshaw's shoes.
6. Which position will be a major strength for Alabama this year? Which position will be a weakness?
The strength for Bama will be OLine. They got 3 potential All-Americans and a ton of experience. If Barrett Jones managed Niffers, their corn nuggets would taste even better.
The weakness will be receiver. I have no idea who these people are. The DBs are new but will at least benefit from Saban's coaching. Say what you want about the Dark Lord (like he's mean or short) but he's the world's best DB coach. TAKE THAT WILLIE MARTINEZ!!!! The wide receivers have no experience and they have to learn a new system this year. Look for a lot of production from TE for that reason.
7. Name two Auburn football players (one past, one present) that scare you.
Cam Newton will always upset me. Y'all could make memes of me looking angry that say "U Mad, Bro" and they'd be apt in 2036 (maybe I'll have a girlfriend by then).
Jay Prosch is the dang Aub I fear the most on this team. The guy could power clean a tugboat with a hangover. Unfortunately he plays FB so he won't win a game for y'all by himself. He will be the Tiger that I secretly hope does well (don't let my Dad find out I hope an Aub does well).
8. What are your very early thoughts on the 2012 Iron Bowl?
My Iron Bowl rule is the most talented team always wins. You aren't gonna catch either team asleep that week. It'll be a hard- nosed Christian football game like always. Unless AJ gets hurt (hopefully his tattoo will protect him) I have to take the Tide this year. Still think the Barn needs a QB and another year of experience before they contend for Atlanta. Can Frazier throw a deep out? That's troubling.
9. Where will Alabama end up this season?
Worst case scenario for Bama is the Capital One Bowl. They could easily lose at Baton Rouge in November and if AJ gets hurt, I'll be hiding under my desk at work crying until Valentine's day. This bunch is talented, they got coaches and they'll have the experience of winning a BCS championship last year. Just not sure they will be tough enough to run through their schedule with out mentally checking out one week.
10. Lastly, is it true that after Jesse Williams benched 600 lbs that you went over and squatted it with one leg?
Sadly, in all seriousness, Mo Isom might be stronger me at this point. I was looking at her numbers and I'm pretty sure I'm only slightly stronger than her. I got her beat on chest hair, though.