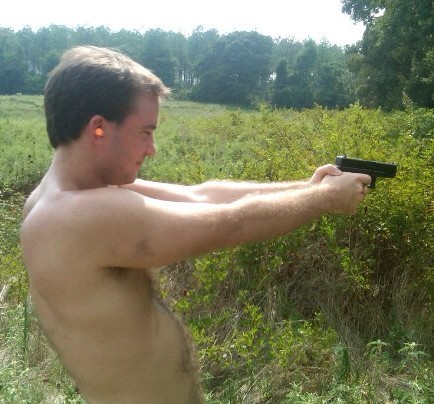 Rick Muscles (@rickmuscles) is an Alabama fan and Ole Miss season ticket holder. He has written for Everyday Should Be Saturday, Friends of the Program, The 7th Floor, and Roll Bama Roll. In real life he's a recovering alcoholic claims adjustor who loves to lift weights and see rock concerts.

1. At this point in time, what is an Alabama fan's first thought about Auburn?
I keep thinking about if the young, Roof coached Auburn Defense will tackle Trent Richardson. Bama's passing game isn't exactly Coryell – esque at the moment, but if they're getting 5 yards a carry it could be a long day for Auburn. The Auburn LBs need a big day.
2. Did you throw any fake money at Cam Newton last year? If yes, did it make you feel better about not having a life?
I thought Bama fans were stuck in the past…. (WB: everything that occurs within the last 365 days in the sports world is not considered the past, unless you are an Alabama fan and will do anything to forget 28-27)
3. But seriously, name two players that we haven't had forced down our throats that Auburn fans should worry about this Saturday.
Whether or not Barrett Jones will play will be a critical factor. His backups have played well all year, but he has a bad wheel. Bama might have a tough time protecting and opening up big holes for Trent if that's the case. It should be noted that Jones did return to practice this week but if he doesn't play Alfred McCullough would start in his place. McCullough stoned State's DE in Starkville.
The other underrated Bama player is DeQuan Menzie (#24). He's a SR corner. It's tough getting media attention when you play opposite Dre Kirkpatrick. He's a hard-nosed guy and it's fun to watch him play. He always  around the ball.
4. How many bench press reps do the Alabama coaches allow you to do? With a name like Muscles I'm sure they have to stop you somewhere around 500.
My bench reps are up there, but everybody on the internet knows I live to be under a squat rack. Nobody reps out 315 (while wearing 100% cotton shorts made by Russell Athletic) like me.
5. Why do you think that Alabama's running backs haven't had their best days against Ted Roof's defenses the last two years? Do you think that ends this year?
The last 2 years Ingram and Richardson have been beat up. It appears Trent is fairly healthy but, as noted above, the Offensive line is dinged up. At the same time, Trent's played great all year and there is no reason the trend should stop Saturday.
6. If you could ask Harvey Updyke one thing, what would it be?
Do you mix your pain pills with bourbon or moon shine? Do you confuse pain pills with crystal meth? (WB: that was two things, but ok)
7. What's cooler: Gene Chizik's jackets or AJ McCarron's chest tat?
McCarron's chest tattoo – It's religious and represents the state. Chizik's white jacket makes him look like a cut-rate dentist.
8. What's your prediction/analysis for this year's Iron Bowl?
This is a weird year for the Iron Bowl because there is nothing to look forward to in Atlanta. This is it. So we know both teams will be focused. At the same time, there are never any real upsets in this game. During the Tuberville years the best team always won. Last year, Auburn was ranked higher and they won. Both teams play their best game in the Iron Bowl so nobody ever sneaks up on the other team. That said, I gotta take Bama in this one.
9. Where do you see Auburn ending up this season?
I think everybody in the SEC wants to see Auburn vs Clemson in the Chick Fil-A bowl. My left eye twitches any time a team from that basketball conference beats one of ours. I'm sure Auburn's players, especially with a little more experience, would love another shot at Clemson. (F$%# Clemson)
10. Who plays in the national championship game this year?
THE SEC! But seriously, I think the stars aligned for Bama to get back in. Too much weird stuff has happened for it not to. Even if LSU loses, I can't imagine them not getting in. You know Miles is good for a weird loss at some point but I doubt it would matter. It'll probably be Bama and LSU unless Oklahoma State just destroys OU in their final game. If Bama doesn't get 14 this year there could be a long wait. Not sure Bama is reloading by recruiting like they have in the past.