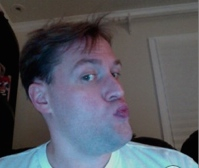 Allen Kenney is the founder of BlatantHomerism.com, a site I am extremely sad I didn't register years ago. You know, because I'm a homer. He's also the host of the Blatant Homerism podcast on Sooner Sports Radio. You can find him on Twitter at @BlatantHomerism. 

1. What's the common Oklahoma fan's thoughts on Auburn football in general and then specifically for 2016?
Oklahoma fans respect Auburn to the same degree they respect any other coattail-riding SEC program. As for Auburn's 2016 team, I doubt they know much about the Tigers beyond being "the team that got Les Miles fired."
2. Name your two favorite Auburn Tigers of all time and why?
The first is easy: Cam Newton. He was the most dynamic player of the last decade in the college football. Probably goes for my lifetime, to be honest.
My No. 2 is Gene Chizik. Homey could really fill out a leather jacket.
3. What's the vibe like in Norman after another Big 12 Title but not being included in the CFB Playoffs?
Frankly, I don't think I've talked to one OU fan who thought the Sooners had a legitimate case for inclusion in the College Football Playoff. Most seem to agree that this squad lived up to expectations this year. You could find fault with Bob Stoops and his staff in how OU lost games to Houston and Ohio State, but not with the overall results.
4. I've always felt like Bob Stoops and Mark Richt were basically the same. They win a lot, but don't have a ton to show for it on a national scale. Will Stoops ever be on a hot seat?
Bwah. Richt is a nice guy, but he's not even in the same stratosphere as Stoops as a coach.
It would take a significant collapse spanning a couple seasons for Stoops to feel any real heat, and I imagine he'll step down before it ever reaches that point.
5. What are your thoughts on the Joe Mixon situation? Should be still be allowed to play?
As a matter of principal, OU electing to allow Mixon to stay in school and work his way back to the team was a justifiable decision to me. That doesn't do much to cure the "yeah, but…" feeling I have every time I see him do something great on the field, though.
In terms of allowing him to play, it seems to me that it would be incredibly disingenuous of OU to, in effect, punish him twice for the offense.
6. Name two Sooners besides Baker Mayfield and Dede Westbrook that Auburn fans should look out for and why?
For the sake of keeping it interesting, I'll take Mixon and Samaje Perine out of the discussion as well.
On offense, keep an eye on fullback Dmitri Flowers. He makes his biggest contributions as a blocker, but offensive coordinator Lincoln Riley seems to call his number once or twice a game in key spots – inside the red zone, third down, etc. He's as sure-handed a receiver as the Sooners have.
Defensively, outside linebacker Caleb Kelly is one to watch. He's a five-star freshman who came on strong at the end of the year. His size and agility on the perimeter make him effective against the run and in coverage. Given Auburn's style of play, it wouldn't surprise me if Kelly turns out to be OU's most productive defender on Monday night.
7. Which two Auburn Tigers worry you the most and why?
Defensive tackle Montravius Adams will give the Sooners' interior offensive linemen all they can handle. I worry as much about his ability to jam up Baker Mayfield's passing lanes as his strength as a run stopper.
On the other side of the ball, OU's defense isn't really built to stop a running back with Kamryn Pettway's size. Combine that with an effective read game, and I think Auburn will have some success moving the ball on the ground.
8. What's the most intriguing matchup and what will decide the game?
I really want to see how the Tigers defend OU's quick passing game. Getting the ball out fast is paramount to counteract Auburn's defensive line. Some of the spread-ish offenses that Auburn faced this season seemed to find holes in the D using quick-hitting routes.
That means guys like tight end Mark Andrews could get a lot of work. If OU's secondary receivers (i.e., not Dede Westbrook) come up small, the Sooners are in trouble.
9. What's your analysis and score prediction for the game?
I actually have Auburn, 38-28. I hope I'm wrong, but this is a bad matchup for OU. The Tigers seemed to be hitting their stride right before Sean White got hurt. Assuming he's ready to roll, I think Auburn's offense against OU's defense will tilt this one.
10. Lastly, who should be the 2004 National Champion?
USC. The best thing that ever happened to that Auburn team was not getting to play the Trojans.