Like most schools, the need to keep up in the facilities race in recent years has caused the face value of Auburn's home game tickets to go up. It's been said that these hikes in prices have caused more and more people to stay at home and watch games on their HD-TV. That's probably true, but according to TiqIQ, a ticket site that pulls prices from eBay, TicketsNow, etc. into one central location, prices around the internet are higher than ever.
Earlier today, TiqIQ released their Top 25 ticket prices by school. Auburn is ranked #21 nationally, 6th in the SEC, and 4th in the West in terms of the prices tickets being sold second-hand on the internet. The average Iron Bowl ticket price is the fifth highest in the nation at $481.66. The graphic below shows the average price of each Auburn home game this season. If you'd like to purchase any of these tickets, you can do so here.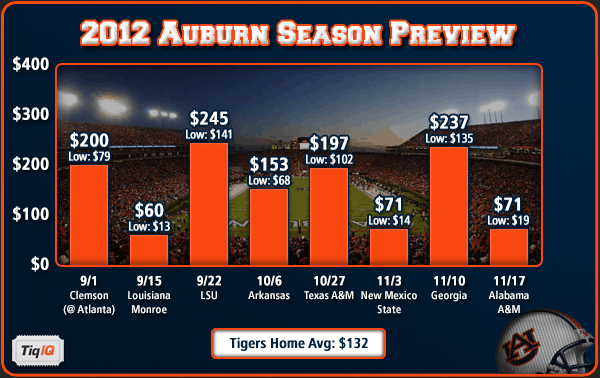 According to TiqIQ, Auburn's year over year preseason avg has dropped 15.15%. I think that has something to do with the odd year home games being awful, meaning that people had to sell their tickets for less last year. That number will probably go up after this year. Anyway, what about you? Do you stay at home or give up the cash for tickets?