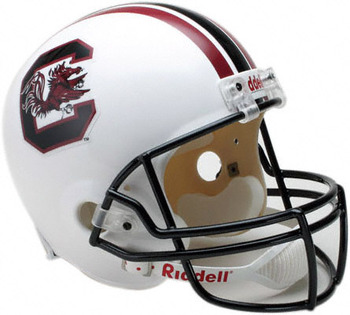 Gamecocks or Lamecocks? I guess we'll find out pretty soon. Auburn faces yet another opponent who hasn't truly been tested, giving them no real idea of what South Carolina is fully capable of. I don't care if they played Georgia. That wasn't a good Georgia team they beat in week two. So I guess I'll compare schedules and fight my way through the Lattimore hype to see if I can figure out what the Tigers should truly expect.
South Carolina comes to Auburn this weekend with a lackluster resume consisting of wins over Southern Miss, Georgia, and Furman. Auburn has no like opponents with the Gamecocks yet, but one would definitely say Auburn has played a tougher schedule, with wins over Arkansas State, Mississippi State, and Clemson.
Arkansas State is better than Furman, who the Gamecocks allowed 19 points to in a 21-point win. Auburn beat Arkansas State by 26. Comparing the two other non-conference opponents, we have Southern Miss and Clemson. I think it's safe to say that's a no-brainer.
If we look at SEC opponents, and I know it sounds crazy, but we'll figure out which opponent is the toughest when Mississippi State plays Georgia tomorrow. South Carolina's claim to fame, so far, is their win over a 2-loss Georgia. If Mississippi State beats them tomorrow, we may see that the Gamecocks don't deserve much credit at all, resurrected ground game or not. The only problem is that the game between the Dogs and Dawgs will end just before Auburn's game with the Gamecocks, so by then we'll know if South Carolina is for real or not, regardless of Georgia having two or three losses.
So if we look at schedules, and who has beaten who, you have to give Auburn a slight edge. Of course, that doesn't mean Auburn is better. South Carolina could end up being the best team in the nation, but right now we can't say because they haven't played a truly tough opponent. So, going on the caliber of opponents beaten, we have to go with Auburn.
Before I start on Lattimore, let me just say that the dude is good. He's done a great job so far, and it looks like he will be a great back for the Gamecocks. However, I want to ask this question: if Lattimore wasn't a freshman, would he be getting this much love from the media?
Again, he's good. I'm not taking that away from him. He's near the top of the SEC in individual rushing yards, but it seems to me that some of the talking heads in the media may be allowing his freshman status to enhance his stats. Is it amazing that a freshman has the numbers that he as attained? Sure, but let's actually look at his numbers and pretend he isn't a rookie.
At this point in the season, Lattimore has 333 yards, which is 2nd in the SEC. However, he has done that on 70 attempts, which is tops in the league. That gives him a lower yards-per-rush average (4.8) than any other rusher in the top 10. His long run of the season is 28 yards. Every rusher in the top 9 beats that number. It's pretty obvious these numbers are skewed, and in terms of rushing yards inflated, because of the number of times he's run the ball.
I said this in an earlier post, but I would hope an SEC back would be able to gain that many yards if they ran the ball 37 times in one game, or 70 times in three games. Now one more time, I'm going to say this again: these are great numbers, and it's even better that a freshman has done them, but if you look at the actual numbers, they aren't super-duper special.
Did I say that I think he's good? I just wanted to make sure you understood that. Anyway…
Normally, I love night games. They seem more important, and they allow you the entire day to tailgate and watch other games. However, this Saturday will be Auburn's 3rd straight home game under the lights. The last two, I have been worn out by kickoff, and it seems like the team and fans have been as well.
In both games at home this season, Auburn has allowed the other team to score first. If the Tigers allow the Gamecocks to come out and get on the board before they do, I think we could see another tough game like last week. I don't think any team would be able to muster another comeback or take part in a battle like they had with Clemson two weeks in a row.
Here's what I want to happen: I want Auburn to take the ball first, if given the chance, and drive down the field with a steady dose of Dyer, Newton, Darvin, and at least two other receivers. I'd like to see a few long runs, a few short passes, and a quick pace. Then, I want the defense to bottle up Lattimore on the first drive, putting Garcia into a 3rd-and-long, obvious passing situation. Zac Etheridge will then step in front of a Gamecock receiver for the secondary's first interception of the season. If the the game starts that way, maybe Auburn can finally win an easy one, and let the world know that they are actually the team that's for real.
Here's what will happen: everything I just said, plus at least one receiving touchdown from Mario Fannin, an end-around touchdown by McCallebb, and a scrambling touchdown by Newton. Lattimore will score two touchdowns. Neither will be over 5 yards, and one will come late when the game has been put away. Lamecocks it is…
Auburn 31, South Carolina 20