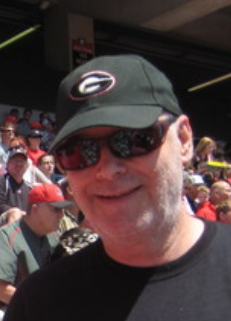 You may remember Greg Poole (@ecdawg_LHB) as one part of the most controversial "Other Sideline" of 2011. I decided I would give him another chance this summer to see if he deserves to come back for the real version in November. Spoiler alert: he doesn't. Greg is the publisher/editor of the Leather Helmet Blog… and all that other stuff I said last year.

1. Now that Auburn and Georgia are both victims of highly talented running backs gone wrong, how do you see each team progressing at that position?
I have no idea of what Auburn will do for running backs now that the Arms Merchant of The Plains has moved on.
Georgia, however, is in great shape after the departure of the misunderstood Mr. Crowell. Two freshman running backs from North Carolina will, in my opinion, be the workhorses of the Georgia offense by midseason. Both Todd Gurley and Keith Marshall are fast and big enough to handle any assignment. Additionally, Ken Malcolm will be an important factor for the Dawgs.
2. What do you think about yet another top-10 preseason ranking for the Bulldogs?
Why should they not be ranked in the top 10? Georgia has a personnel and the schedule to repeat as SEC East champions. SEC East champions are top 10 teams by definition.
That said, I would not have been surprised to see them ranked outside the top 10 (as a few publications have done). The requisite talent is in place in Athens, however, the Dawgs have not always played up to their talent level.
3. Who are two unheralded Dawgs that Auburn fans should keep an eye on?
You may have heard that there have been some unusual issues of attrition at UGA in the past year. Because of a few unfortunate developments, a number of freshmen will see playing time this fall. In fact, only a few will redshirt.
Two of these players, Josh Harvey-Clemons (6-5/207) and Jordan Jenkins (6-3/257) will be significant contributors by the time we get to the Auburn game.
4. Who are two Auburn Tigers (one past and one present) that scare you?
Bo Jackson and Zeke Pike…oh, wait.
5. What are the major concerns for Georgia in this game?
The major concerns for Georgia all year will be depth. UGA only has 72 players on scholarship and only 69 of those were actually recruited a scholarship players. The Dawgs will be hard-pressed to absorb injuries, especially early.
By the time of the Auburn game those depth problems should be solved or Georgia will be limping toward the end of the season.
6. Which matchups are you most looking forward to seeing?
The match-up that I am most looking forward to in every game this year is Georgia's defensive front 7 against everybody's offensive line. To beat UGA in 2012 you must beat that defensive front. Good luck.
7. Do you think Aaron Murray will throw a hissy fit when the bus rounds the corner and he sees Jordan-Hare Stadium?
As long as Nick Fairley is no longer on the payroll at Auburn, Murray will be fine.
8. What's your analysis/prediction for the game?
This is an easy question. Using last year's game as a starting point, Auburn gets 7 points for home-field advantage and another 7 for hiring the Falcons castoff defensive coordinator. That would bring the score to 38-14…but Auburn also hired Willie Martinez…
Final score = 45-14
9. Where do you see Auburn and Georgia ending up this season?
Auburn will the 3rd or 4th in the West and Georgia will win the East.
10. Lastly, how do you feel about Mark Richt coming out and admitting that he has just now hit puberty (i.e. his goatee)?
If that is the case I revise my Georgia/Auburn prediction to 63-0.