It was over before it started. We all knew it. But the last time we saw Auburn play, they didn't do too well in a hostile environment away from home. Well, this time they were still away from home, but the environment was far from hostile. In fact, it was almost like they were playing in front of a Spring game crowd. It was half-full, quiet, and unenthused.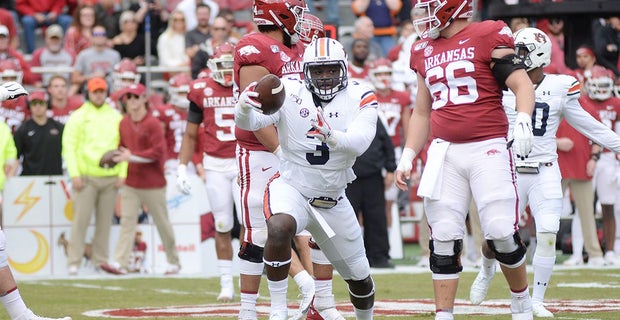 From the time Marlon Davidson stripped the Arkansas quarterback and fell on the ball, the crowd knew the game was done. You could tell by how quiet it was when Bo Nix scored a few plays later. There were no sounds of disgust. It was just a blank silence. It was like Auburn was scoring their 100th point of the game, and the game was only about three minutes old.
Once the score was 17-0 and Auburn hadn't even really had to try, it was time for Gus to figure out Auburn's replacement for Boobee. Kam Martin is good and all, but he's not the up-the-middle, every-down back. That's DJ Williams, and honestly sometimes Malik Miller. They are both better at shedding blocks and seeing where the holes are opening up. Until Boobee is back, give me both of those up the middle, Shivers and Kam around the ends, and throw Harold Joiner in there to shake things up.
The passing game had a few snafus while the running backs were working it out, which made for a boring 2nd quarter, but Gus and company called a few plays in the 3rd quarter to put them away and shut the doubters up. I believe it went like this: bomb to Seth for touchdown, interception by Javaris Davis, bomb to Schwartz for a touchdown. Any excitement the Hawgs had after only giving up 17 points in the 1st half was immediately gone.
The defense was awesome besides that one drive that ended in a field goal for Arkansas. Too many penalties and stupid. But one drive a game is okay. Still, though, it felt like 2009 Arkansas for about 15 plays.
Auburn broke the NCAA record for consecutive extra points made, dating back to 2013, but then promptly ended the streak two kicks later. Oh well, that one will likely last for a while. Either way, it just felt almost on purpose. I'm fine with it, Auburn has bigger things to focus on.
The game was over from the start, and it was nice and easy. Don't forget, though, that Arkansas was a road SEC opponent and Auburn could've scored 70 on them if they wanted to do so. Don't take that way from them. Some of it is Auburn, not just Arkansas's lack of competition.
Auburn now moves on to their last road game of the season, and it's the toughest so far. But Arkansas gave Auburn what they needed: live practice, confidence, and a positive outlook in all three phases. Bring on the corndogs.