Apparently being ranked #1 by your own tv station isn't enough to get you in the vote for the ESPY for Best Male Golfer. Now you know I got nothin' but love for ya ESPYS, but come on…

Like last year, which understandably included Auburn in five categories, in which the jealous world kept the Tigers from winning any, let's analyze the one category an Auburn man at least should be in. And yes, I'm going to keep in mind that the ESPYs look at the accomplishments from July to July (when the show is held), so it's not just based on what's happened this year.
Luke Donald is currently ranked #1 in the official golf rankings, but he's a bust. He's the worst #1 that I can ever remember. And Bill Haas, are you kidding me? He's not even in the aforementioned power rankings, and is ranked #24 in the world. In the past two years combined, he's won half as much money as Dufner has won this year alone.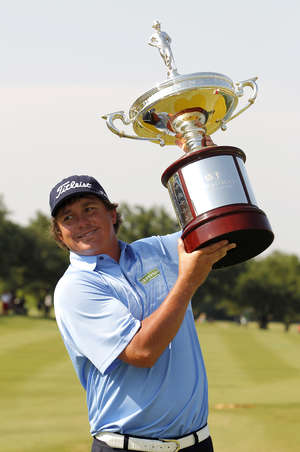 I don't have any problem with Rory McIlroy, but outside of winning the U.S. Open last year (which is outside of the ESPYs realm for this year), what as he really done? He has one less win and one million less dollars than Dufner this year.
Webb Simpson is on the rise, but he's probably only in the voting because he just won the U.S. Open, which is good I guess. Bubba Watson is in my top 3 of favorite golfers out there. You win the Masters and have five Top 10's, then do you deserve to be there. He's the only one I can say definitely deserves to be in the Top 5 without a question.
However, Jason Dufner has had a better year than all of these guys. In his past five tournaments, he's had two wins, one second place finish, a fourth place finish at the U.S. Open, and a tie for 68th at The Players Championship… AND he got married during all of that. That is pretty amazing. The only thing against him is that two have won majors in this ESPYs year, and he has not. But he still has more earnings, which is really all that matters, right?
Oh well, I have applied for credentials to cover the ESPYs again, and I may be going (if you help send me there). If so, I'll take a big Copenhagen sign in his honor and for reasons of protest.