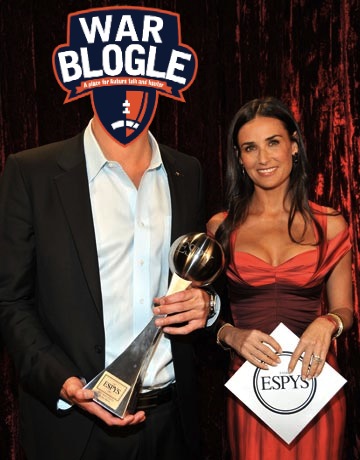 Yes, you read the title correctly. The WarBlogler, little ol' 'Blogle, is going to be hitting the streets of L.A. (and I don't mean Lower Alabama) to cover the ESPYs and all things related.
What began as sort of a joke/shot in the dark ended up coming to fruition two nights ago and it was made official yesterday morning. I've been literally busting at the seams to say something, but I wanted to make sure it was officially official and financially feasible. Well, one of those became true, and I'm working on the other. I think you can guess which one that is. More on that later.
I know what some of you are thinking, "What! This dude?!" To that I say, "Don't give up. Don't ever give up."
As far as details and plans, here's all that I know as of right now:
– Tuesday night (7/12), the night before the ESPYs, there is a big party hosted by Serena Williams on Sunset Blvd. I've been told most of the athletes and celebrities that attend the ESPYs will attend this party as well. For this event, I will be in the press line outside the front door with access to interview, take pictures of, rub elbows with anybody that is willing. We're talking Kobe-type people, y'all. I don't mean to sound like a blubbering kid who's never been to the big city, but admit it, I don't care how big you are, this is exciting.
Oh, I also may be able to make the rounds inside the party as well, but that's still up in the air. You know they ain't gon' be able to keep the 'Blogler outside all night, though.
– On Wednesday morning (7/13), there is some sort of expo at the W Hotel Hollywood where retailers show off all of their new products to the athletes. I will be getting a run through that, and will do my best to convince one of them that I'm the next Cam Newton.
– On Wednesday night, the night of the show, I will be posted up on the red carpet (Ryan Seacrest style) outside of the Nokia Theater in downtown Los Angeles. Again, I will be to able interview, snap pictures with, and give advice to anybody who'll stop for me. Don't worry, I'm not shy in these situations. They will all know I'm there.
We're still waiting to hear who from Auburn will be attending (I would imagine at least Chizik, Cam, and Nick), but I have been promised direct access to whoever shows up. That's right, Chiz, the guys, and I will have a short chat, make fun of the locals, and you know, just catch up, provided they show up.
– Once the show starts, I will head over to the press tent which will basically be a rotating press conference where all the winners will sit down after they come off stage with their award. I know, I know. It's awesome.
You better believe that all that I can get on camera will be gotten, and tweets will be aplenty. Details are still coming in so I'll keep you updated. I mean, this whole thing is just for you guys. I'm willing to take on this burden just for you, which brings me back to the money…
As far as the events, I'm taken care of, but as far as getting my tiger tail to L.A. and sleeping inside a building, that's all on me (or you). I'm sure most of you know that flights to L.A. and a hotel in and around Hollywood ain't cheap. AT ALL.
So basically (and I hate to even ask), I need a little help. Anything will do. A dollar will do. Not to brag, but if all of you Twitter followers out there gave me one dollar, I may be able to afford something with four actual walls inside the city limits. This is definitely an unexpected expense at a very low budget time (remember this?), but also definitely something I could never turn down. So if you can find it in your heart, please donate any amount you can here, or click the 'Donate' button below. It's PayPal so it's all secure.
Seriously, a dollar is perfect. Nothing is fine, too, but look at this way: you'd be paying a dollar for insider access and all things Auburn from the ESPYs that no other Auburn site (as for as I know) will be able to give you. I think that's cheap. So there's my sales pitch, but like I said, if you don't want to give me anything, it's all good. (Can you tell that I hate to even ask?)
So now you know what the HUGE news was, and it may not be that HUGE to you, but it is for me and I've been going crazy waiting to tell you. For all the friends and family members that texted asking what was going on and I ignored, sorry. Literally only Mom Blogle and Beautiful Blogle knew, and it was kinda fun.
I plan on doing a post where you can submit questions you want me to ask, so be sure to keep checking back. I'm sure you'll deliver like you always do.
Oh, I almost forgot. One way you could make sure Chiz and Co. make the trip is to vote, vote, vote, and then vote again. Don't let me get out there and not have any Auburn peeps to talk to, or even worse, force me to have my own personal Kanye West/Taylor Swift moment on stage. I'll do it, but I don't want to.
Anyway, so there it is, vote. WDESPY.