The response was so great to my request for your Auburn Dad stories this year that I had to split them into two posts (part 1). Plus, I know people don't like to read for long periods of time, so I made it easier for you. We start off the final piece of this year's stories with a little bit of Auburn royalty…
---
"I am an Auburn alum…'86 and '89. My dad is not an Auburn alum. However, he is a lifetime member of the Auburn Alumni Association though! Weird I know…but common for former coaches here. His name is Sonny Smith.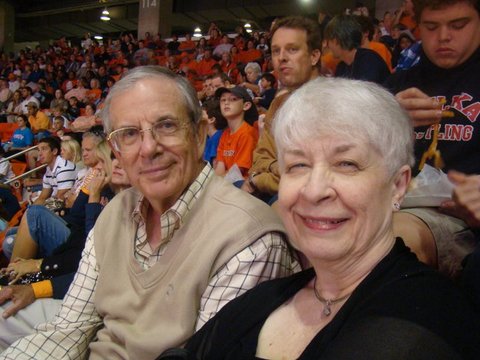 I know that basketball is not an important sport to most people here, and not all people will remember him. However, I think he was an important part of Auburn's athletic history. He is one of the most successful basketball coaches that Auburn ever had. He is most well known for coaching Charles Barkley, Chuck Person, and Chris Morris. He lead his teams to the Sweet 16 and the Elite 8. He won an SEC Championship. He is a member of the Alabama Sports Hall of Fame. He is retired from coaching, but is still active with sports radio and TV. He had a popular radio show on JOX with Wimp Sanderson for many years. He now does the color analysis for basketball games for many leagues. He did the color for many Auburn basketball games this season. I am proud of him for all that he accomplished and for how involved he still is today. I am most proud to call him my father.
I returned to Auburn to live two years ago.  I have two beAUtiful daughters… one will be a junior and is a majorette with the Auburn University Marching Band, the other is thirteen years old and will attend Auburn Junior High School this year…just like I did when my dad began coaching here!!
My parents moved back to Auburn to live in a town he loves…and to be close to family that loves him. I don't just mean my family…I mean the Auburn Family. Those that know he is back here, have welcomed him with open arms. War Eagle and Happy Father's Day!"
–Sheri Wood
---
"Gamedays he would always have the T.V. muted and radio up very loud with Jim Fyffe screaming "Touchdown Auburn." I honestly do not know how he could tolerate me during the game asking every question that came to my mind. I was just too young to realize what was going on… My dad was so passionate about Auburn football and them winning. I can just remember him yelling and screaming at the T.V. for missed calls, and/or bad play. He would always talk about how he would be so ecstatic/excited if Auburn ever won a National Championship. In '03 he passed away. (I was 8 at the time.) the '04 season Auburn went 13-0, and all I could think about was how he would have loved to see that team play and win. I can only imagine how much jumping/screaming/yelling/clapping we would have done during the 2010 BCS National Championship run.
Ever since his passing I've been the biggest Auburn fan you'll ever meet… from basketball to football to baseball. I'm so glad I've followed his footsteps and his passion for Auburn and sports in general. I could write tons more but that's all that I have for now! I hope you enjoyed! WAR DAMN EAGLE!" –Mitchell
---
"I come from a long line of Auburn Tigers. My grandfather played football before Auburn was Auburn and before Shug Jordan even graced the campus with his impactful presence. He was president of the Letterman's Club for many years, which allowed us to have amazing seats on the 45 yard line, 22nd row, Auburn side. My daddy took advantage of these family seats and took my sister and me to every game starting at very young ages.
I have enough memories that include my dad and Auburn football games to last a lifetime: waking up at 5:30 am to go tailgate at our first home Iron Bowl, driving to many away games, dad teaching us how to throw a spiral saying we could be the next Pat Sullivan, putting on our cd of the Auburn band and singing as loud as we could out the window to the Auburn fight song, him letting us stand on the bleacher as he taught us everything about the game we ever wanted to know, going to many away games, and high-fiving after every touchdown or first down.
As I grew older and moved too far away to go to more than a game a year, we would call or text after every big play. We attended the 2010 SEC Championship together, with my sister and his wife, and it was probably the last game we will ever attend together for many reasons I can't share. It bring tears to my eyes that we were able to experience that together. What only the Auburn family understands, is that it's Auburn, not just Auburn football, that has bonded us together in a way that not many fathers and daughters get to experience. I will always owe Auburn my gratitude for giving me such an amazing college experience, and I will always owe my Dad everything for sharing Auburn with me. Thanks, Dad!"
–Elizabeth Dewberry
---
"As my dad would tell it, he ended up at Auburn out of sheer proximity. He was the son of a Marine, and his family never stayed in one place long enough to really get settled (decide a college loyalty etc.). His last move with his family occurred when he was in the 10th grade, as the Smiths moved from Camp Lejeune, N.C. to Montgomery, AL. When it came time to pick colleges, Auburn seemed like the right choice. My dad moved to Auburn to start his freshman year of college and his family headed to Pennsylvania, all in the same day.

Looking at him today, you would have never known my dad grew up, not bleeding orange and blue. From the time he stepped foot on campus he was an Auburn man through and through. He works as an assistant district attorney and wears his orange and blue striped ties as much as he can get away with it. I can't remember a holiday where he hasn't received some kind of Auburn paraphernalia. I have seen few people who become more passionate about Auburn football than my dad, and many times we have had to take my dog out of the room during the Iron Bowl because the yelling is so loud :)
The story that probably describes my dad and his love for Auburn the most happened when I about 3 years old. My mom and dad have a mixed marriage (yes, she went to that OTHER school). I am sure, being their first born, that there had to have been some competition about who would win my loyalty. Would I turn out to be an Auburn girl or……. (Well that other thing). One day, my mom was going through my coloring book when she realized that every single page had been colored (or more scribbled) with only two colors; orange and blue. As a University of Alabama alumna, she was shocked! How could a three year old have picked just those two colors to color a whole coloring book?! Suspicion overwhelmed her and she investigated the situation—only to find that orange and blue were the only two colors I had in my crayon box. My dad had taken every other color, leaving me no choice! Needless to say, his ploy worked and I was soon wearing the mini-Auburn cheerleading uniform and learning the fight song.

This year I myself graduated from Auburn and enjoyed getting to share that moment with my dad. We now shared something that people, who haven't experience it, just can't understand (we even compared our pocket diplomas after I received mine this we— He still carries his in his wallet).
My father is one of the most Godly, honest, hard-working men I have ever met, something that is very typical of an Auburn man. He exemplifies the words of the Auburn creed in everything he does- from leading our family, to the job he does for our state and city. I admire and look up to him in every way, and hope that I can be the kind of person that he is. Happy Father's Day dad and War Eagle!" –Alexandria Smith
---
"My Auburn Dad (Vann Rogers) has been a dye-hard AU fan since the day he was born and raised me the same way. I grew up listening to stories and looking at pictures of his grandfather who played football at AU (API) in 1896 under Coach John Heisman. I have wonderful memories of sitting next to my Daddy in Jordan-Hare…especially at A-Day! Walking on the field with my Daddy and getting players and coaches autographs was AUsome! I've always been a Daddy's girl and remember playing football in my front yard and he was "Pat Sullivan" and I was "Terry Beasley". He would teach me all the different plays and formations.
My job is in retail collegiate sports apparel/novelties. So I am surrounded with NCAA football all day/everyday! Earlier this year, I had a meeting at the Auburn Arena Team Shop and I brought my Dad along to see AU vs. LSU men's basketball. We had tickets in the scholarship section (never sat there before!) and my Daddy smiled the whole time and was in Heaven!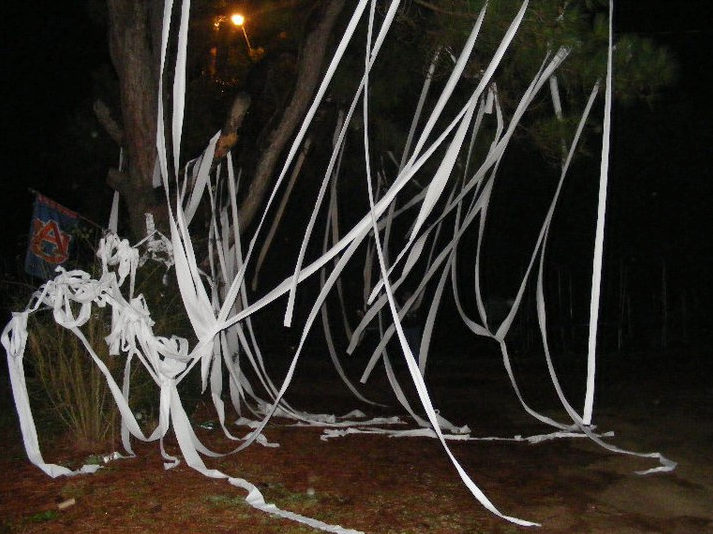 But by far, the best AU memory is from Jan. 10, 2011. The night the AU Family became National Champions!! My Daddy and I were outside in my front yard at midnight with about 35 rolls of toilet paper rolling the trees in my yard! We live about 2 hours from Auburn so we made our own Toomer's Corner that night! We yelled, cheered, laughed, and cried!! A wonderful night full of emotions! We had done it…..we were National Champions!! The smile on my Daddy's face brought tears to my eyes. My Daddy is a special man… sweet, caring, honest, funny. But more importantly… he is an AUBURN man. War Eagle!" –Kelly McLain
---
"My Dad is not the first in line to volunteer for hip new charity causes. My Dad is not the loudest voice when congregation sings on Sunday. In short, my Dad has a lot more in common with the Disciple Thomas, than Simon Peter. He is a believer, but not without questions. I guess I get a lot of that from him (along with my first name…THOMAS). I also got my complicated love of Auburn and Auburn Football from him as well.
I learned the LOVE of AU football during the glorious time of the late 1980's, and what a time that was to be & become an Auburn Fan. Back then college football was the way it is truly supposed to be. No one really and truly cared about who won the National Championship, or if there would ever be a playoff. You wanted beat your rivals, win the SEC, and play in the Sugar Bowl on (GASP!) New Years Day. Auburn always played Tennessee in September; we always had an October non conference battle with Georgia Tech or Florida State (or GASP! BOTH), and "Amen Corner" truly earned its name…because the last 3 games on the schedule were Florida, Georgia and then the Iron Bowl. We've heard the tales, after Bo rode off into the sunset with his Heisman Trophy – Coach Dye led Auburn to 3 straight SEC titles and brought Alabama to Auburn. War Eagle Forever!
I wasn't old enough to remember my first Auburn game. I'm told it involved a little orange footie-sweat suit. The first Auburn game I remember actually going too wasn't a BIG rivalry game, but it's a memory I will always cherish. It was the 1987 Auburn Vanderbilt game. Auburn did that day exactly what they were supposed to…Andre Bruce and Tracy Rocker were holy terrors on the defensive line & Jeff Burger (probably drunk) hit Lawyer Tillman for some big plays, while the James Joseph/Stacy Danley two headed monster in the back field was every bit as fearsome as Ronnie and Cadillac were in 2004. The score and the exact details of the game have faded from my memory. But what remains is much more important, and much more "Auburn" – I dare say.
That day sums up my love of SEC Football – because all over the South (from the Groove to the Torch Bearer) families convene on their respective campuses and truly grow closer (even in Tuscaloosa). The family that tailgates together stays together. My whole family (Dad, Mom, my brother, and me) came to Auburn that day. We tailgated on "AG hill" in front of the Animal Science building with our close family friends The Fains. Then Dad and I got separated on the way to the Stadium. We passed by the Venerable Parker Hall – he said that place was a dump even when he was there, and I hope they never tear it down.
We didn't make it to Tiger Walk, but I experienced a now long forgotten pre-game ritual. Dad took me to meet "Tiger" (War Eagle VI) at the long vanished "Eagle's Cage." I couldn't have been more star struck if I met Bruce Springsteen now. After buying our required copy on the Auburn Football Illustrated, we went on into the game. We later became season ticket holders in the early 90's – so, we sometimes have extra tickets – to this day if we see a Dad and young boy looking for tickets before a game, my Dad will usually slip them the 2 extras free of charge (well, sometimes a "War Eagle and promise to pull Auburn through is required of the kid).
Jordan-Hare now has a lot more bells and whistles now, and I still get chills the first time I walk thru the gate every season…BUT back then it was different. You walked up to the gates, and a volunteer from the Lee County Loins Club tore your ticket (which usually had a cool Phil Neel cartoon of a comic strip Tiger he created, named Aubie clashing with the mascot of the day's opponent). After tearing your ticket, the Loin's Club member did not say "Enjoy the Game" as the private security firm that oversees your entry into the stadium does now. It was always, and unequivocally – WAR EAGLE!
You were not interrogated at every portal entering the stands, so Dad took me to the lower level so I could see the field and how green the grass was & watch the players warm up in those beautiful dark blue home jerseys. He pointed Coach Dye at mid-field, pacing around with that quite swagger he had – no wonder we loved him so much…no wonder others hated him so much. We then went up to ramp to watch the game from the Brand Spanking New eastern upper deck.
On the way up, he pointed out the Haley Center (and how my first classes if I ever went to AU would be there, and how I'd probably get lost trying to find them), and Cary Hall (where his pharmacy classes were in the 70's). We heard the legendary "Right you are.." Carl Stevens come over the P.A. and bellow out, "THE CURRENT JORDAN-HARE STADIUM TIME IS…"
Twenty minutes later, the marching band took the field. We sang the fight song & "Glory, Glory" (which I've heard no matter how drunk you are – you can always remember the words) with 85,000 of our extended family. The Mic-Man led us in "Booda-Getta," "Track Em'" (probably why I'm beagle person), and the spelling of AUBURN. Auburn won comfortably, Reggie Slack played mop up duty at the end. The sun set in a glorious burnt orange and shy blue – the way it only does after an Auburn victory on the Plains. I was a 7 year old boy with his dad, at an Auburn Football game, and I was hooked for life.
The next year, was probably the closest Auburn really came to winning a National Championship under Coach Dye. We were watching the 1988 LSU game on this crazy cable network called ESPN, because LSU refused to play Auburn during the day at home on CBS. I won't go into the details. Auburn defense was a brick wall for 58 minutes, but the valley shook and for the first time after an Auburn game I cried. My dad sat me down, and said this, "Wess, there's one thing about Auburn Football you've got realize. It will break your DAMN heart." And for the next 22 years (even with 2004 & 1993) there was a heart break for every great victory. I say this, because Dad taught me that the things and people we love in this life will let us down…but we still love them and stick with them.
Poetically as luck would have it in 2010, I made it down to see Auburn play the very school from Louisiana that had inspired "The Great Steve Floyd Auburn Football Life Lesson." You know the story. Ted Roof's defenses were never confused with the late 1980's units, but Nick Fairly single-handedly made Jordan Jefferson look as bad as Alabama's whole defense did in New Orleans this past January. Then Cam Newton went for a little jog thru the LSU secondary on his way to Auburn's third Heisman Trophy. As it always is with Auburn however – those memories may fade (okay, maybe not), but they aren't the REALLY important ones. The best and most cherished memories we have as Auburn people usually don't happen on the field. As the team celebrated in front of the student section, with #2 blowing kisses and saluting the band…I turned and looked at my Dad. The same man that had told me Auburn Football would "break my damn heart" after and LSU loss that kept AU from playing for a National Championship in 1988 pointed and said: "You know, this is a special time at Auburn." I was a 31 year old man with his Dad, at an Auburn Football game, and I am still hooked for life. War Eagle Forever Dad!" –Wess Floyd
---
"My Dad played on the freshman team at Auburn back in 1967. He has always been a big fan but my favorite Auburn memory with him was sitting together at my house and watching the national championship game. It wasn't the wildest scene with the two of us (we're a pretty reserved bunch) but he did have a couple of beers, which is pretty unusual, and at the end of the game he misted up a little bit. Growing up when I did I have mostly seen Auburn do well on the field but coming from when he did and having lived through all of the years of Auburn being dominated by Alabama and the slowly rising back to prominence, first under Dye and then later under Bowden, Tuberville, and now Chizik, I could see how much that season had meant to him and it was very cool to be there to share it with him." –Marcus Longshore
---
Thanks again to everyone who sent their stories in. I really enjoyed reading all of them. If you still want yours posted, feel free to send it in. We'll do this again next year…