Last year's Your Auburn Dads post was one of my favorites and from the what I was told, it was one of your favorites, too. The Auburn Family is just that, a family, so it only makes sense that there are deep-rooted, personal family stories and experiences that keep the Auburn Family strong. Below are a few of the stories that I was sent over the past week, and they are all sure to make you all warm and fuzzy, and maybe even have to act like you got something in your eye. We'll start it off with a friend of the 'Blogles and former Auburn Tiger…
---
"It's New Years Day, 1986, and my dad, Kyle McCain (Engineering, class of '82), is at the Cotton Bowl in Dallas,Texas watching his beloved Auburn Tigers take on Texas A&M in an SEC/Big 12 showdown, long before talks of the Aggies joing the SEC. The game featured Heisman Trophy winner Bo Jackson, and an Auburn offense that was held to just 16 points by a stingy Texas A&M defense featuring a young defensive end by the name of Terry Price (Bo Jackson would become my childhood idol and Coach Terry Price would eventually recruit me to play football at Auburn). I was at that game too. Well, in a way…
My mom was a feeling a little under the weather that day, and it wasn't the (in)famous Dallas Fair Grounds funnel cakes. It was me. From the womb. PISSED about the Tigers' loss.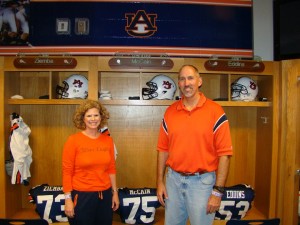 Many things have changed since that day. I am now a grown man. Auburn vs. Texas A&M is now a conference game. My dad's hair has turned a little grey (and there's a little less of it). Pat Dye and Bo Jackson are no longer just coach and player respectively, but are Auburn legends that we will all tell our children and our children's children about.
Many things remain the same – namely my dad's love for his family and for Auburn, and the fact that I still get pissed about every Auburn loss.
My dad first developed his love for Auburn as a young man through his relationship with Paul Spina, my "Auburn grandfather". Mr. Spina had a tough task. You see, my dad was a teenager during the Barfield years. Anyone who knows about football in this state knows that it was a whole lot easier to wave the crimson and white in those days and become a product of the Bryant years in Tuscaloosa, or, as I like to call it, "the Updyke Generation".
But not my dad. No way. Because he saw things in Mr. Paul Spina that made him want to be an Auburn Man. I treat that term like a proper noun because that's exactly what it is. An Auburn Man loves God, his family, his country, and his school. He believes in "truthfulness," "education," the "human touch," and my favorite, "work, hard work." That is Mr. Spina. That is my dad.

Auburn football would become my favorite activity as a child, as I dreamed of one day wearing the orange and blue uniform. It would also, and more importantly, be the avenue by which I would learn some of the most powerful life lessons I carry with me to this day.

My very first Auburn memory comes from the 1989 Sugar Bowl. I cried as the teams filed into the locker rooms after FSU edged us 13-7. I pleaded with my dad to "Make them come back out! We aren't winning yet!" I learned that day that the good guys don't always win, and the importance of loyalty even on the bad days.
I learned the following October, when we got our rematch with the 'Noles in Jordan-Hare, that revenge is sweet. I also learned that day that there is no tomahawk chop as much fun as one done in mockery of a Bobby Bowden coached squad.
I learned in the wake of the Pat Dye/Eric Ramsey situation and Coach Dye's subsequent resignation that all good things come to an end, and that good people make mistakes. That doesn't make them bad people, it just makes them human.
I learned in 1993 that anything is possible when a group of like-minded people work hard and believe in one another. I also learned that we should all seek to have a little Patrick Nix inside of us. Be prepared, because your chance to be a hero could be closer than you think.
I learned in 1994 against LSU, in 1997 against Alabama, and again in 2001 against Florida (and many other times) that miracles do happen.
I learned all of these lessons and many more because of my dad. We took in all these games, and countless others, together. Home or away, we were there. Good season or bad, we were there. I was there because of him, and for that I am forever grateful.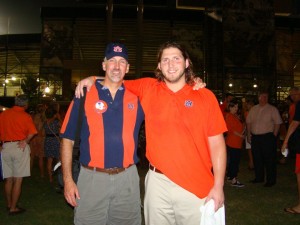 Fast-forward to September 5, 2009, after some trying times my first four years at Auburn. Struggles in the classroom, frustrations in social life, and countless disappointments in football. After broken hearts, a changed major, and a coaching staff overhaul. There we stood outside the Tigers Den. Father and son, after my first start as an Auburn Tiger in Jordan-Hare stadium.
We beat Louisiana Tech 37-13 that night, but that didn't matter. He would have been there if the scores were reversed. My dad was proud. He was proud of me for achieving my childhood dream. A dream I never would have had, much less actually achieved, without him. I was proud to be his son, and I always will be." –Andrew McCain
---
"My dad (WR Brakefield) was born in a mining town during the depression. His father had passed away just a couple of months before he was born. He was a surprise baby as his nearest sibling was 18 years older than him. His brother ("Big Jim" Brakefield), twenty years his senior, was forced into the role of father figure. They had many arguments and disagreements over the years.
My uncle attended Auburn (API at the time) and wanted my dad to do the same. As a jab at his brother, he decided to go to Alabama. Coming from a family of little means in that day and time, he was ridiculed for his lack of wealth and status from the day he arrived in Tuscaloosa. Dejected, he left Alabama after one semester. Despite their differences, my uncle finally convinced him to give Auburn a try.
He was overwhelmed by the atmosphere and friendliness of the campus immediately. His time there was always a struggle with money, but he never did without as there was always someone to lend a hand. He once told me, the only thing I passed my first year at Auburn was Phenix City. He persevered and the rest is history.
When I was in grade school in the 70's Auburn was in the midst of the decade long losing streak. I was made fun of at school as I wore Auburn shirts at least three days a week. My dad took me to many games over the years, but my first was a loss to Ga Tech. As we were leaving Jordan-Hare I told my dad that it hurt when we lost. We had already had a conversation about the situation at school and he told me something I will never forget. He said, "Son, we are who we are, and we are Auburn because of what it is and what it represents, and no football game will ever change that." I love you and miss you Dad."
–Todd Brakefield
---
"My dad, Jim Scarbrough, played for Shug in 1961-62, as End. He was heavily recruited by Auburn, Alabama (Bear Bryant), Vanderbilt, Georgia, and Georgia Tech when he graduated from Ensley HS in Birmingham. His father worked in the steel mills. His mother worked at Avondale Mills. He was the first person in his whole family to go to college, and he *chose* Auburn.
Unfortunately, he sustained a neck injury during his sophomore year and couldn't play again. Being AUsome, however, he stayed on and graduated with his B.S. in Industrial Engineering. He also married my AUsome mom, who had the good sense to transfer from Birmingham-Southern to be with him after her freshman year. They lived in CDV married student housing their final semester in 1965. In the 1990's, he served on the School of Human Sciences' Dean's Advisory Board.
Dad has stoically endured almost 50 years of social interaction with my mother's relatives from Tuscaloosa, including our cousin Junior (yes, you read that right) who wore crimson pants to the family reunion every year. When I was three years old, he was refereeing HS football, and one of his fellow refs would always try to get me to say "Roll Tide" – I was too smart for that. Dad also told me that I could go to any college I wanted, but that if I went to Alabama, I wasn't getting a dime. And he meant it.
His legacy (so far) includes two daughters who went to Auburn, one USMC Gulf War veteran Auburn Man son-in-law, and two War Eagle grandsons, one of whom refuses to wear red." –Kristi Scarbrough Weldon
---
"When I was seven years old, I was a Bama fan, as was my father. My dad was in the process of converting to an Auburn fan as he had been to a few games at Jordan-Hare. He took me to a game in '96, and I got to experience an amazing atmosphere. I couldn't tell who Auburn played, or name five players off that team. But I do remember that was the day I started to bleed orange and blue. That day is a special memory I share with my dad and I will cherish it forever." –Blake Schmidt
---
"While I don't have one singular story to tell, I can say without hesitation that my father, Mike, is the definition of an "Auburn Dad." Our family is comprised mainly of loud, opinionated women. My dad had the daunting task of raising three girls.
Each fall, our Auburn family, consisting of ten females and my father, descend on Mell Street for each home football game. Our tailgate, "War Damn Fam Jam," is a glittery, girly extravaganza. Plus my dad. I cannot count the number of tents my dad has raised, coolers he's loaded and tailgate boxes that he's been asked to pack and unpack. He's the master of the tailgate grill. He can cook it all: chicken, burgers, hot dogs and seafood.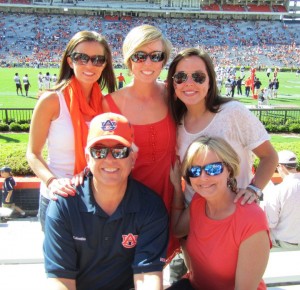 As a former football referee, he's graciously given us countless lessons on play calling, officials' hand signals and player positions. He has spent hours patiently adjusting the satellite dish trying to find the elusive signal. Once the game starts, he's available for purse-holding, drink-purchasing and player identification. When the game's over, he'll sing a round or two of "Hey, Baby" right along with you. He's there to help you up the stairs on the rare occasion when you may have had a bit too much fun in the many hours leading up to a night game. And he's done every bit of it with a smile on his face and an immense amount of love in his heart for all of us.
My dad is a member of the class of 1979, and I am proud to say that I feel he truly exemplifies the Auburn Creed. He is hard-working, honest, generous and kind. He is respected by those who know him and a blast to be around. I know I'm biased, but he's the best. As I've gotten older, I've come to recognize him as not only someone that I can look up to, but as an extraordinary friend. To my amazing Auburn Dad: Happy Father's Day, I Love You and War Damn!" –Melissa Hunter
---
"My dad is truly one of a kind. His name is David & he is pretty awesome. He works for a business called Motion Industries in Irondale, AL. He use to be the announcer for our football games at school, did it for 10 years. Well since I graduated, he gave it up so he will be able to travel to all of Auburn's away games. He has an awesome voice & hopes to one day be the announcer for Auburn. He's the greatest Auburn dad. Glad he raised me to be an Auburn girl. Happy Fathers Day!" –Taylor Simpson
---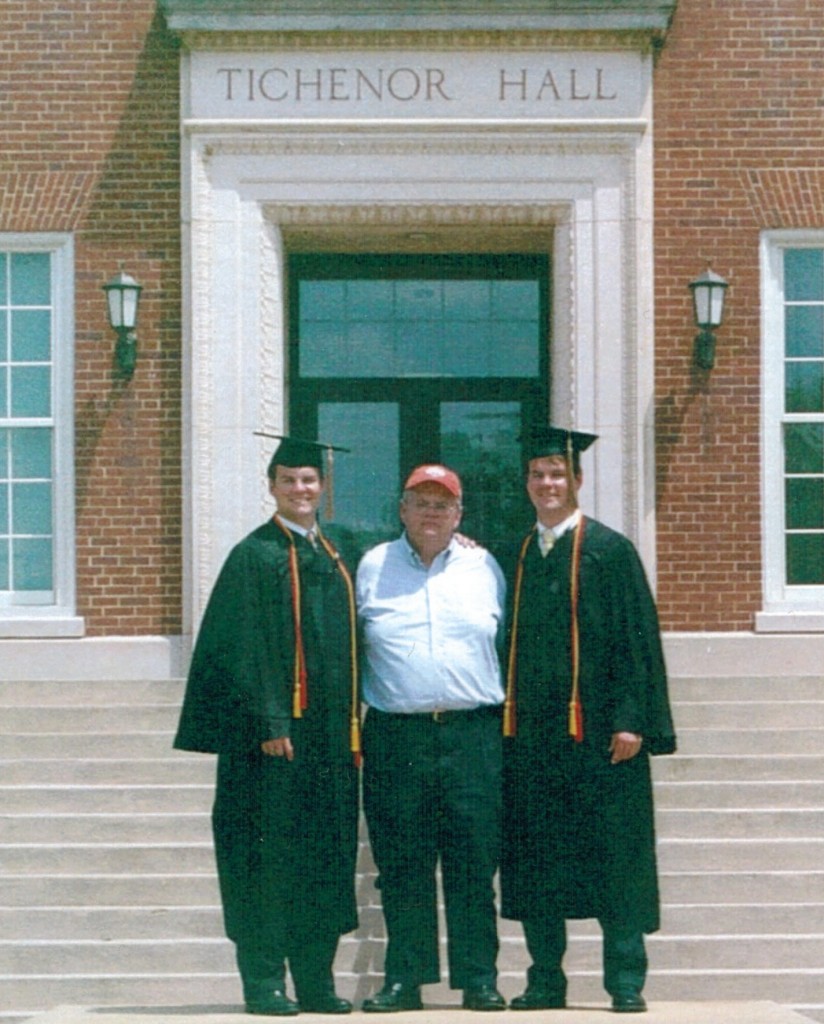 "I come from an Auburn Family. I have been exposed to the Auburn tradition from birth and have the pictures to prove it. My father graduated from Auburn in the early 80's with a degree in accounting.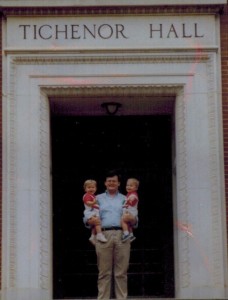 Following my twin brother and mine's birth, our parents took us back to God's country to show us where they met. Being all of 2 years old, I do not remember any of this, but was reminded of this fateful trip upon our graduation in Spring of 2011. My father quickly pulled out a photo of him holding both his boys in front of Tichenor Hall, then the home of the college of business.

So on our graduation day, nearly two decades following these first pictures, my twin brother and I were fortunate enough to be able to recreate this great memory with my dad as we celebrated our graduation from Auburn University, Both with degrees in accounting. Like father, like son." –Will Geeslin
---
"My dad has always been a great influence on me and we have shared many memorable times together. He demonstrates patience, character, honor, and love in everything he does. My dad played baseball at Auburn University from 1973-1976 under Coach Nix. He started as a true freshman at catcher (which is unheard of, especially back then) and was the starting catcher on the 1976 World Series team. He played alongside some really great players including Terry Leach and Joe Beckwith. He is an Auburn man through and through and has taught me what it means to be an Auburn man and to live my life reflecting that.

My fondest memory with my dad in relation to an Auburn event was during the 1993 Iron Bowl. AU, as you know, were banned from TV and we were huddled in the living room of our house listening to Jim Fyffe's voice over the radio. When Bostic broke the long run in the 4th quarter to put AU up by 8, we both ran around the house high-fiving and hugging each other. I was 14 at the time and it was the first time that I felt my dad viewed me as more than a son, but also as a friend." –Matt Morton
---
"My Auburn Granddaddy passed away April of 2011 and this was our first Auburn football season without him–not to mention, my first year at Auburn. Granddaddy graduated from Auburn and he never ceased to tell us stories about his crazy days in his fraternity how he knew Auburn as API. He was overjoyed that I loved Auburn and very proud that I was heading to Auburn to carry on our family tradition.
Fall has always been my favorite season. Not just because I get to see the Tigers play every Saturday, but because I also would see Granddaddy each weekend being that the man NEVER missed a home game. Even when Granddaddy became very ill in 2010, he didn't miss our star studded season; he even had to be courted back to his car after the Clemson game in an office chair that we found in the Haley Center. Granddaddy was determined to continue cheering on his beloved team.
Auburn's 2010 championship season meant a lot to me at the time, but it means so much more to me now because of my grandfather's passing. Granddaddy went to the SEC Championship, and he cheered Auburn onto to Glendale. He immediately booked his tickets to head out to Arizona–after all, it was his second time to see Auburn in a national championship–and boy, did he celebrate that January! That was such a special day for Auburn and for Granddaddy. It was his last Auburn game to attend, and it was the last day I ever spent with my Auburn grandfather.
Though 2010 has passed, we will never forget that football season that belonged to Auburn. And though my Granddaddy has passed away, I will never forget his legacy that he left. No, Granddaddy was not just Auburn, there was much more to him than that, but he sure did love his alma mater. Whenever I am in the Plains, I cannot help but think of him and how much I miss him–I know he is happy that I too get to experience the place that he loved so much. As the second Father's Day without him approaches, I think of him and am thankful for the memories I have with him. I am also thankful for Auburn: without our beloved school, I never would have gotten to know Granddaddy the way that I did or share a bond with him that cannot be broken. So, with that…Happy Father's Day and War Eagle to my Granddaddy; the epitome of and the greatest Auburn man I've ever known." –Jami Heard
---
"On January 21st, 1963 in the then small town of Oxford, Alabama, my dad, Gary Sparks was born. He grew up in Oxford in the days when "The Oxford Flash" Terry Henley was slashing through defenses like butter for the Tigers. With his two older brothers, one older sister, and one younger brother all being Bama fans, he chose to be different.
My dad has never taken a class at Auburn University, but he could make his way around campus better than most students. He instead chose to spend his life saving the lives of others as a firefighter. As soon as he was old enough he was going to games, football, baseball, basketball, anything. He would make the two hour drive with his friends to cheer on the Tigers.
When I was 7 years old, I didn't really understand what "Auburn and Alabama" was, I just knew if I said r— t—, my dad's reaction was always funny. Then my dad took off from his relentless schedule of fighting fire to take me to the 1997 Iron Bowl. One hour walking around campus and I fell in love with Auburn and never looked back. I grew up watching every game with my dad from then on, in person or at home on TV. To this day we still find any excuse we can to get down to the plains. It's not the most logical route coming from Oxford, but when we go to Montgomery, we go through Auburn. War Damn Eagle." –Robert Sparks
---
Be sure to check in tomorrow for part two of this post. There were so many great entries that I had to split this up. Thanks to everyone that sent a story in. If you don't see it here today, I promise you'll see it tomorrow. Oh, and there's a pretty famous dad story coming tomorrow, so keep it locked on the 'Blogle.