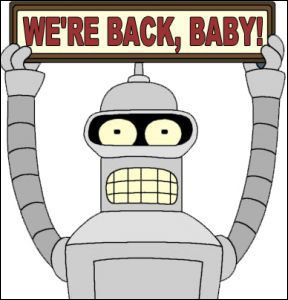 Alright, it's time to stop sulking. It's time to get back to giving you what you long for each day. It's time to give you good, quality, Auburn craftsmanship. It's time to blogle. I can't avoid it any longer. Note: if you have no idea what I'm talking about, or why I haven't finished this list just yet, you should follow me on Twitter for updates like that. But for those without the Twitter, here's a brief update…
So my 30th birthday was Saturday (5/19), which was the whole purpose of this thing. As my birthday present, Beautiful Blogle and I took a trip up to Nashville. We left Saturday morning, and on the way, I wrote the last blogle of this list (#1-6). I had no internet connection so I just saved it on the Macbook, and planned on posting it when we got to the hotel in Nashville. I threw the Macbook in the back seat on top of my "Backpack of Almost All Electronics That I Own," and enjoyed the ride through beautiful Tennessee. Note: if it wasn't for that whole Tennessee Volunteers thing, it probably would be my favorite state.
We got to Nashville a little after lunch, and instead of checking in at the hotel, we decided to leave our car in the Sheraton parking deck and walk down to Broadway to eat. About four hours later, we came back to the hotel to check in before dinner. I pulled on the rear driver's side door and it was locked. I unlocked the car, opened the door, and pulled out our luggage. I then went around to the front passenger's door to get the backpack of electronics. It wasn't there. Oh, that's right. I threw it in the back seat. Nope, not there either. Which means…
Some S.O.B. stole my Macbook (that held my awesome final post), my iPad 2, my video camera, and my external hard drive that holds almost every picture and video of Baby Blogle from birth to today… on my birthday.
We filed a police report, and they looked for finger prints but got nothing, so I just assumed it was all gone. However, on Monday I was able to get an IP address that was assigned to the Macbook in Nashville. Since then, the tracking software I have installed hasn't found anything, which probably means he wiped it, which means my awesome final post of this list is gone.
Insurance is covering part of the loss (how do you put a price on awesome blogles?), but the detective, with a little help from Memorial Day, isn't exactly being expedient on using this IP address to determine the physical location of this idiot. Yes, I do have a desktop computer at home, and a very old laptop that sometimes decides to work, so there's no real excuse as to why it's taken me a week to finish out this list, but just the thought of getting on a computer or even looking at the site lately just makes me sick. However, time heals all wounds, and plenty of people have asked for the final six moments of my thirty years, so it's time to close it out.
There will no doubt be some heads turned after this list is read – at least with the order of a few – but I will remind you that this is my list. This is the order of the most awesome plays in my lifetime and I have ranked them in the order that gave me the most chill bumps or made me lose it the most at the time. Ok, enough justifying, let's do this…
---
6. Reggie Sharp's buzzer beater against Alabama (2001, 19 years old)
Alabama's Rod Grizzard had just tied the game in overtime with just a few seconds remaining when Reggie Sharp of all people took the in-bounds passed and streaked down the court. I remember thinking "No, not you! Pass the ball!" Then, the legend of Reggie Sharp was born. It was the first and only time I have ever rushed a court or field or anything, but it didn't last long because once I got down there, I realized that my checkbook had fallen out of my pocket back at my seat. Talk about a buzzkill.
I witnessed this play from some pretty good court-side seats that we snuck into after some old people decided that a midweek game against Alabama wasn't good enough to attend.
---
5. Cam's Heisman run against LSU (2010, 28 years old)
It's rare that a Heisman trophy is won in October, but Cam did it with this play. I think the amount of times that I said "Ohhhh!!!!!!" during it had to be up in the twenties. This play completely showed the level of dominance that he had over all of Auburn's opponents that year. There was no way that anybody could downplay his abilities after this run. Unfortunately, that meant that everybody had to move on to something else to attack. Oh well, 2010 National Champions and a Heisman Trophy all up in ya face.
I witnessed this play from my usual north end zone seats.
---
4. Byrum's field goal to win the National Championship (2011, 28 years old)
That whole disclaimer in the intro about how this was my list and all that? Yeah, I was pretty much talking about this one. Look, I know what the play did. I know how special it is, but we're talking about singular plays here. If you just look at the play, it's nothing more than an extra point. Honestly, it really shouldn't even be in the list, but I'm breaking my rule and putting it in because of what it did give Auburn. I'm not taking away anything from the kick, but just don't get all up on me because it's not number one. You can do that with another one that you'll see later.
I witnessed this play from the corner of the opposite end zone in the upper deck, and it was just as beautiful there as it was to the people who caught the ball.
---
3. Creede Simpson's Homerun against Clemson (2010, 27 years old)
I'll be honest, I almost put this at number one. You may or may not know that I played baseball growing up until nobody wanted me to play for them anymore, so late-inning, go-ahead homeruns always hold a special place in my heart. The only thing that kept this from being at the top is that it wasn't a walk-off and Auburn ended up losing the regional to Clemson the next day. This is easily Rod Bramblett's best call in any sport, and I dare you to say you don't get chillbumps when you watch it.
I watched this play on my Macbook (yes, the stolen one), while watching the live stream of the game. The Macbook ended up being in the floor as I ran around the house yelling.
---
2. Cam to Lutzie to beat Alabama (2010, 28 years old)
The whole second half of the 2010 Iron Bowl was near perfect, and this play is what capped it off. In terms of getting that feeling like you could run through a wall, punch a baby and not care about it, and spit in your grandmother's face without thinking twice, this play is right up there to cause that type of behavior. The play completely mirrored the game as a whole. Cam lured the defense in while rolling to the right – just like Auburn lured Alabama in to thinking the game was over at 24-0 – then Cam threw back across the field to Lutzie for the score to complete the ultimate soul-crushing blow. It was perfect. All of it.
The only thing that kept this from the top spot is that there was still plenty of time to play, which kept me from going completely ape. Of course this play does mean a little bit more to me because of a certain phenomenon caused by a certain video. I witnessed this play in my grandparents' garage in a pseudo-tailgate setup.
---
1. Brandon Cox to Devin Aromashodu against Georgia (2005, 23 years old)
It was 4th-and-10. There were two minutes left. One stop by the Georgia defense and Sanford Stadium would explode. Brandon Cox took a low snap, found Devin Aromashodu across the middle, who outran the Georgia defenders until the 2-yard line, when the ball was punched out. Courtney Taylor, who's been spotted on this list before, then jumped up on the ball. It was the greatest play, in the most dire situation for Auburn that I have ever seen in my life. It didn't win a national championship. It didn't win an Iron Bowl. But it won the next best thing, and again, in the most dire situation when absolutely nobody thought it would happen. "ARE YOU KIDDING ME?" says it all.
I said it that night and I still say it: this play is my favorite Auburn play that I have witnessed. Watch the reactions of the Georgia fans. Watch how they have the game won in their mind. It was over. Except it wasn't. I witnessed this play next to the Auburn band in the corner of the opposite end zone.
Well that was fun, wasn't it? I know there are some plays that weren't in this list that probably should be. Believe me, I've read the comments. So early next week I will probably do an honorable mention list or something like that. We have 99 days to kickoff. There's plenty of time to kill. If you'd like to go through the rest of the list, you can go here.
Let me know what you thought about this, how crazy I am, or any games that you thought deserved a spot, and I'll let you know if I ever get the "backpack of electronics" back.