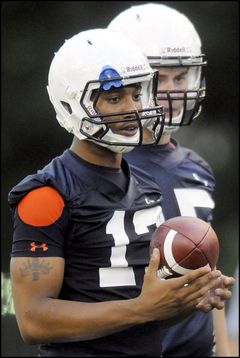 It's official: Tyrik's father says that the future of Auburn will now be the future of Sam Houston State.
Tyrik Rollison, the once proclaimed future of Auburn football, posted these two statements his Facebook page this morning:
Tyrik Rollison I'M DONE. I NEED A FRESH START!
Tyrik Rollison IS MOVING ON FROM AUBURN…I APPRECIATE EVERYONE WHO IS SUPPORTING ME.
Update: Rollison has removed the posts from his Facebook page.
Take that for what it's worth. It is just a Facebook status, but I'd say that's pretty concrete, and that it doesn't surprise me at all.
You'll remember that Tyrik was suspended from the team just before the bowl game and didn't make the trip. I'm sure Mr. Newton's arrival on the plains may have something to do with this as well.
I'll post more info as soon I hear anything else, but for now you can read the interview I did with Tyrik during football season.
**Note: This is my 300th post on the 'Blogle. Thank you.