In five days, Jordan-Hare Stadium will have some new flare outside its hallowed walls. The beautiful bust of ex-Auburn coach and Trophy-namer, John Heisman, as been in place since last Friday.
Today, the first statue of one of Auburn's three Heisman winners was put in it's permanent spot. It's covered about the same as you'd cover some furniture you were moving in a U-Haul: a blanket with some duct tape.
Update: the statue has since been covered by a tarp.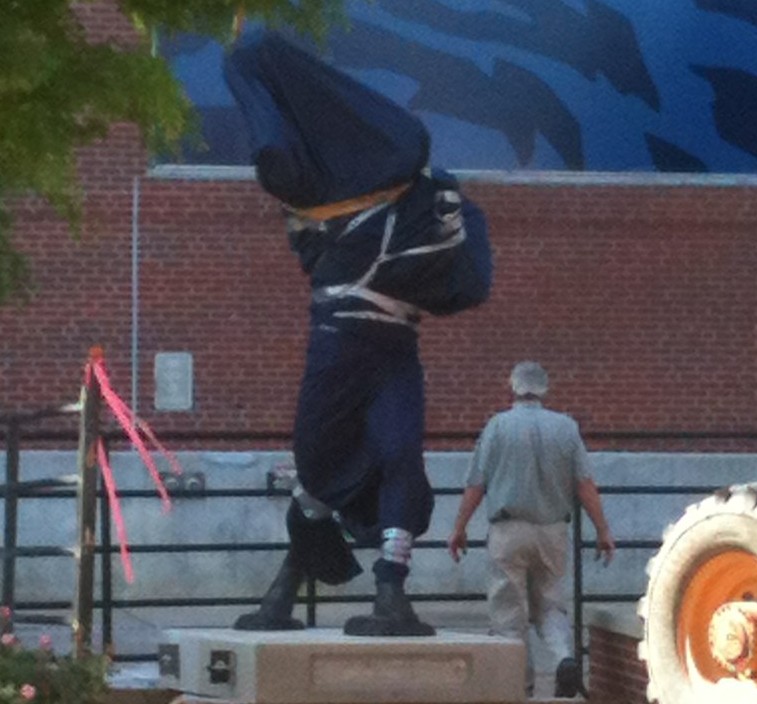 At first glance, it looks like someone doing a handstand, but after taking another look, it's obviously someone throwing a ball. I guess that rules out Bo Jackson.
I think it's Pat Sullivan, maybe in a pose similar to this. As great a passer as Cam turned out to be, I think his pose will feature one of his runs, like the one against LSU. It only makes sense since that run pretty much won him the Heisman.
I'll post other pictures as you send them in, so do that. Send them in, just like @kookoo_katchu sent this one in.