Update: Things have changed. Better news has been discovered.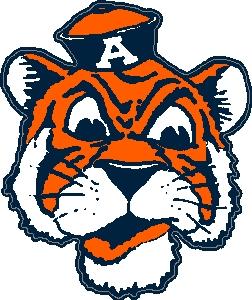 Brace yourselves. Seriously. Sit down. I have some bad news for you. Are you ready?
The old Tiger head logo that Auburn has recently brought back to hats and t-shirts, the one I wrote about Missouri also using a few weeks ago, and the one that most Auburn fans call their favorite vintage logo…. yeah, according to this article, it was created by an Alabama graduate.
Wait, it gets worse.
Not only did he graduate from Alabama, but he created it for LSU before it came generic clip art for other teams that use a tiger mascot like Princeton, like Missouri, and yes, like Auburn. Talk about a double whammy.
The man was W.A. Prescott, was from Brewton, AL, graduated from Alabama in the 1920's, and moved to Baton Rouge where he opened Coop Bookstore in the early 1930's. He is pictured below, with his tiger head logo to his left. This picture was supposedly taken in the 1930's.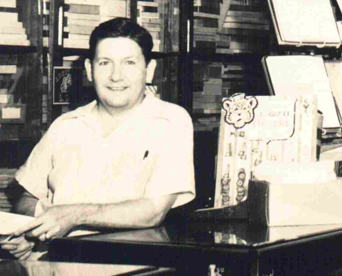 If you can bring yourself to read the pseudo-proof of the origin of what is/used to be my favorite Auburn logo, here's the section of the article that discusses the "beanie tiger" or "Sailor Mike" for "Mike the Tiger," which is the name of LSU's mascot. That's kind of strange since Auburn doesn't call this an Aubie head. At least I don't.
There used to be a decal on the counter at Coop displaying an icon that many sentimental LSU Tiger fans might call their favorite "Mike."
It was the "beanie tiger" or "Sailor Mike" — a whimsical Mike the Tiger head with a mean smirk and an LSU-labeled sailor cap. Decades later, his son and nephew insist that W.A. invented the concept of Sailor Mike in the 1930s.
Bob Prescott says back then if anyone wanted an LSU T-shirt or memorabilia, the school was glad to have the endorsement, but the school didn't provide a logo or design. There was no "official" LSU trademark. "They were just glad you were selling something."
There's an old family photo, Bob says, of W.A. Prescott in front of his cash register in the 1930s with a large decal of Sailor Mike on the front — proof, he says, that the Tiger existed before it surfaced in the 1950s, like LSU officials claim.
Brian Hommel, director of LSU Trademark Licensing, said Sailor Mike was especially popular in the 1950s, calling it "clip art" of the time.
I call this pseudo-proof because this is technically only a claim from Prescott's son and nephew. There is no real proof other than this old black and white picture, which is supposedly from the the 30's – again, way before anybody claims to have used the logo. Note: the earliest I've seen anyone say Auburn used it was in the late 50's. I guess I believe it to be true since it's the only history I can find of the creation of the logo, but if anyone knows anything else, please leave it in the comments below.
So what does this mean? It means that LSU can stake claim to the original ownership of the logo, and can say that everyone else is copying them. On the other hand, they have to live with the fact that an Alabama graduate (those exist?) created it for them, so I imagine that won't be too boastful.
In another sick twist, the article goes on to say that Prescott and his brother-in-law went on to open J&M Bookstore in Auburn. Is this some kind of joke? Next are you going to tell me that the Toomer's trees were actually planted by Harvey Updyke's great-great-grandfather?
Sorry to let you in on this, but it had to be done. Proceed with your usage of the vintage Auburn Tiger logos as you wish…
Thanks to commenter "Mark" for the tip on this dreadful article.