As of today, we are 93 days from the kickoff between the Clemson Tigers and your Auburn Tigers in the Chick-Fil-A Kickoff Classic at the Georgia Dome. But don't tell that to whoever is in charge of the countdown clock in the Auburn weight room.
According to this picture that was tweeted at 6:52 yesterday evening by sophomore tight end Brandon Fulse, the countdown clock would end the night of August 30th, which is two days before the game actually begins.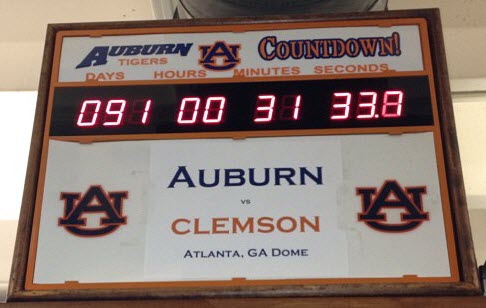 A tweet to Nosa Equae was returned, and he stated that he noticed the problem yesterday and he would be checking with the equipment managers to have it corrected. That is unless this was a ploy by the coaches to have the team think they have less time to prepare than they actually do. Or it could be the time that they leave to go to Atlanta. I don't know, but this is pressing stuff.
You need answers, and I will do my best to solve the mystery of the "Countdown to Clemson that ends too early". Keep it locked here for further details on this ongoing investigation.