Cam Newton has been named one of five finalists for the Pepsi Rookie of the Year Award. Don't be confused by the name. Pepsi is the sponsor, but this is the official NFL Rookie of the Year. The Great One, who everyone said wouldn't make it in the NFL, is up against paltry competitors such as Cincinatti's Andy Dalton (TCU), Denver's Von Miller (Texas A&M), San Francisco's Aldon Smith (Missouri), and that guy he outran and drug last year, Patrick Peterson (LSU).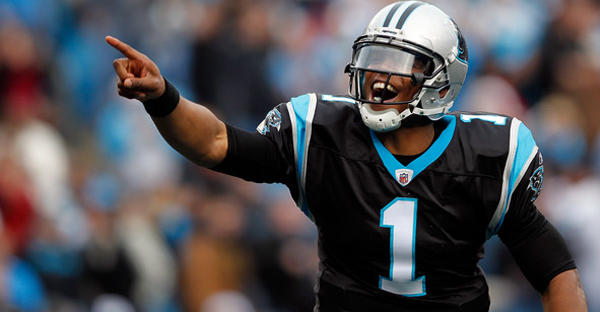 When you go to the site to vote, and click on Cam's highlight video, the first run is one that looks eerily similar to his Heisman moment of last year, which as you remember was the aforementioned running by and dragging of Patrick Peterson. It's the circle of life.
Here are the notes for Cam provided on the voting site. Pretty strong for someone who isn't ready for the NFL.
Newton set the record for most passing yards by a rookie in a season (4,051), surpassing Peyton Manning's previous record of 3,739 in 1998. He set the single-season quarterback rushing touchdown record with 14. He is the first rookie to throw and rush for 10 touchdowns in the same season, and only the second player to pass for more than 20 touchdowns and rush for more than 10 touchdowns in a season. He is the first player in NFL history with more than 4,000 passing yards, 500 rushing yards and 10 rushing touchdowns in the same year. Newton, who started all 16 games, finished his first season with a 60.0 completion percentage and 21 touchdowns. He amassed an additional 706 yards and 14 touchdowns on the ground. The Auburn product was the first overall pick in the 2011 NFL Draft and was nominated for Pepsi NFL Rookie of the Week 11 times, winning three times.
So go vote for our boy. It shouldn't be a contest anyway, but do it just in case there are some haters still out there.