I know what everyone wants to read about, and it is not Chattanooga, so I'll skip the normal predictions, previews, and other notes about gameday, and get right to the news of the last 12-24 hours. For those that still want some predictions, here you go: they all picked Auburn.
So is it a sCAMdal? Is it a sCAM? Well, it's both actually, and here's everything you need to know about the whole situation, along with a few personal thoughts, as it stands on this Friday afternoon.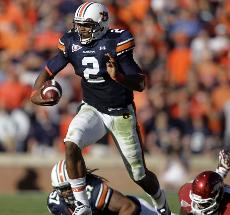 Pat Forde, Mark Schlabach, and Chris Low posted a story on ESPN.com yesterday (it has been edited since) stating that someone (Kenny Rogers) allegedly representing Cam Newton told former Mississippi State quarterback, John Bond, that he could persuade Newton to sign with the Bulldogs following his season at Blinn College for a mere $180,000.
The story has the typical half-truth, eye-catching headline, followed by of a bunch of allegations, and resolves with quotes from Cecil Newton stating that he knows of no such request of money. You know, the stuff that matters, stick it at the bottom.
Now it looks like nobody can get in contact with Rogers, who is already under investigation for impersonating a NFLPA member. This article was found on ESPN.com, yet Forde, Schlabach, and Low either didn't care enough to do a quick search for Rogers's name, or felt like it would it take away from what they were trying to accomplish. I'm not accusing them of anything, but it seems a little fishy that they wouldn't look on their own website for more information about a guy that was a huge part of a huge "bomb" they were about to drop on the college football world.
The word that Auburn was under NCAA investigation spread around the internet yesterday like wildfire, as if it was a new development. However, Auburn and the Newtons had known about this for months. Cecil Newton told reporters that he was contacted over a month ago by the NCAA and was asked for financial statements for his family and his church.
The reason his church came into question was because in the summer of 2009, the building that Holy Zion Center of Deliverance occupied was very close to being demolished due to building code violations. Then a few months after Cam signed with Auburn, the building passed all inspections. Obviously, Auburn paid for the church renovations, right?
Interesting theory, but according to this article, that was written in September 2009, three months before Cam signed with Auburn, Cecil Newton stated that his church had the money and would bring the building up to code within six months. The timelines just do not match up.
Since the initial reports, Cecil Newton has been very outspoken, stating that these claims are not true in any way, and if there was money sought from Rogers, then no one in the Newton family had anything to do with it.
Regardless of all these allegations, lies, or whatever you want to call them, the fact that Auburn has been playing Newton for the entire season means that there is nothing for Auburn University and Auburn fans to worry about. Athletic Director, Jay Jacobs, said today that this has been known since as early as July.
Do you honestly think they would throw Cam out on the field if there was any chance at all that it could result in forfeiting wins? I don't think so. If a school has any idea at all that there may be some sort of NCAA violations in question, they will sit any player that may be involved. I haven't seen Cam doing much sitting. Have you?
If that wasn't enough, Chizik announced last night on his weekly Tiger Talk call-in show that Cam is eligible at Auburn University. "Period. End of story." In my opinion, given the timing, this all seems to be a campaign to ruin Cam Newton's career/Heisman chances and Auburn's magical season with no facts to back it up. Some sources are calling Cam a victim and saying there is no evidence whatsoever of any wrongdoing on the Newtons' or Auburn's part.
So following the ESPN article, and a New York Times article that was released almost simultaneously, a few very upstanding writers posted articles (Thayer Evans, Mike Bianchi) stating that no matter what happens, voters should not give Cam the Heisman trophy. Are you kidding me? So anybody can just say anything they want about a person, and whether it's proven true or not, it should still change our perception of the person? That's ridiculous. By the way, I wouldn't read those if you are near a small child. You might throw them through a wall.
You might want to stay away from these as well:
If I haven't said enough to assure that Auburn seems to be okay, these guys also attempt to put out the fire: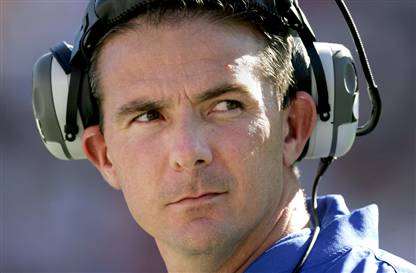 In what as been my favorite development of the entire thing, and actually makes me sort of excited, it is being reported that Urban Meyer pushed John Bond to go to the media with the allegations. If you remember, Meyer went to the New York Times' Pete Thamel to leak information on Lane Kiffin a few seasons back. Well guess who wrote the New York Times article on Cam? Yep. Same guy. Meyer's little media puppet.
According to Jeffrey Lee at AuburnSports.com, there was a phone call between Mullen, Bond, and Meyer within the last few weeks to discuss what to do with these allegations. Mullen supposedly wanted to let it die, but Meyer wanted to let it out. I know that almost sounds too good and too soap opera-y too be true, but I trust Jeffrey. He only releases information that he can confirm as fact, unlike some people I've already mentioned. He was also on WJOX this morning emphatically arguing against these allegations, and was very confident talking about the Meyer situation. Dude knows something.
I really hope we play the Gators in the SEC Championship game.
Update: The AP has released a statement saying that Auburn had no contact with Kenny Rogers. Well, that was fun. Good try.
Of course this does not completely clear the Newtons and their alleged dealings with Mississippi State, but I'm sure we'll find out soon that it was nothing more than a feeble attempt by Urban to bring down the school that he has never beaten, that took his Heisman front-runner, and should now be scared to death to play in Atlanta.
Anyway, I'll keep you updated. Oh, and by the way, follow me on twitter. I posted most of this on there hours ago. Get in the now.
If you need a good laugh, then you have to read Chad Gibbs's "Yesterday, According to Facebook". It is hilarious, and actually explains the story pretty well.
Update: Both John Bond and Kenny Rogers were on separate radio shows tonight explaning their side of the situation. Bond denies the call with Meyer and Mullen. Rogers says Bond is lying and that he hasn't talked to Bond in 20 years. Bond also changed his story from talking to directly to Rogers to saying there were two parties between them. In short, the story is dead.
Here's more on both interviews (includes audio).
Update: AP source says Auburn finds no wrongdoing in review of Cecil Newton's church and personal bank records, staff e-mail, or phone records.