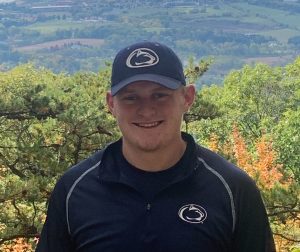 Nick Kreiser (@nkreiser04) is a contributor for Fansided's Penn State site, Victory Bell Rings (@victorybellring). He has written a piece on some things that Penn State needs to improve upon heading into the Auburn matchup here. He and the rest of the Victory Bell Rings staff will have content out on their page throughout the week in preparation for the game. Check it out to learn more about what Auburn can expect from the Nittany Lions.

1. What are a Penn State fan's thoughts about Auburn football historically and what about the program right at this moment?
Historically, I would classify Auburn as a "tier 2" program. Not necessarily just by success, but by popularity. Not quite up there with the Alabamas or Ohio States of the world, but not many programs are. They are not all that far removed from their last National Championship, and have recently won an SEC title as well. I was certainly excited when this non-conference series was announced, I wish there was more of this in college football.
Right now, I think it is tough to tell exactly where Auburn is at, being that they are just a few games into the Bryan Harsin era. Harsin had success at Boise State, and I am interested to see if he can carry that over to the SEC. I think they are in a similar spot as Penn State, from the standpoint of they both have to deal with one of the best teams in the country every year (Alabama and Ohio State respectively), and that makes it difficult to take that next step as a program, having to go through those teams annually.
2. What's the vibe like in the Nittany Lion fanbase? What is a Nittany Lion?
There are a lot of contradicting opinions on the Penn State program among Penn State fans. Some fans think that last season was just a fluke for the team and for Sean Clifford, and that this team will be back to reach double digit wins and New Years Six bowl appearances, and possibly trend upward towards a playoff birth. On the other hand, there are some people who think this program isn't going anywhere, and they say that Penn State will never win anything as long as James Franklin is around.
Admittedly, Penn State has a lot of "fans" who are quick to run for the hills at the first sign of failure. Watch Penn State lose one close game against a ranked team, and notice the attendance and energy drop mightily for the remainder of the season. If you're a star (think Saquon Barkley), we will worship the ground you walk on for the rest of eternity. However, if you're not (think Sean Clifford last season), these "fans" will show zero support for you, and will go so far as to scroll back years on your social media feed just to comment on one of your posts just to tell you how awful they think you are. I don't claim these people as true Penn State faithful.
There is certainly a lot of excitement among the fans after Penn State's hot start, with a chance to advance to 3-0 with a win over a top 25 team this weekend. A Nittany Lion is a mountain lion, plain and simple. In the late 1800s, there was a heavy population of mountain lions in the State College area. As the University and town began to grow throughout the 1900s, and buildings, homes, and roads began to take over their land, the population of the mountain lion in the area has decreased dramatically.
As far as the "Nittany" part, that is in reference to Mount Nittany, which is located southeast of campus and of Beaver Stadium, you can't miss it, just look out beyond Medlar Field (the baseball stadium). Mount Nittany also offers a great view of the campus and the stadium if you get the opportunity to hike up it while you're in town.
3. Who are you two favorite Auburn Tigers of all time and why?
This first one is a no brainer for me, it's Bo Jackson. I always tell people that Bo Jackson is without a doubt the greatest athlete of all time, and his story is incredible. He is on my short list of "athletes that played before my time that I wish I could've seen play." I'm also a big baseball fan, so him also being successful on the diamond is cool too.
As cliche as it sounds, my second would probably be Cam Newton. It was incredible what he was able to do in an offense in which he had no other NFL talent around him to help him out.
4. Which two Nittany Lions should Auburn fans look out for and why?
I'll keep it simple and give you one on each side of the ball. Offensively, I'll stay away from Jahan Dotson, mainly because many Auburn fans have probably heard at least a little bit about him already. I'll go with the starting RB, Noah Cain.
As a true freshman in 2019, Cain broke Saquon Barkley's freshman TD record, despite having nearly 100 less carries than Saquon had in his freshman season. Cain was injured in his first drive of the season last year, but he is back and off to a great start this year. Cain isna great combination of size and speed, and he runs with great vision and balance, and is always falling forward. He runs thru arm tackles, and catches the ball well out of the backfield. Cain reminds me a lot of former Penn State running back Miles Sanders, and if Penn State can get him going, it opens up the entire offense.
Defensively, I'll go with safety Jaquan Brisker. Brisker is the best defensive player for the Nittany Lions and is one of the best safeties in the country. He is a freak athlete, at 6′ 1″ and 200 lbs, Brisker has recorded a 38.5″ vertical, a 40 yard dash in the low 4.3's, a 3.98 second shuttle, and has squated as much as 500 pounds. Brisker has great instincts to go along with his athleticism, and tackles well and is excellent in coverage. Brisker is a difference maker in the Nittany Lions' secondary.
5. In which positional matchup do you see Penn State excelling against the Tigers?
Penn State is loaded with talent and depth in the defensive backfield. At safety, I already mentioned Jaquan Brisker, and his counterpart is Ji'Ayir Brown, who is also an excellent safety with an interception and a few pass break ups already this year. At cornerback, Tariq Castro-Fields has a ton of experience. He has been in a Penn State uniform since 2017 and has been a starter for multiple years and has yet to allow a touchdown.
Starting opposite of him is Joey Porter Jr, who is also very talented and has an NFL body with long arms. Daequan Hardy, who plays the the "star" position for Penn State, has also played well, and had an interception last week. From everything I've gathered, Auburn's receivers are not overly impressive, and they likely will struggle against this secondary.
I've watched the highlights of the Tigers' first two games this season, and Bo Nix has not had to fit the ball into many tight windows, but that should change against Penn State. Offensively for Penn State, I think their running backs will have success against Auburn's linebackers. Penn State's top two back, Noah Cain and Keyvon Lee, are both tough to bring down.
Additionally, Penn State utilizes their running backs a lot in the passing game, so Auburn's linebackers will have to guard them out of the backfield a lot too. If Penn State's offensive line can do enough to allow their backs to get to the second level, Penn State will pick up a lot of yards on the ground.
6. Where will Penn State struggle against Auburn?
I mainly worry about Sean Clifford throwing against a great Auburn secondary. He has done a nice job so far this season as far as not turning the ball over, but he has still missed on a number of throws. This Tigers' secondary will be the best he's faced so far in this young season, so he will need to be more accurate to avoid throwing a momentum changing interception.
Also, defensively for the Nittany Lions, if I had to pick out a weakness so far for them, it would be against the run, which I anticipate Auburn wanting to do a lot of with their talented running backs.
7. Do you remember Ronnie Brown diving over the Penn State defender to win the 2003 Capital One Bowl?
I have seen that play, but I do not remember it. I would have only been 2 years old at that time. Great play though, tough way to lose a game for Penn State.
8. What's your prediction/analysis of the game?
The current spread of this game is Penn State -6, and I do believe that they can cover that spread. Auburn has certainly looked great so far, but I definitely think their competition has to be taken into consideration. I think Penn State has the advantage in a majority matchups on the field.
Offensively, Penn State has a lot of guys who can make a play with the ball in their hands, and Mike Yurcich is an incredible offensive coordinator to find ways to get them the ball. Defensively, Penn State is fast and athletic, and they have no real weaknesses on that side of the ball. If the Nittany Lions can force third downs against Auburn, that offense will have a tough time with the crowd noise, Penn State's secondary, and Arnold Ebiketie providing pressure off the edge.
I think both teams will struggle to really push the ball downfield consistently, based on two great secondaries. I think Penn State wins the turnover battle, and has a lot of good field position to work with. Penn State wins it 27-17.
9. Where will Auburn and Penn State end up this season?
As for Auburn, I think they are in a tough situation based off of how talented and deep the SEC is, especially this year. As we stand, the Tigers currently have 6 SEC teams ranked ahead of them. Obviously that can change, but it just shows how many top 25 level teams they will have to get through this year, and looking at their schedule, they are going to have to play all but one of those 6 teams.
I think Auburn is good enough to be competitive in all of those games, but that schedule is brutal. I would say the Tigers finish the regular season 7-5 or 8-4, and probably win whatever bowl game they wind up in, because they will be much better than their record will show.
As for Penn State, they cleared what many fans (including myself) thought coming into the season to be their second biggest hurdle, going into Wisconsin and coming out with a win. In the preseason, I had the Nittany Lions at 10-2, with that being one of their two losses. However, Auburn and Iowa look to be much better than most people thought, just a few short weeks ago. Both of those games are winnable for the Nittany Lions, but they will have to play up to their potential in both of those games to come out on top.
They obviously have to go through Ohio State as well, which Oregon showed us that they can be beat. It would take a near perfect game for Penn State to go into Columbus and knock off the Buckeyes, but it's possible. I think Penn State finishes 10-2 or 11-1 and finds themselves in a NY6 game.
10. I always thought of Auburn's helmets as Penn State helmets that weren't stuck in the stone ages. Do you think Penn State should join the rest of the country in using an actual sticker? A blank helmet isn't a fashion statement. And while we're at it, you think a white shirt and a white shaker scares somebody? This ain't Michigan State. We win stuff. We play in front of a tough crowd every week. We s'posed to be scared??
Penn State absolutely should not add a sticker to their helmets. Their uniforms are simple, clean, and classic. It's been so long that it just fits the Penn State look, it would be foolish to change it now. That would be like the Yankees suddenly doing away with the pinstripes, it would just be wrong.
Also, you're not supposed to be scared of a white shirt or a shaker, but you should be scared of 110,000 fans all making noise and bringing the energy. Just ask Jim Harbaugh and Michigan, who is used to the White Out and still had to take a timeout on the first play of the game in 2019. Also, Urban Meyer, who won 2 National Championships in the SEC, said that the White Out is the toughest environment he's ever gone against. Or ask Kirk Herbstreit, who is at big games and in crazy environments every week, and says the White Out tops them all.
You play in front of big crowds in the SEC, but none as big as this, the second largest stadium in the country. You win stuff? Didn't you lose to Northwestern last season? Last I checked, Cam Newton isn't on the team anymore. Nobody currently on the team has won anything. The last bowl game you won was in 2018…and it was the Music City Bowl, not too impressed by that.