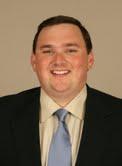 Flint Harris (@Flint_HolyTurf) is an Arkansas graduate three times over and spent six years working inside the athletic department as an academic counselor to Razorback student-athletes. Flint runs and writes for HolyTurf.com, a site all about the passion of college football, specifically the SEC and Big 12. HolyTurf.com features a 'Road Trip' section about the best from different college towns, a place just for the gals with their 'For Women' section, and current college football trivia. Be sure to check out their Facebook page as well.

1. What is the first thing that pops into Razorback fans' heads when Auburn is mentioned?
Cam Newton, $180,000, and Cecil Newton. Hog fans are convinced Newton took the cash and watching him torch us hurt. The guy was awesome, but the backstory is frustrating. Well that and pretty girls.
2. Is the fanbase always on high alert for Petrino bolting for another job?
Not since he signed a contract with an $18 million buyout-for getting fired or leaving on his own. Bobby Petrino is the last coach in American that would leave because the money is so outrageous. A $5 million buyout is astronomical. His is almost four times that.
3. After a half season without Ryan Mallett, who would you rather have, Mallett or Tyler Wilson? Why?
Even with the 510 yard performance, I would prefer Mallett. His arm strength is a once in a generation ability. He did make a couple of unfortunate interceptions, but neither game should have come to that. That being said, Wilson is proving to be a terrific player. The case could be made Wilson is a better fit with this leaky offensive line because he is more mobile, but Mallett was better at stepping into the pocket. Wilson scrambles far better. Both are great. It is the offensive line I'd like to replace.
4. Who are a few unheralded Razorbacks that Auburn fans need to be worried about?
Greg Childs and Joe Adams are the big names at wide receiver, but Cobi Hamilton, #11, is playing well. He made the big catch against LSU right before halftime last year. He is currently 6th in the SEC in receiving yards with 318. With his 281 yard performance last week, the cat is out of the bag on Jarius Wright.
Jerico Nelson, #31, has the knack for the big play on defense. Juco LB Alonzo Highsmith Jr., yes that Alonzo Highsmith is his dad, is playing well opposite leading tackler for Arkansas the last three years, fellow LB Jerry Franklin.
5. Do you feel bad when you eat bacon?
We love bacon. We love roasting pigs. It always makes us laugh when other people roast a pig for their tailgate party and think they are "getting us". We love pulled pork and bacon at our tailgate parties too.
6. What are some major concerns for the Razorback's coming in to the Auburn game?
The offensive line is getting Tyler Wilson killed. The two tackles are both first time starters, and it shows. The defense has been great in one half each of the last two games. As we all know outside of College Station, football games have two halves. It will be crucial for the defense to stay disciplined against Gus' offense.
7. Where do you see Arkansas having an advantage/disadvantage as far as positional match-ups are concerned?
I think given time, Tyler Wilson and the Arkansas wide receivers will have a success against Auburn's 74th ranked pass defense. However, I am frightened of how many rushing yards the Auburn offense may have after Arkansas gave up 381 to Texas A&M. In addition, with such a focus on the rushing attack, the passing game is likely to open up against two back-up cornerbacks likely to start because of injuries to starters.
8. Where do you see the Razorbacks and Tigers ending up this season?
I thought Arkansas would go 9-3 and end up in the Cotton Bowl before the season. I will stick with that. I picked Auburn 4th at SEC Media Days, so the Arkansas game is telling. A loss and 8-4 seems likely with a berth in one of the Florida bowls.
9. What is your brief analysis/prediction for the game?
Arkansas has to enjoy the fact they are at home. I picked against Arkansas the last two weeks, but like the Hogs at home in a close game. 38-34ish. Auburn is more than capable of winning, but the Razorback win against Texas A&M after trailing 35-17 at half with seven starters out in the second half due to injury was defining.
10. What's your favorite Auburn/Arkansas game memory and why?
As a Hog fan, it was fun to be at Auburn (one of, if not, my favorite place to go for a road trip for a game-love the town, the stadium, the people…I digress) when Arkansas beat #2 Auburn in 2006 behind Darren McFadden, Felix Jones, and Marcus Monk 27-10 on CBS.
I returned the favor and answered a few questions for Flint and HolyTurf.com. You can read that interview, here.