Fun fact: According to the wedding planning site "The Knot," this weekend is the most popular date for weddings to take place. Well I don't think these people must be football fans or they're just poor planners. Several games this weekend could be early benchmarks for conference standings so you better have your streams ready during the wedding. I'm going to breakdown 10 games that I think you should pay attention to this weekend.
No. 6 Ohio State Buckeyes at No.9 Notre Dame Fighting Irish — 6:30 PM CT on NBC
This game by far is the best matchup of the weekend as the Ohio State Buckeyes will face a stern test in South Bend on a Saturday Night. Looking at this game, offense doesn't seem like a problem for either teams they both are averaging over 450 yards per game while each defense is giving up around 230 yards a game. I expect points, but not as many as the stats suggest. I also expect the home crowd to bolster Irish's chances. Look for Notre Dame's quarterback Sam Hartman to also have a big game.
Notre Dame 35, Ohio State 27 – NOPE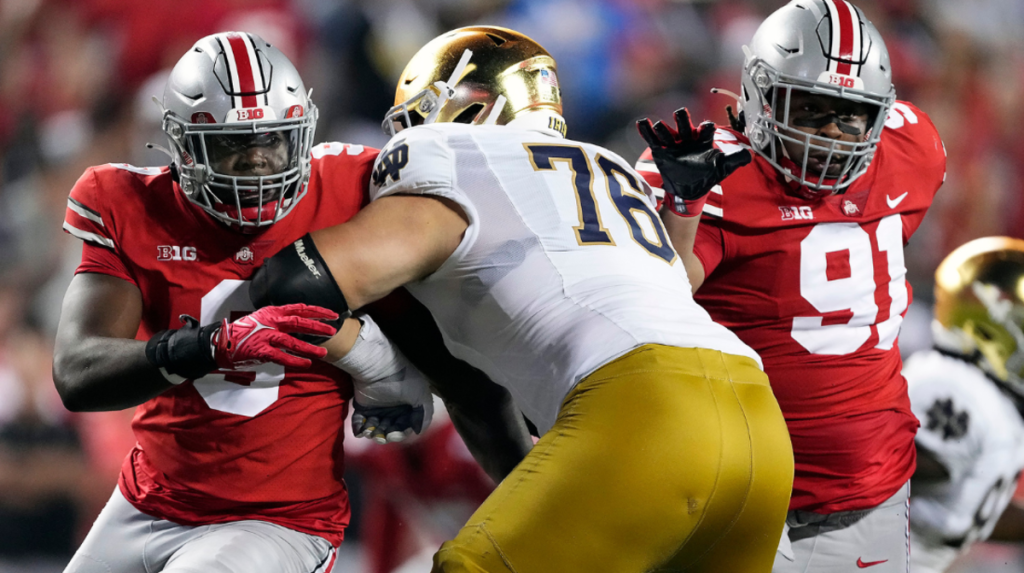 No. 19 Colorado Buffaloes at No.10 Oregon Ducks — 2:30 PM CT on ABC
This game could end up being the best game of the weekend just because of the hype around Deion Sanders' and his Colorado team. They face the biggest test of the year against former Auburn quarterback Bo Nix and his high-flying offense. The Ducks are a 21 point favorite which may seem like a lot, but this Oregon team has scored 174 points in their first three games including an 81-7 demolition over Portland State. Colorado is also without star wide receiver Travis Hunter, who has a lacerated liver after a dangerous hit from a Colorado State defender last week. I expect the game to be competitive despite Hunter's absence, but I think the Ducks make a statement.
Oregon 41, Colorado 24 – YEP
No. 24 Iowa Hawkeyes at No. 7 Penn State Nittany Lions — 6:30 PM CT on CBS
Two undefeated Big Ten teams going head-to-head in what should be one of the early deciders in the conference. Penn State comes in as a 15 point favorite and rightfully so. The home crowd plus a strong defense and running game will make things tough for an Iowa team that has struggled to put up a ton of points. I expect this game to be a low scoring affair, but Penn State pulling away in the second half.
Penn State 28, Iowa 13 – YEP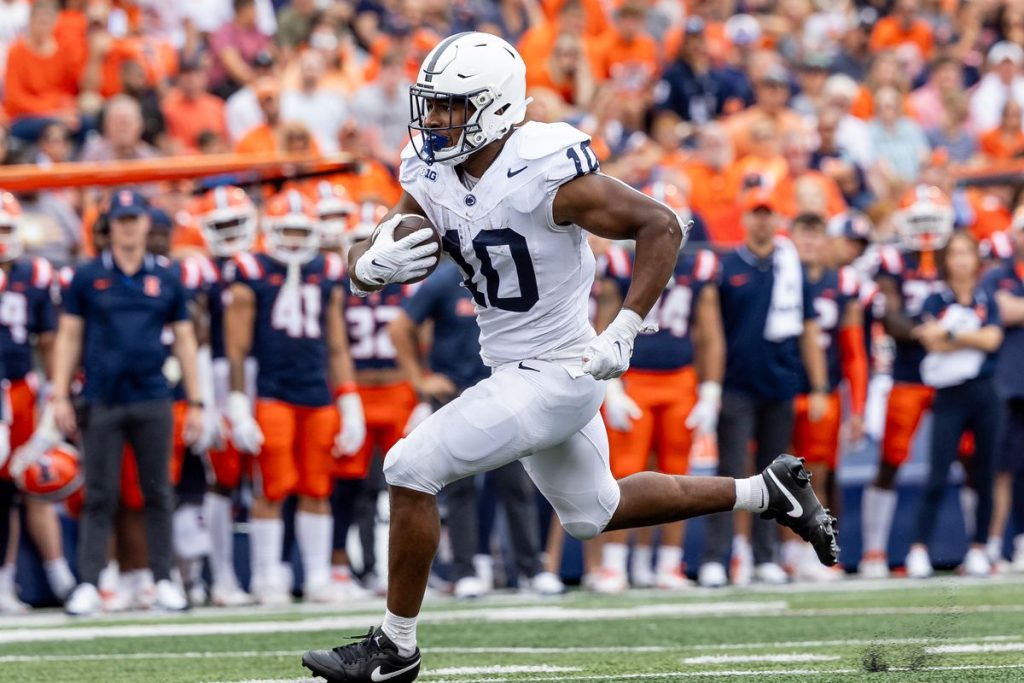 No. 22 UCLA Bruins at No. 11 Utah Utes — 2:30 PM CT on FOX
This matchup is one of the more interesting games of the weekend featuring two teams that are looking to make noise in the PAC 12. Utah has already proven themselves with wins against Florida and Baylor, while we really haven't seen the best of UCLA. This weekend should be a major test for them as they go to a hostile environment in Utah. I think there will be lots of points in this game. I think UCLA does get the upset and that quarterback Dante Moore is the reason. The Bruins are averaging 570 per game and I don't think they're slowing down.
UCLA 38, Utah 35 – NOPE
No. 14 Oregon State Beavers at Washington State Cougars — at 6:30 on FOX
Staying in the PAC 12, there's one more matchup of importance taking place this weekend. The resurgent Oregon State Beavers will on the road at Washington State. The Beavers are enjoying success on offense with Clemson transfer quarterback D.J Uiagalelei. This is another game that I expect a lot of points. Washington State currently averages 535 total yards a game, but is giving up over 360 per game. I think Uiagalelei is able to make some plays for the Beavers and they win in a very close game.
Oregon State 42, Washington State 38 – NOPE
No. 4 Florida State Seminoles at Clemson Tigers — 11:00 AM CT on ABC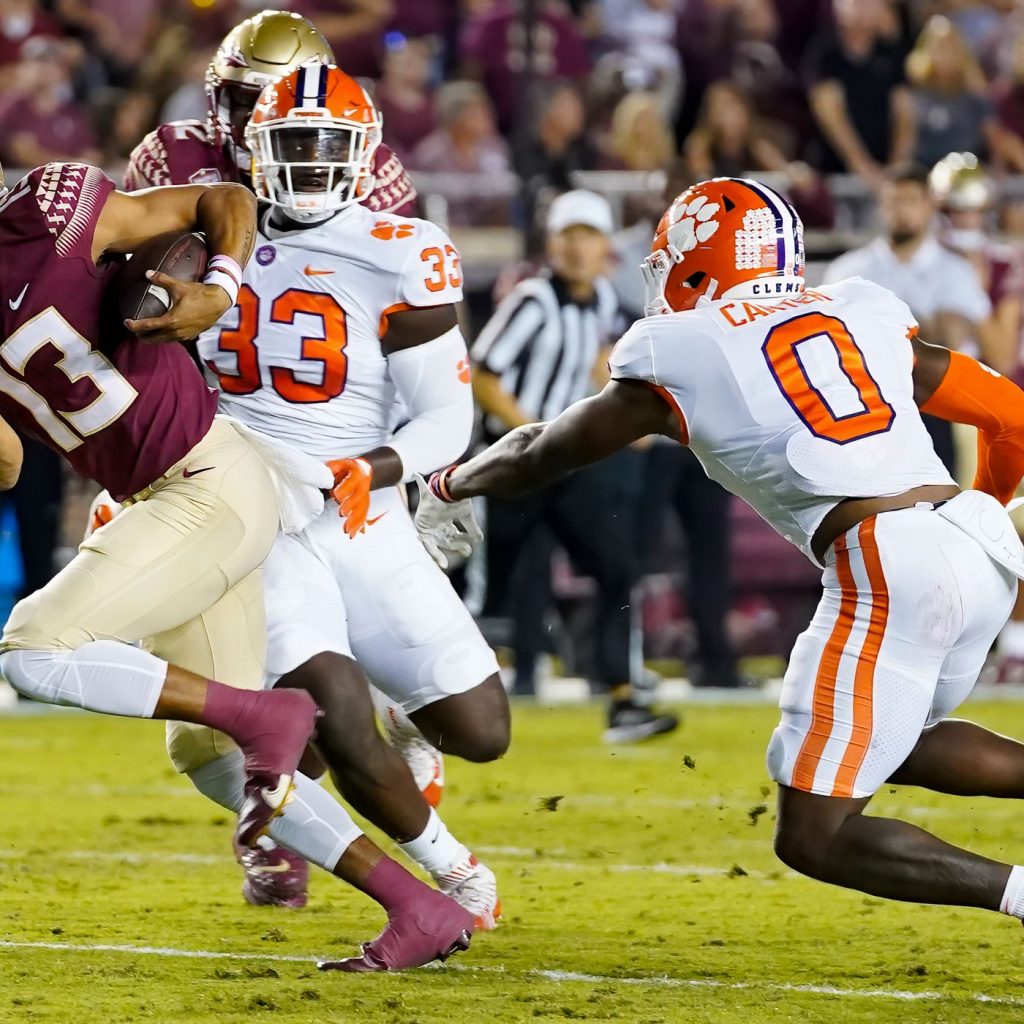 There was a time when a game like this would have been the ABC Primetime game and most likely the location of College Gameday. Well, Clemson's poor form has dropped them out of the rankings. Florida State is coming off a narrow 31-29 win at Boston College. The Noles led 31-10 but saw that lead shrink to just two before they were able to hold off the Eagles late. Clemson on the other hand is dealing with many critics who believe their reign over the ACC has ended. A win for Dabo Sweeney's team would be the perfect storm to the haters. I think it will be a closer game than expected, but the Noles will get out of Death Valley undefeated.
Florida State 28, Clemson 21 – YEP
No.16 Oklahoma Sooners at Cincinnati Bearcats — 11:00 AM CT on FOX
Oklahoma goes on the road for a difficult road test at a weakened Cincinnati team. The Sooners are starting to find their identity under second year head coach Brent Venables. Sooner quarterback Dillion Gabriel has impressed so far, throwing for over 900 yards, 11 touchdowns, and one interception. I expect him to have another big game this week.
Oklahoma 38, Cincinnati 17- YEP
No.3 Texas Longhorns at Baylor Bears — 6:30 PM CT on ABC
Texas and Baylor face off in their yearly rivalry game. The Longhorns come into this game f the heels of a monumental win against Alabama and a sluggish win against Wyoming. Baylor finally picked up their first win of the season against Long Island last week after losing to Utah and Texas State. The Bears have been a thorn in the side of Texas before, knocking them off in previous matchups. Texas shouldn't have any issues winning this game.
Texas 31, Baylor 14 – YEP
UCF Knights at Kansas State Wildcats — 7:00 PM CT ON FS1
Gus Malzahn and the UCF Knights are looking to make some noise in the BIG 12 as they travel to Manhattan to face K-State. The Knights are undefeated while the Wildcats are coming off a heartbreaking loss against Missouri. UCF boasts one on the best offenses in the nation, averaging over 600 yards a game. Quarterback John Rhys Plumlee is a big part of that. The senior has already put up almost 600 yards of offense this year and three touchdowns. I think UCF wins this game and starts to make a case as a dark horse in their first season in the Big 12.
UCF 24, Kansas State 10 – NOPE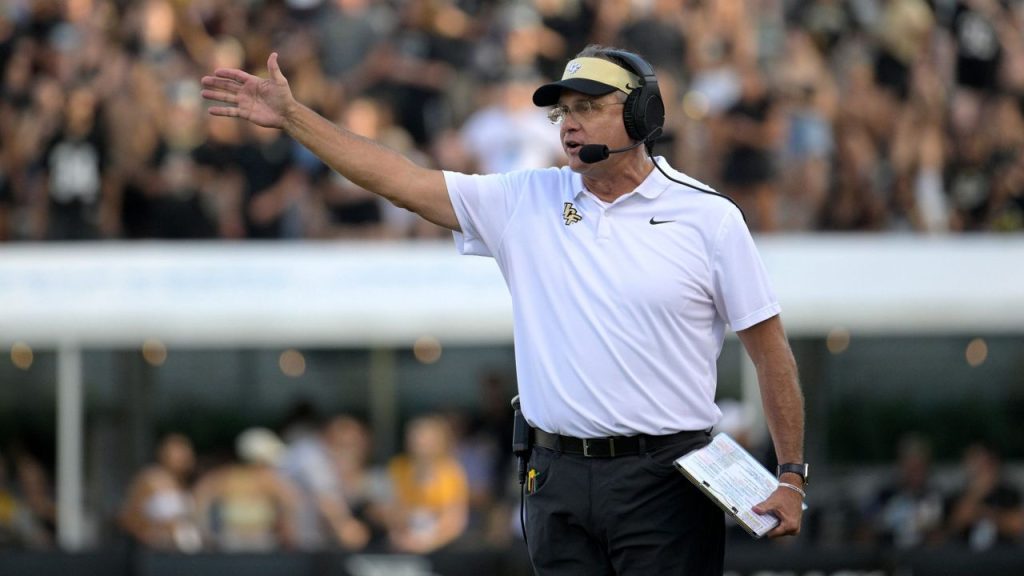 BYU Cougars at Kansas Jayhawks — 2:30 PM CT on ESPN
This game showcases two teams that look to cause chaos this year. BYU arguably picked up their biggest win of the year at Arkansas last week. Meanwhile Kansas continues their rise with a 3-0 record to start the season. I can see this being a very competitive, high scoring game, but I like Kansas at home to edge BYU in a close one.
Kansas 34, BYU 31 – YEP