I'm not exactly sure how I ran into this 17-year old British guy living in England (imagine that!) who just so happened to be a rabid Auburn fan. I think it might have been Twitter (follow him). Yeah, I'm pretty sure that's it. At first, I had no idea he was from England (if I had known that from the start the William Wallace in me wouldn't have let the conversation continue), but once I started to get a few tweets from him that included a few British spellings like "analyse" and "theatre," I asked and sure enough he was a Brit.
We became friends on Facebook (I'm not exactly sure what the international laws are on transatlantic Facebook friendships with a 17-year old boy are so keep it on the down-low), and I immediately realized that this guy knew his Auburn stuff. He had only been following the team for a few years, but he already knew a lot about Auburn and the rest of the SEC. I thought it was also very cool that even though he's across the pond, he already sees what there is to love about Auburn and to dislike about Alabama.
If you'd like to see how much he knows, go watch some of his vlogs, and go read his relatively new blog. I like to think I'm his inspiration, but I'm probably not.
Anyway, I asked him to do a quick interview (that turned out not being so quick) just so we could see what it's like pulling for Auburn from around the world. Remember, this guy was born in England and pulls for Auburn. He isn't a grad that moved for a job. As you'll see in his responses below, he thinks just like we do, which only means that Auburn fans are not biased or paranoid or jaded. A guy with no real connection who has only been pulling for the team for a few years feels the exact same way. I knew we were right all along.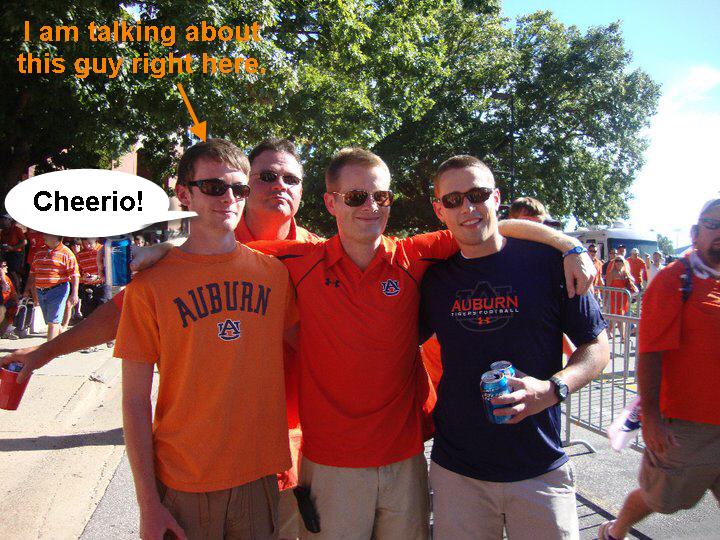 1. Tell me about yourself. Who are you? What do you do? Where do you live, etc.?
My name is Ross, I'm 17, and I currently study Travel and Tourism. I'm not sure what I want to do just yet with my life. I currently live in England and apart from American football my other two favorite sports are soccer and basketball. I bleed the good kind of red (for Arsenal) and I'm also a Knicks fan (who also sport orange and blue)!
2. Explain how you became an Auburn fan.
It started around the end of the 2007 season when I first got into American football. I have an American uncle, two half-American cousins and an English aunt who got me into the sport. I started out as a Carolina Panthers fan.
Around November, I delved into Auburn football, and the first game I watched was the 2007 Iron Bowl. I heard all about "fear the thumb" and how Alabama was our biggest rival. It was not a high scoring game, but I enjoyed it nonetheless.
Several players I enjoyed watching were Brandon Cox, Patrick Lee, and Ben Tate. Ever since then my interest in Auburn football began to grow, even though the next season wasn't a good one. I started to feel attached to the program even though I never went to school there, and probably never will.
3. Do you remember what exactly started your interest in the Tigers?
Can't remember exactly. I knew my cousin went to AU from 2005-09 so I think it had something to do with that. I loved the sport as a whole so I think I just gained an interest and I really started to enjoy it.
4. Since becoming a fan, what have been your favorite things you've learned about Auburn football, tradition, etc?
All sorts of things. Ever since I started studying the history, I loved watching videos and hearing about the eagle flight before home games. I think it is such a cool thing that gets the crowd really into the games. I got to experience it once, and I won't forget it.
I also loved reading about Bo Jackson. I wasn't even alive during his college career, but from seeing his highlight videos, he had the blazing speed that was rare back then. There have been so many other things I loved reading about such as Jordan-Hare stadium, the 2004 Auburn team, and even the rivalries with other schools.
5. Besides College Football, what is your favorite sport to watch and who is your favorite team?
A lot of my followers may already know that I'm an avid English football fan. I grew up loving the sport and have done since I was little. Ever since then I have been a big Arsenal fan. I loved the team for about 10 years and they have been very successful.
Since I started supporting them they have won two Premier League titles, three FA Cups, and two Community Shields. Arsenal also went unbeaten for the entire 2004 season (strange comparison to AU I know). However, unlike in College Football, unbeaten seasons in the Premier League are extremely rare. Arsenal are the only Premier League team to ever have an unbeaten season and I don't expect it that record to be broken anytime soon. Whenever I heard the number "49" it reminds me of that season, since that's how many games Arsenal went unbeaten that season.
Arsenal have had a slump recently, however I believe we will get back on track very soon. I'm proud of this team's history, and the players it has had and currently has, and my love for the team will never die.
6. Who is the Bo Jackson of soccer?
In terms of best ever, it is hard to decipher one particular player since there have been so many. One man in particular who I think compares to Bo in terms of his legend has to be Thierry Henry. Henry played for Arsenal, and has gone down as the best player in Premier League history. He was a favorite among fans and the media as well. He had a great career at Arsenal, racking up 174 goals in 254 appearances.
He had this very rare presence on the ball and held a sense of elegance in his play. Scored some brilliant goals as well as great off-the-ball moves as well. Definitely one of the best ever overall, and you won't find many that genuinely argue with that point.
7. Okay, enough soccer, back to real football. What are your top three Auburn games and why?
I've only ever been to one game. But in terms of ones I've watched: 2009 vs. WVU. It was Chizik's first BIG game as Auburn's head coach against a WVU team that beat us the previous year and went to a BCS Bowl as well. Auburn made a great comeback and it showed the resilience that Chizik has instilled into the program.
The second is 2010 vs. Arkansas. It impressed me because prior to Chizik, Auburn was not known for scoring a lot of points in games. Scoring 65 against Arkansas would make anybody smile. Cam Newton had a field day against the Razorback defense and it had made my week.
Third would would have to be the 2010 National Title game. I think this one would be in anybody's top three and rightly so. Prior to this game, Auburn's defense was being picked against since they were facing a "fast" Oregon offense. The defense held their own and limited Oregon to just 19 points. Of course the win also meant we had won our first National Title in over 50 years, which was a special moment for every Auburn fan.
8. Who are your top three players and why?
My top three favorite players are Kenny Irons, Quentin Groves, and Kodi Burns. Kenny didn't play when I saw my first game in 2007, but I saw highlights in his games prior to the 2007 season and he was nothing short of remarkable. He had this explosiveness about him which was really awesome. I would love to see him under Gus Malzahn's offense.
I like Quentin Groves because of how dominant he was on the line. He was a great pass rusher and of course he is Auburn's career record sack holder.
I like Kodi Burns because of his overall story of an Auburn Tiger. He showed resilience through his career, and never gave into his critics.
9. As an outsider, someone that wasn't born with an allegiance, how do you view the Auburn fan base in general?
I love the fan base. I view it as a loyal, faithful, and overall nice bunch of people. A small example I can give is when I went to my first game this past season at Jordan-Hare. My family and I were having a tailgate party at my cousin's friend's house and on the way to the game he was nice enough to buy me a game programme (WB: love that spelling) right out of the blue. It's not a huge example, but I remember thanking him dozens of times and thought it was a really nice thing to do, considering he didn't know me all that well. The fan base as a whole is friendly and polite and that goes a long way in terms of first impressions.
10. From your limited time as an Auburn fan, who is your favorite SEC fan base aside from the Tigers? Who's your least favorite and why?
I haven't been able to experience every fan base in person, but so far my favorite is probably the Kentucky Wildcats. They have more of a basketball school, however the way they act towards opposite fans is different than any other SEC fan base. There's not as much trash talking, as they know their school is not a football school.
My least favorite has to be Alabama fans. Even though I am an Auburn fan, Alabama fans still take the cake as the worst in my book. They have done some unclassy things such as waving money to Cam as he came out of the tunnel in Bryant-Denny, playing some unflattering music, and they also make excuses for every single loss. Things like "we were off" or "our guys were injured" or "you got lucky". I have rarely heard a simple "congratulations" from them.
11. Can you smell Tuscaloosa from there?
I can at times and other times I can't. I can really only smell all the BS they make up about Auburn every day of their boring lives.
12. What kind of looks do you get when you wear Auburn gear around town? Do people even know what Auburn is over there?
I don't really get any looks, because people don't really know what its about. Sometimes I'll wear a t-shirt or a hat around, but it is extremely rare that people will recognise(!) the logo. But, I have rarely seen anybody wear a college football logo that I recognise, I did once see a man wearing an LSU sweatshirt and probably would have stopped to talk if I hadn't had errands to run. But when people do ask me what the logo means, I usually have to explain the entire college football to them. I don't mind doing it since I enjoy talking about it, but because of the complicated BCS system (cough, cough) a lot of people won't get it. Overall its rare anybody knows what the shirt means. The only people who do are probably my family.
13. Is College Football growing in England?
I will honestly say that I don't believe it is. I do however think the NFL is growing here since we have get a regular season game in London every season. I don't have many people to talk to about either, however people on Twitter keep me going. A short answer here but I don't think it is growing.
14. What exactly are crumpets, and do you really eat them with tea?
I don't eat crumpets, actually I don't know anyone who does. A crumpet is basically a breaded snack that you can toast and put butter on. I consider them being like scones or biscuits. Though I do drink tea, but like I said I don't eat them and I don't know of anyone outside Buckingham Palace that does.
15. How difficult is it to keep up with Auburn and watch games from across the pond?
It isn't particularly hard, but it isn't that easy either. Since the start I've had to look up online streams on the net, but they aren't always reliable. I missed Cam's 10 yard touchdown leap against South Carolina earlier this season because of a laggy stream. But apart from that I haven't had much issues with it, apart from it sometimes being poor quality. Though I did get to see the BCS National Championship game on my TV since I bought a subscription to an ESPN-based channel that broadcasts lots of American sports. There is also nowhere to buy any Auburn stuff, which is why whenever I visit Alabama I always stock up on new stuff!
16. Tell us more about your first trip to Auburn.
My first ever Auburn game was the Arkansas State game on the opening day of the season. I loved every minute of it. We went to Tiger Walk, and it was one of the most surreal experienced of my life. Watching these guys on a computer screen for the past year felt more real than being inches away from them. It was awesome, and one thing I can remember was that I was shouting the players names at the top of my lungs! An unbelievable feeling indeed.
When the game started I was experiencing all of the pre-game stuff, like the band marching around the outskirts of the field, the eagle flying, the players coming out of the tunnel, and of course the pre-game video. The stadium was loud, and I could sense a warm and positive feeling throughout the game. It was an experience I hope I never forget. The day after was when I was going to fly home, but at the end of the game all I wanted to do was stay for the entire year and witness (what would be) a great year.
17. If you could take the Queen of England to any Auburn game, who would be the opponent and why?
I think it would have to be an LSU game. The LSU fans have a reputation of being nutty and crazy and I think that would get her really riled up. She would either be disgusted with the actions or language or get really competitive and start to trash talk. She is 84 years old, which is never a too late of an age to start trash talking your opponent!
18. Is there a rivalry like the Iron Bowl with any sports in England?
There are a few, and it really depends on which sport. In English Football, my favorite team Arsenal have a big rivalry with Tottenham Hotspur since they both play in North London. It is always mayhem on and off the pitch when they play each other, but in a way it helps make the sport much more competitive. I'm as big as of an Arsenal fan as they come and I have grown to dislike the team, and the fans are some of the most delusional. But I'm not going to generalise, since you can get the odd on or two that speak common sense.
19. If you had your choice of another team to pull for, because we all know you don't really have a choice anymore, who would it be and why?

If there was another team I could be a fan of it would probably be LSU. I'm a big fan of defense in college football and LSU has that almost every year. They recruit some great players as well, since they churn out a lot of NFL prospects annually. Another reason I like them is Patrick Peterson. He was my favorite non-AU player this season and I think he is destined for a very good NFL career. I like his great combination of size and speed. The atmosphere at the stadium also seems pretty crazy, plus they have a very good home record.
20. What would it mean to you to attend Auburn University?

It would mean the world to me. I know Auburn is a great place to attend for education and if I could choose to do something there it would probably be journalism. I do love to write about sports (hence the blog I write), however I am hoping to take on a qualification in journalism when I finish this current semester.
I haven't taken a detailed tour around the classrooms at Auburn (just Jordan-Hare and a bit of student housing), but being able to wake up every day living in Auburn would be great. I'd see football games every Saturday, baseball games in the summer, and of course several basketball games in the brand new area they built.
Thanks again, Ross. You're a grand ol' chap!