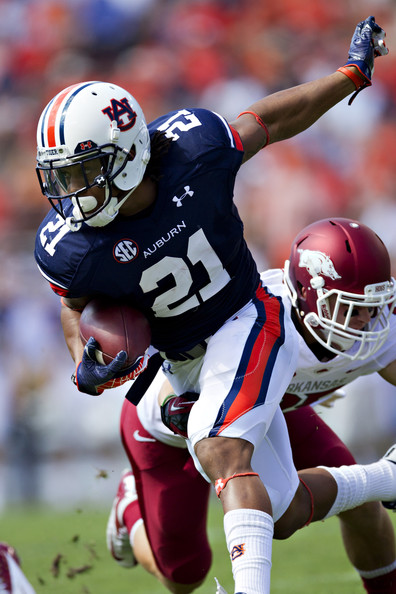 Well, it happened again. The Arkansas Razorbacks and their inexplicable ability of making Auburn fans go into a game with a glimpse of hope and leave without an ounce of it, rolled into Jordan-Hare stadium and hung around long enough for Auburn to beat themselves on Saturday. I warned you all week that they could do it, and they did. They've done it a thousand times before.
The Razorbacks are Auburn's Achilles' heel if there ever was one. They couldn't beat LA-Monroe or Rutgers, but they go on the road and beat Auburn? They gave up 100 points in their two previous SEC games, and then hold Auburn to 7? What? How does that happen? Here's how…
The Auburn offense has no flow. It has no rhythm. It couldn't even keep a simple limerick on beat right now. Why? I blame play-calling. I don't know if Scot Loeffler has full control of what is being called. We've seen that Chizik will put his influence on an offensive coordinator before. Either way, there were so many times on Saturday, and multiple times this season, that I knew exactly what was coming on the next play. And it wasn't a play that I believed would work.
You can bet money that if Auburn has 3rd-and-anything over 10, a draw will be called. This is the most frustrating thing about Auburn right now. It's not that Loeffler/Chizik is calling the play to gain a 1st-down. It's that they are calling this play, already conceding the drive, to gain three or four more yards in hopes to help with field position on the punt. It's a pansy move, and it proves there is no confidence in the offense. You know what won't give the offense confidence? Showing by play-calling that you don't have confidence in them.
Guess what, it really can't get any worse for the offense right now.  They might as well just go all out. Not to mention the fact that Frazier and the receivers had a pretty good day compared to games past. When he wasn't being sacked due to a pretty bad day by the offensive line, Frazier made some throws that he hasn't made all season. Yes, the Arkansas secondary is pretty awful, but it was happening either way. But, if Auburn was sacked, or had a dumb penalty, and got into 3rd-and-long, there came the draw. There were no risks taken. No shots. Just giving up on a long yardage situation. That's coaching, and that can change, or a change needs to be made.
That being said, this same offense scored ten points on the LSU defense two weeks ago, and only seven points on the worst defense in the SEC this week. That proves to me that the Hawg curse is real. How are we supposed to compete with that?
Oh, and about the quarterback switch. I didn't like it. I know they did it to provide a spark, but didn't we try that last year with the same guy? Nothing against Clint, but we know what we've got there. Frazier was not the problem. Yes, he held on to the ball a little too long, but he was given less protection than he's been given all season. We saw the exact same thing when Moseley came in. The problem was, again, play-calling and protection.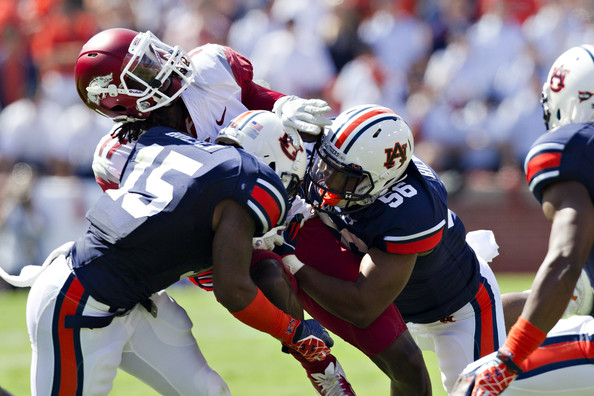 The defense, after being bashed for the first few weeks of the season, is improving every single week. That tackling issue is pretty much gone. The secondary is playing tight and breaking up more passes than I've seen in a while. The only problem they have is that they can't score points for the offense. They hold as long as they can, but if the offense isn't doing anything, the opponent stays in the game and eventually scores a few touchdowns. Right now, it would only take ten points, which would be a great defensive performance, to beat Auburn. VanGorder's seat is cooler than the offense. Note: Josh Holsey is my new favorite player. Dude is going to be good.
We know this team is not as bad as it looked Saturday. We've seen this offense play much better. The defense continues to play better. I thought this game was going to be a good easy start to a much more manageable October. The Arkansas curse wouldn't let that happen.
There are seven games left. Auburn can either make a huge turnaround or continue to go down the drain. Ole Miss and Vanderbilt are up next. Normally, that would look like two easy wins. Right now, nothing is easy. Until the offense shows it can score, it doesn't matter what the defense does. My choice is to stick with Kiehl, get back to the offensive line play from a few weeks ago, and things will get better. Give Frazier those throws he made Saturday, don't handcuff the offense with "field position" plays, and just let them play.
I don't call for Auburn coaches' heads, but I know if things don't get better soon, people who matter will. I don't want to see that happen. Small changes with this talent can help. Let's start there.