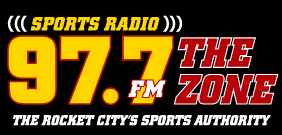 A few months ago, I made my first radio appearance with a quick chat about recruits, blue helmets, etc. on Cubelic & the Kid. This morning I made my second radio appearance on Cole's show to discuss my trip to the ESPY's.  If you just can't wait for my recaps (that will surface this weekend), you can listen to the segment below.
The first few minutes were cut off, but you will hear me talk about eavesdropping on Brookyln Decker, interviewing T'sharvan Bell's favorite player, and the snubbing of Auburn. We even talked a little bit about the non-story that Pete Thamel released while I was out there. I plan a post on that topic soon as well.
[audio:https://warblogle.com/audio/ColeCubelicShow_7_15_11.mp3|titles=Cole Cubelic Call – 7/15/11]
Can't see the audio player? Click here.
You can listen to Cubelic & the Kid every morning from 6-10 am CT on 977thezone.com or 97.7 FM if you are in the Huntsville, AL area. Follow him on Twitter at @colecubelic, his sidekick Casio Kid @themattmitchell, and his producer @lordmoulton.
If you'd like me to do a podcast, your radio show, or your TV show (I will wear a mask), you know where to find me.