I love brackets. I mean, I really love brackets. Especially double-elimination brackets. I don't really care who's playing. I just love to watch how they unfold. Double elimination brackets do always have the ridiculous "if necessary" game, but there really is no better option.
For years I've tried to come up with a better solution for the common situation where a team wins their first two games and then has to get beaten twice in a row by a team that probably lost their first game and then won five straight to get back to the championship. It's just not fair. Why should a team be rewarded so much just for winning two early games when another team lost one but wins three or four? Oh well, it makes it fun, I guess.
Anyway, here's how I think the bracket will end up looking when all is said and done. No, I'm not crazy, the two undefeated teams in the 3rd round switch brackets. That's why it looks like the winner of the Alabama/Florida game is Vanderbilt. I also explain each team's trek through the bracket below.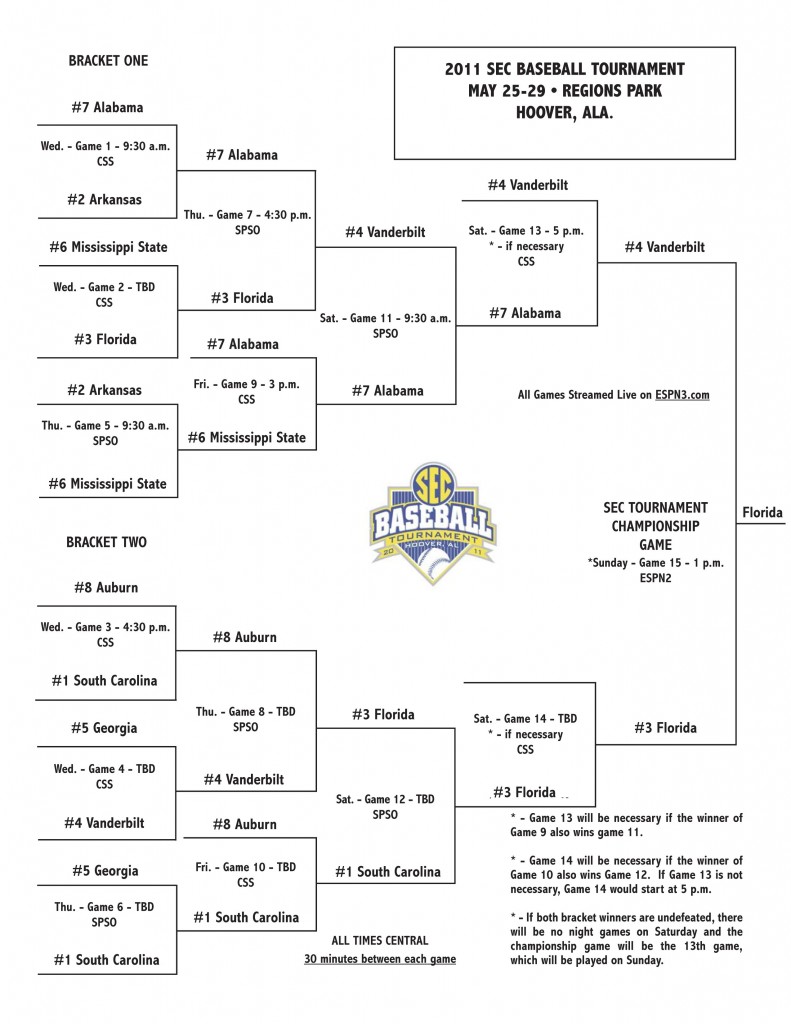 #1 South Carolina – This season, the Gamecocks won the regular season SEC title. Last year, they were 0-2 in the SEC tournament as the 3-seed (our beloved Tigers knocked them out), but as you'll remember, they went on to win the National Championship. I got the sense that they had more important things on their mind last year, and wanted to get a little rest before the NCAA tournament. It obviously worked. For some reason, I have that same feeling this year. I mean, if you think playing four games to win a conference tourney title will hurt your chances to win a national title then by all means, get out ASAP.
Their trek: they'll lose early to Auburn (who is playing for their NCAA tourney lives), accidentally win one against UGA, knock out Auburn (who will have an NCAA spot by that point), and lose to my pick as the SEC tourney champ, Florida.
#2 Arkansas – Yeah, they won the West, but Samford, Troy, Jacksonville State, etc. could probably claim the same thing this year, too. The Razorbacks lucked up and somehow landed on top on the last day of the season, and I guess is just as deserving as anybody, but don't let the #2 next to their name fool you. They are probably no better than 6th in the conference.
Their trek: the Hawgs will lose in the first game of the tourney to the always-better-in-Hoover Crimson Tide, and bow out of the tournament in front of a just-glad-to-be-back-in-Hoover Mississippi State crowd.
#3 Florida – Without the West division leader's mandatory #2 seed, the Gators would be in that spot. They would only be there because of losing a tie-breaker with South Carolina. They are very, very good and will be playing for national seeding. They need a tourney title a little more than South Carolina does and will take this weekend a little more seriously.
Their trek: the Gators will embarrass Mississippi State in their opener, avenge last year's tourney loss to Alabama, and after switching to the bottom bracket, will send the Gamecocks home before beating Vanderbilt in the Finals.
#4 Vanderbilt – It really irks me that Vanderbilt is actually really good in every sport but football. I don't think they should be good in anything. I'm sorry, they just shouldn't. I guess I should say they shouldn't beat Auburn in anything. That's what I really mean. In fact, Auburn was swept in baseball, lost in basketball, and even lost the last football game to the Commodores. That should not happen. Well it has, and considering how good Vandy is this year, it will happen again in the tourney.
Their trek: they'll take out a Georgia team that needs three wins to make the NCAA tourney, beat Auburn (again), switch brackets, lose in front of the Bama crowd, but then send that Bama crowd home unhappy. Finally, the 'Dores will lose a close one to Florida in the Finals.
#5 Georgia – Everyone wants to talk about how great the SEC East was this year. Yes, the top three teams were absolutely awesome, but after that you get a 16-14 (SEC) Georgia team who, as I mentioned before, needs three wins in the tournament just to break .500. I'm still reeling after the Mother's Day Meltdown, so forgive me, but Georgia's trip to Hoover will be just as quick as their "classy" football team was to rush the field to fight in this year's game on the Plains.
Their trek: loss to Vandy, DUI, bigger loss to South Carolina, hit and run (not the baseball kind).
#6 Mississippi State – It's late, so I don't really care to look up the last time the Bulldogs have been to the SEC Tournament. I just know it's been a while. I don't much about State, other than that they swept Auburn in a low spot of the season for the Tigers. Basically, they're just another mediocre West team.
Their trek: State will lose big to Florida before knocking out the undeserving Hawgs, only to lose to the home team Tide.
#7 Alabama – Alabama usually plays well in Hoover. Probably for the same reason they played well at Legion Field. Probably for the same reason we call it "Bammerham." This is pretty much a home tournament for the Tide. Their fans will make up the majority of the crowd in every game (the closest would be LSU and Auburn). They were nothing special this year, are wearing atrocious camo hats, and like every West team so far…is mediocre. But they'll win more games than they should. For example, last year they were also the 7-seed, but knocked off the 1-seed Gators, and played in the Finals against LSU.
Their trek: the Tide will open up the tourney with a win over those lowly Hawgs, but lose to the much better Gators. However, they'll squeak one out against Vandy, but fall prey to that pesky "if necessary" game against the 'Dores.
#8 Auburn – In one inning, Auburn went from playing 7-seed Alabama as the 2-seed, to the last seed in the tournament playing the best seed of the tournament. One more win would have given the Tigers the West title. Instead, they ended up being stuck in a 3-way tie with Mississippi State and Alabama.
Auburn won the season series against Alabama two weeks ago, and Auburn and Alabama ended the season with the same SEC record, but because of a dumb first tie-breaker rule, Alabama was seeded higher than Auburn. Oh well, Auburn just needs to win one, but it sure would be easier to win one against Arkansas, a team the Tigers took two of three from earlier this season.
South Carolina swept Auburn this season, but the Friday night game was a one-run walk-off win by the Gamecocks. In their opening round game, both teams will be using the same pitchers as that Friday night, and as I said before, Auburn needs one win to get in the NCAA tournament. South Carolina is basically using this as practice. Plus, the top seed has lost in the opening round the last five seasons.
Their trek: the Tigers will get their much needed win versus the Gamecocks, but drop another game to Vandy. South Carolina will send the Tigers home, but only to await their NCAA Regional location. I hope I'm wrong about all those losses, but I'm just calling it like I see it. We just need one, and we'll be happy if that's all we get.