Alright, new strategy. Now that football is basically over, and the weekly recurring posts will be put on hold, I am going to post the Mailbag on Tuesday, Wednesday, or maybe even Thursday, depending on the amount of posts I have on any of those days. And at least for the time being, I won't stick with "Tuesday Mailbag" even if I post it on Wednesday. I'll actually give it the name of the week that it was posted on. Novel concept, huh? I know you care.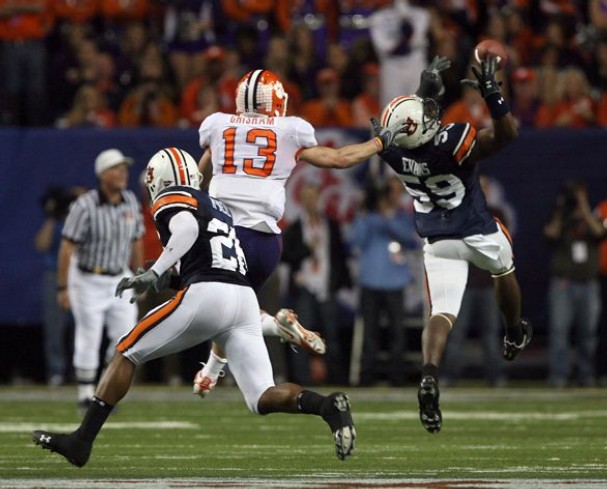 Lily has a question about where Auburn is going bowling. No, not the thing with balls and pins and awesome shoes. Like bowl games….
I want Auburn to go to the Chick-Fil-A bowl, but everyone is telling me they're going to go to the Gator Bowl… so if you have any information about the bowls could you please share this knowledge.
I believe wholeheartedly that Auburn will play in the Chick-Fil-A Bowl against an upper ACC opponent. Chick-Fil-A Bowl representatives have been at the last three Auburn games promoting their bowl very hard. The Gator Bowl does not even have Auburn listed in a poll on their website about who fans would like to see in their game.
The Chick-Fil-A Bowl pairs the SEC's #5 with the ACC's #2. Considering there are likely to be two SEC teams in the BCS Championship game, that moves Auburn up the list. Typically, the loser of the ACC Championship game (Virginia Tech vs. Clemson) goes to the Chick-Fil-Bowl, but if that is Clemson, I have a very hard time believing they would put the Tigers vs. the Tigers for the second time this year. Not to mention, the two teams open up next season in the Chick-Fil-A Kickoff Classic.
So bottom line is, if Auburn goes to the Chick-Fil-A Bowl, they will either play Virginia Tech or another "upper" ACC team like Florida State or Virginia. I'd be fine with either, but I'd love to play the Seminoles.
---
Jay and Jevon have Malzahn on the brain…
The season is over, so the speculation begins. Hypothetically, if Malzahn DOES leave, who would you like to see replace him? And additionally, do we adhere to the up tempo offense he has installed or revert to a more traditional Auburn offense?
Do you think Gus Malzahn will leave, and if he does, what kind of offense should we run?
First of all, with every passing day, the likelihood of Malzahn leaving gets less and less, especially considering that most had him signed and ready to go to UNC as soon as the season was over. Well the season is over, and all I see is Ole Miss talking to Fedora, and UNC talking to Skip Holtz. Maybe what we all thought was true. Chizik sandbagged this year to take some of the allure off of Gus and keep him around another year or so. That's a joke, people.
But if, and that now looks like a big if this year at least, Malzahn does take a head coaching job, Auburn has to stick with his offense. All of these huge recruiting classes are here because of his offense. Changing the offense risks losing big time players that were excited about being a part of that style. I'm not sure there is anyone else that knows his offense more than Samford OC and ex-Auburn GA, Rhett Lashlee. It's tough to say that he's ready to be an SEC OC, but he knows the offense. We'll see…
---
Uncle Blogle wants to bring up Clemson again…
Have you heard about the new conference realignment rumor? Auburn and Clemson moving into the newly created SECACC Eastern Coastal Division. They will be the only 2 teams and will play 12 games a year against each other. 4 in Auburn, 4 in Clemson and 4 in Atlanta. They will also play in a bowl game which will rotate between Montgomery and Charleston.
That just makes my head hurt, so I'll just revert back to my answer to a similar question from last week.
I don't even really like playing Clemson to begin with, and no it has nothing to do with the game this season. I just think they are boring. There's really no advantage to playing them. If you beat them, nobody cares because they are perennial mid-level ACC team, if you lose to them, well you lose to them. It's almost like playing a smaller in-state team that could maybe, once-in-a-while, slip up and beat you. It adds nothing to your resume and could take tons away.

As far as playing them three times, that's just stupid. I was pretty irked when they announced Auburn would be playing them in the opening game next season. We finally get one of the prime time opening weekend games and we have to play Clemson again? That's just, like I said earlier, very boring.
So yeah, that's how I feel about your hypothetical conference from hell.
---
Nervous in Nashville watched the video that's been going around….no not THAT one. The one with a certain coach's wife speaking at a church.
I took a minute (or 12) to watch this infamous Kristi Malzahn video that has been spreading faster than tattoos on AJ McCarron's body. What are your thoughts on it? I want to believe it has been edited unfavorably but some of the things she said in the clip were a little surprising. Do you think it's hurting Coach Malzahn's credibility both with AU or with other schools?
My thoughts are that the video is heavily edited and was made by someone who watched Auburn and Gus Malzahn's offense bowl over his team at some point in the last three years. The cut-ins that ask a question or describe what's about to happen next don't even make sense and are highly exaggerated. Did she say stuff that an Auburn fan doesn't want anybody hearing out of context? Yes, and the video editor took those quotes and ran with them.
Mrs. Malzahn is nothing different than any other funny, outgoing, and maybe slightly kooky woman from the south. She shoots straight and has fun with it. She's Barbara Dooley minus 20 years. Every other fanbase wants to take it and try to turn it into some black eye for Auburn or Gus. It's not. It has nothing to do with Auburn, at all.
And if another school is now hesitant about hiring Gus after seeing some edited video of his wife talking at a Christian Leadership conference, then Gus probably doesn't want to be there anyway. Those are my thoughts.