15. Auburn 10 vs. Florida 7 – Nov. 4, 1989
Note: This game was #12 in the 2010 edition of this list.

How I Remember It: I'll be honest, the only thing I remember about this game is the video of the game-winning touchdown pass where Jim Fyffe sounds like his head is going to explode if he doesn't say "TOUCHDOWN AUBURN" one more time. I know Emmitt Smith was a Gator at the time, and if I remember correctly, he never beat Auburn (just like Tebow).
Yep, just checked, Emmitt never beat Auburn and this is how mad it made him.
What Really Happened: Auburn came into this game ranked #12 in the nation, Florida was #19. Auburn had a 6-2 record with two road losses to Tennessee (22-14) and Florida State (21-14). The Gators were 6-1, with an opening game loss to Ole Miss. Both teams were in the hunt for the SEC title with only one conference loss.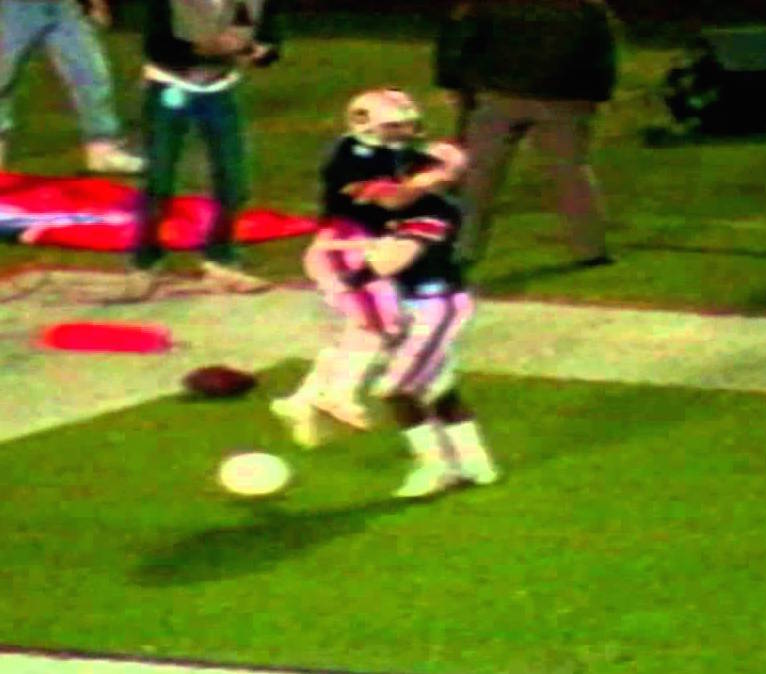 Emmitt Smith gave Florida the early 7-0 lead in the first quarter with a 5-yard touchdown run. The score would remain that way until the 2nd half.
The Gator defense held Auburn in check for most of the game, but Win Lyle would get Auburn on the board in the 3rd quarter with a 37-yard field goal.
Then…with 26 seconds left…on 4th-and-11…from the Florida 25-yard line, Reggie Slack connected with Shane Wadsden for the winning touchdown.
Why did I pick this game? Well like I said, I didn't remember much from this game (yeah, that whole 7 years old thing again), but I did remember Jim Fyffe's call from the game-winning touchdown (video below). It's probably one of my favorite Auburn calls of all time. Fyffe's "TOUCHDOWN AUBURN! TOUCHDOWN AUBURN!" seems to have a mixture of happiness, shock, anger, and revenge. Either way, it makes me feel like I could run through a brick wall.
After doing some research, this game should have easily made this list. It put Auburn in the driver's seat for their 3rd straight SEC title, and the Tigers had beaten the nation's best defense, and leading rusher Emmitt Smith.
Play of the Game: Slack's pass to Wadsden, obviously.
Player of the Game: I couldn't find many stats on this one, but given the score, there probably weren't too many stellar performances. However, Reggie Slack gets the honor for throwing the winning touchdown pass.
Game Story: Star-News
Pot Calling the Kettle Black: Gainesville Sun
Slack to Wadsden:

You can view the rest of the 2015 edition of this list here.