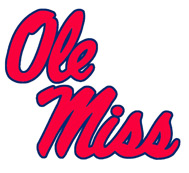 The last time Auburn traveled to the State of Mississippi, they left with a loss. The loss was due to the worst scenario in all of college football. A team that has never been a contender of this magnitude had the crowd, they had the cowbells, they had the national hype, and they had two touchdowns put in their laps before Auburn seemingly got off the bus. It was in the cards for Mississippi State. It wasn't in the cards for Auburn.
Now Auburn travels to the northern part of the Magnolia State to take on the once-and-recently-beaten Rebels of Ole Miss.
You'll remember that prior to their loss to now #1 Mississippi State that Auburn beat LSU by a score of 41-7. That same LSU team beat previously undefeated Ole Miss 10-7 just last week. Can you put these two games together and predict what will happen? Not necessarily, but you can't ignore it.
However, Auburn beat LSU at Auburn, and LSU beat Ole Miss at LSU. So both teams in this week's matchup between the Tigers and Rebels will be on opposite ends of that deal.
Auburn will be playing on the road for the third time this season. All three games have been to teams currently in the Top 10. What does that mean? It means that Auburn has a ridiculously tough schedule. It also means that Auburn has been in a hostile environment twice before. So that shouldn't be against them.
Even so, Ole Miss seems to be the least hostile of the five road games (all likely against Top 10 teams) that Auburn will play this season. Aside from just being there for the party, the thrill is gone for Ole Miss fans. They lost to LSU, like they knew they would, and the All Mississippi, All Everything has taken a hit.
Now, the first ever College Football Playoff Poll didn't seem to care too much that the Rebels, considering they are #4, but like the LSU game, Ole Miss fans expect to lose to Auburn. They've done it all but five times since 1972. That's a 5-25 record. The only good team Ole Miss has beaten since most of us have been alive was when Ben Obumanu dropped a for sure game-winning touchdown in 2003. The last two Auburn teams that Ole Miss beat (both in Oxford) had a combined 8-16 record. In fact, of the 5 games they've won since 1972, only one Auburn team has ended up with more than 5 wins (2003). This is a one-sided series.
Yes I agree that none of that matters specifically to this year, but it's in their heads. Ole Miss never expects to beat Auburn. They want to party and wear a bowtie and drink bourbon and tell you how great the Grove is. That's it.
So while they'll have the home field advantage, and while they'll be pumped for the kickoff, as soon as Auburn goes up two touchdowns, they'll be done. They'll look back to last week's loss, and they'll couple it with 30 years of losses, and they'll say "here we go again."
The Auburn defense will hem up Dr. Bo and keep him in the "Bad Bo" state. The Auburn offense will be too two-dimensional for the "Landsharks." Auburn needed a dogfight last week because it showed them they still had it against a team with nothing to lose. This week they play a team expecting to lose, and they'll make it happen. Marshall gets back in the Heisman race this week and the defense shuts the Rebels down in the 2nd half.
Auburn 35, Ole Miss 17