The last time Auburn (8-4) played a football game, they gave up 55 points to Alabama. In a slight positive, they scored 44 points. The last time Wisconsin (10-3) played a football game, they gave up 59 points to Ohio State. To make it worse, they scored 0 points.
Since the last time Auburn played a football game, they fired defensive coordinator Ellis Johnson. In a major positive, they hired Will Muschamp. Since the last time Wisconsin played a football game, head coach Gary Anderson left for Oregon State. In response, they hired Paul Chryst. Former head coach and current Athletic Director Barry Alvarez will be on the sidelines for the Outback Bowl.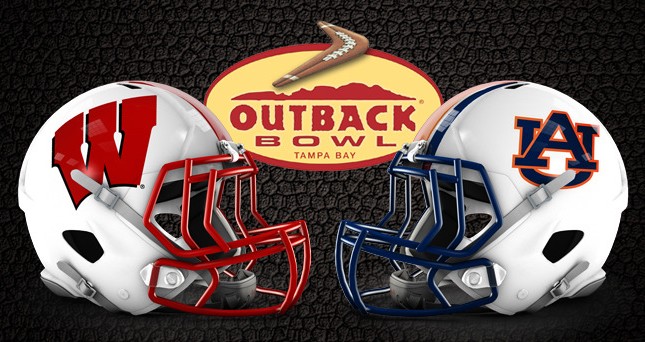 Bowl games are all about attitude and who really wants to be there. Both teams probably feel like they left a lot to be desired in terms of their records, but both have known for a while that their championship dreams were done for the season. That being said, both teams are fine with going to a good bowl game like the Outback Bowl with fun to be had and momentum to be gained for 2015.
If we strip it down and look at the teams at their core, both have talent and the ability to score points. We know what Auburn's offense can do. We also know now that they will be without an integral piece of the offense.
Duke Williams announced that he will be returning for 2015, but he won't be playing in the Outback Bowl due to a suspension for violating team rules. The scuttlebutt is that he was involved in a fight outside a bar in Auburn the day before bowl practices started.
Either way, he seems to be taking his punishment in stride, and not just jumping ship because he's angry about his suspension. That is very rare. He could be drafted this year, and most guys would leave as soon as they were told they aren't playing in the bowl game.
His loss may be felt, but as we know, he's not the only weapon. Sammie Coates, Quan Bray, Ricardo Louis, Melvin Ray, CJ Uzomah, Cameron Artis-Payne, Corey Grant, Nick Marshall. I think Auburn will be fine.
For Wisconsin, they are a one-headed monster. They have the nation's leading rusher, and Heisman finalist, Melvin Gordon. He has already declared for the NFL draft. He's the typical Wisconsin back. He benefits from a big, white, beefy offensive line and gains yards against slow Big Ten defenses. I'm not taking anything from him. He's good. But a lot of his good could've been due to slower competition.
The Auburn defense, through all their second half of the season faults, was usually good against the run. That's Wisconsin's only real threat. A big threat. But their only threat.
Even after giving the edge to Auburn in terms of talent, you have to wonder how teams will handle playing a month later, after a week of fun, in a game that really doesn't matter. They all matter, but we know outside the playoffs, these games are just for fun. They do give you a warm, fuzzy feeling going into next season, but it's a totally different team than what we'll see all season.
With the one-dimensional offense, an interim coach, and a lingering beatdown, Wisconsin will be the team with the most distractions and the least to play for. Auburn is a better football team from top to bottom, and they'll show that SEC is SEC.
Auburn 42, Wisconsin 24