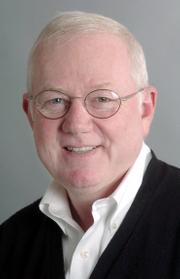 Wally Hall has been the sports editor columnist for the Arkansas Democrat-Gazette, the only statewide newspaper, for 30 years. He always enjoys his visits to Auburn, but next year's visit for football won't happen; that's the day his daughter chose to get married. He'll miss his first Hog football game since the 1988 Olympics. I, for one, would call in for updates…of the wedding.

1. What is the first thing that pops into the heads of Arkansas fans when Auburn football is mentioned?
That it's the school with the lousy basketball facility. Just kidding, probably first that Auburn was the school that tried to hire Bobby Petrino (Arkansas' coach) when it still had a coach. A close second would be Bo Jackson.
2. What do most Arkansas fans think of Bobby Petrino, and what are their expectations for Arkansas football under his tutelage? Are they afraid he will leave at the drop of a hat?
So far the fans really like Bobby Petrino and understand he took over a team almost void of talent, and that if he does leave it would mean he had put the Hogs back in the top 25 so he would be leaving the program in better shape than he found it.
3. What are most Arkansas fans' expectations for this game?
They expect a high scoring affair and that it could come down to who has the ball last. They also expect a great offense because of Gus Malzahn and that the Hogs have to be ready for his balanced attack.
4. Who are two generally unknown Arkansas players that Auburn should look out for?
Ronnie Wingo, a freshman running back and Lucas Miller a receiver just back from injury.
5. What is your prediction for the game?
49-42 Arkansas. With 17 seconds left Ryan Mallet hits D.J. Williams on an 8-yard play action pass in the end zone.
6. What do you think Auburn and Arkansas's final records will be?

Arkansas 8-4; Auburn 8-4 (Ole Miss at Auburn on Halloween is going to be a wild affair, but the Malzahn gets his payback).
7. Do you think the Arkansas administration will try to ban Tiger Walk like Tennessee's did. What do you think about that whole thing?
I think Arkansas respects everyone's traditions. Tennessee's football program is too west coast minded and continues to act like a bunch of high school freshman.
8.  How will it feel when Auburn avenges that fluke of a loss to the Razorbacks last year, and puts up 50 on the 'Hawgs?
I think Auburn is capable of hanging 50 on anyone and a lot of what happened to the Tigers last year was the administration's fault. Those things didn't happen on David Housel's watch. He was forced to get on that plane to meet with Petrino and even tried to talk the president, may he rest in peace, out of it.