Auburn is favored to beat Texas A&M by those in the desert. Well, technically they are a 2-point favorite, but those in the desert give most home teams 3 points by default. So, those in the desert are really saying that Texas A&M is probably one point better on a neutral field.
But Auburn isn't playing Texas A&M on a neutral field.
Auburn is playing Texas A&M at 6:30 pm in Jordan-Hare, over a month after their last night home game, also the last night home game of the season, with Auburn legend Carnell Williams now coaching the team.
The Tigers almost pulled off a big comeback last week in Starkville, but honestly, the last three games (Ole Miss, Arkansas, Mississippi State) have shown more promise, at least in terms of scoring points. Auburn has scored 34, 27, and 33 over that stretch. The four games prior that, the Tigers had not put more than 17 on the scoreboard.
Regardless of what your negative uncle tells you, there has been improvement. Auburn has been scoring points and playing competitive games, just before and just after the firing of Bryan Harsin.
The fans are pumped for Cadillac, and I am pumped for Cadillac, too. But I think last week's fight was just another game that allowed Auburn to gain and show the improvement they had been making.
For a time, Auburn's defense played the best they had played all season. We also saw the offense run the ball better than they had since Carnell was running it. Ok, not really, but it felt good to say.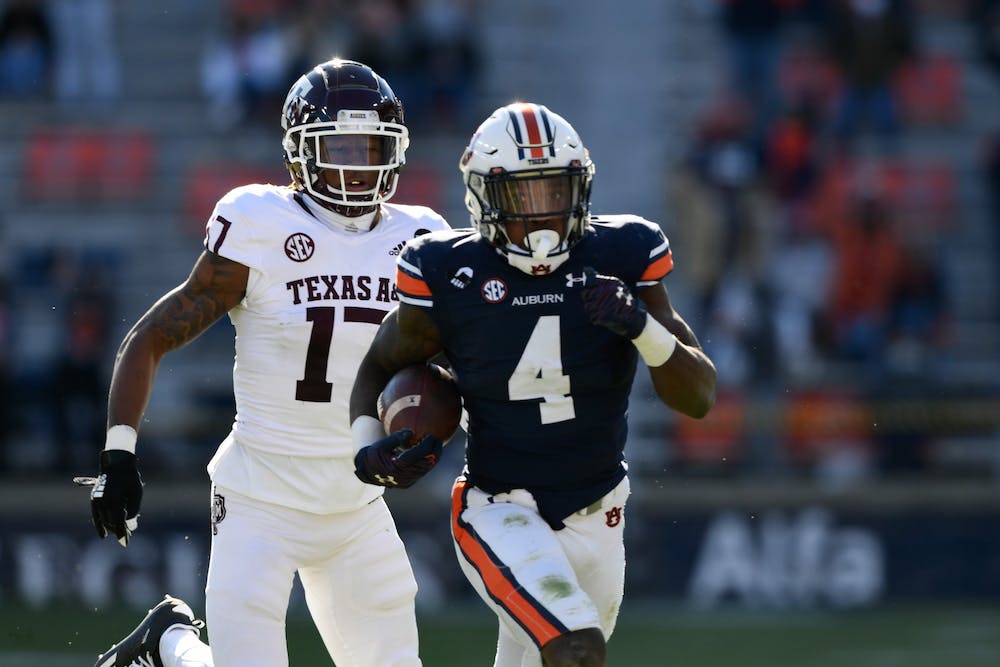 Plain and simple, Auburn has been on an upward trajectory for the last few weeks. It was jumped forward a few more steps last week. Texas A&M has been spiraling all season.
The Aggies want Jimbo gone or at minimum to hand over the play-calling duties. None of that is going to happen before the season is over. They are just dealing with it. They've lost 5 in a row, just like Auburn, but there hasn't been a good feeling to come out of any of them.
After Auburn lost by 14 at Ole Miss, Auburn fans were like "ok, fine, it was better." After Auburn lost in overtime at Mississippi State, some fans treated it like a win. That 4-point loss to LSU is looking really good (and really infuriating) at this point. Nobody has anything good to say about Texas A&M.
Jordan-Hare Stadium honestly may sound like an Iron Bowl this Saturday night. It's the first and last home night game in a long time. The promotion of interim head coach Cadillac Williams has excited fairweather fans. There's an SEC opponent that typically isn't an easy win that may actually look like an easy win.
It is the perfect storm for Auburn fans and players to get that one big, awesome, fun win of the year. We all kinda deserve it.
Robby will continue to use his legs on broken plays to score 2+ touchdowns. Tank will run a long one. Camden Brown will Moss somebody. Demons are exorcised. It will be an extremely fun night.
Auburn 31, Texas A&M 17