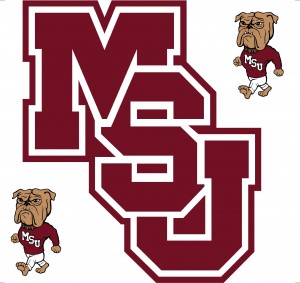 Did you know that last year's game between the Auburn Tigers and the Mississippi State Bulldogs ended with a 3-2 score? Yeah I thought so, but for some reason every blog, article, and TV sports show feels the need to remind us like we don't remember the near-end of the football world that almost occurred in Starkville last year. Last year's game couldn't be further from the minds of Auburn fans other than those looking for revenge. However, State fans seem to be using last year's score as a point of hope. Let me tell you why last year's game means nothing for hope or hype: new coaches with new offenses, the same level of talent, and the fluke factor.
I feel like I'm beating a dead horse on this, but obviously some people need reminding that both the Tigers and Bulldogs have new head coaches with completely new coaching staffs and new offensive philosophies (and no there are no similarities in Malzahn and Franklin's offenses other than that they both involve a football). Dan Mullen and Gene Chizik have no connection to last year's game and don't care one bit about it. That means that this game will played as if last year never happened, instead of the hypothetical scenario where Tuberville would take a knee for the remaining three quarters after kicking a first quarter field goal. This is a new series with no past.
Even though I've said enough, let's just go back and act like last year was happening again this year. Same coaches, same players, same everything, just a different year. Auburn would win 3-2 or by any score for that matter 99 times of 100. Why? Talent. Last year's mess was completely due to stupid, stupid, stupid offensive coaching starting in the preseason and continuing through the game I will not speak of. Even with the lack of a steady coaching presence and game plan, Auburn's talent was good enough to hold onto a game that they repeatedly tried to give away, and by repeatedly I mean every single drive…EVERY single drive.
The biggest reason that last year's game doesn't matter is because it was a fluke, a fluke of all flukes. Was Auburn only one point better than Mississippi State last year? No. There's a reason the 3-2 score was made fun and is still talked about today. It never happens. 3-2 sounds like a baseball or soccer score, and it was just funny to see on the ticker. Based on this fact alone, last year should be wiped from the memories of all Auburn and State fans.
Last week, Auburn and Mississippi State looked pretty explosive on the offensive side of the ball, but Auburn looked good against a better team in Louisiana Tech. Mississippi State played a team that no one has ever heard of outside of the state of Mississippi. This doesn't necessarily mean that Auburn is better than Mississippi State, but Auburn is better than Mississippi State. Gene Chizik is playing with a team with more talent and players that have experienced success in the recent past. They remember what it feels like to be respected as winners. Dan Mullen has excited the Bulldogs and their fan base, but the lack of talent will be too much no matter what offense is being run and how pumped the players are with a coach with Tebow on his resume.
Auburn is like a shark smelling blood in the water. They know what it's like to win and they can feel that on the horizon again. Mississippi State may be on the road to success with a new coach and a new mindset, but not this week.