It's hard to be worried going into a football game against Vanderbilt. It's even harder to be worried when they are 2-7. It's even harder to be worried when their stadium is under construction and only holds around 28,000 and more than half of them are Auburn fans.
Any worry to be had was nearly erased by Jarquez Hunter busting through a gaping hole and going 67 yards untouched on Auburn's 2nd play from scrimmage. It was one of those 'finally' moments.
Finally, Auburn opened a whole for a running back. Finally, an Auburn running back busted a long run. Finally, Auburn had a drive that looked like Auburn against a team like Vandy.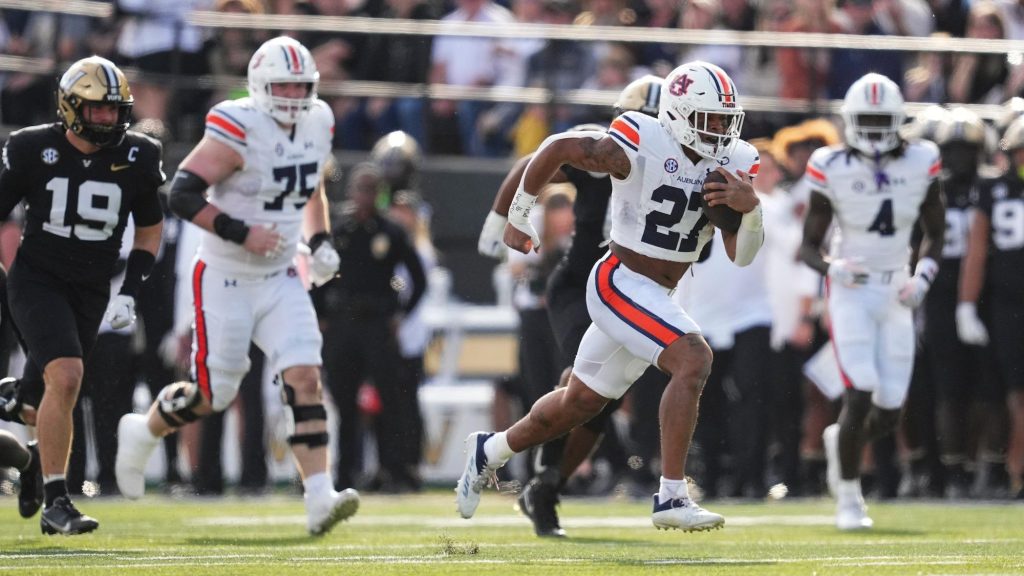 But then the next drive was a three-and-out that looked like many drives over the last year or so. In fact, for most of the game, if it wasn't a humongous gain, whoever was running the ball was stopped at the line. I didn't get it. Worry level: increased.
However, on the 4th drive, Jarquez was able to break a few tackles and get away for another long run. This time it was for 56 yards. It felt like 'finally' again. I have memories of Auburn running backs running the ball a long way. I haven't had many of those memories recently. It just felt like old times. It felt like Auburn beating Vanderbilt like Auburn should beat Vanderbilt and doing so with a good running game.
But then Auburn finished the half with 3 more punts, a field goal (after getting inside the 5 yard line and scoring, before the play was nullified by a tight end cut blocking for some reason), and then just a bad throw/decision backed up in the their own endzone.
So we've determined that Vandy's stadium sucks, right? Well in the case of the Thorne interception, he was standing in some brutal sun, and was looking into the shaded part of the field, where a Vandy defender laid in waiting wearing the same color as the shadow. It's like Boise State wearing all blue on their blue field.
Thorne said he didn't see the guy, and I fully believe him. He didn't see the guy wearing all black in the shadows. It happens. Note: a college football stadium shouldn't have that stark of a difference in sun and shade.
The 2nd half went like this: Auburn scored two touchdowns, punted three times, and took a knee to end the game. It still wasn't perfect, but Auburn scored on their first two drives, this time on Thorne's arm and some long runs after catch (the ones that were caught). It took Auburn's 10 point halftime lead to 24 points just 5 minutes in the 2nd half.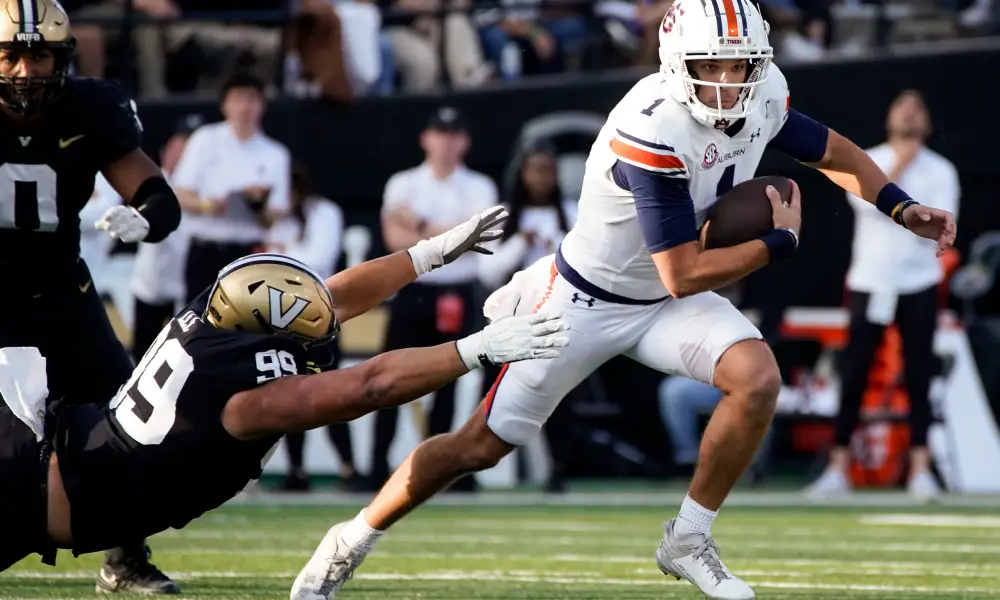 It got a little hairy when Vanderbilt finally started converting  3rd down conversions and completing long passes to wide open tight ends, but like Hugh likes to remind you, a 2 touchdown lead changes how you play. In this case, they had a 3 touchdown and 1 field goal lead.
Here's how Vanderbilt's 2nd half went: 1 touchdown, 3 punts, and 2 turnovers on downs. So yeah, it was never scary. It was just one of those weak, recent Auburn feelings where the lead wasn't 100, so it got scary.
It was a weird 31-15 final, which is a score that has never happened in Auburn history. It was solid. Auburn's offense has looked a lot better the last two weeks. It still has a ways to go, but it's way better than what we saw at Texas A&M and LSU.
The Auburn defense continues to be stout and allows Auburn to score enough points to win. Seriously, it might be one of the best secondaries we've ever had. And the defensive line got stronger as the game went on.
Next up are those hapless Hawgs that somehow beat Florida this past weekend, which I guess gives their 3-6 selves some momentum. We'll worry about that later this week, but for now Auburn is 5-4 and a win away from bowl eligibility. We'll take it, all things considered.