It's Payton Thorne. It was always Payton Thorne and will continue to be Payton Thorne. If you've read anything I've written over the course of this past summer and this season or have anything higher than a room temperature IQ you already knew this.
This is nothing against Robby Ashford. We love Robby, but what he is good at simply can't win SEC football games on a consistent basis. You have to be able to throw the football. Red Zone Robby can absolutely still be a thing, but it's time to let #1 cook.
Isn't it amazing what happens when a quarterback has time in the pocket and actually has an open guy to throw the football? I've been adamant on trying to get people to understand that Thorne hasn't been the main issue. Sure, he's missed some open throws, but I can make a two-hour docu-series of NFL quarterbacks missing open guys each and every week.
No quarterback is going to play an entire football game without throwing at least 2-3 inaccurate balls. It simply doesn't happen in this sport and it's infuriating when fans refer to "well if he had just made that one throw in the 3rd quarter yada yada yada." No, just stop with that silliness.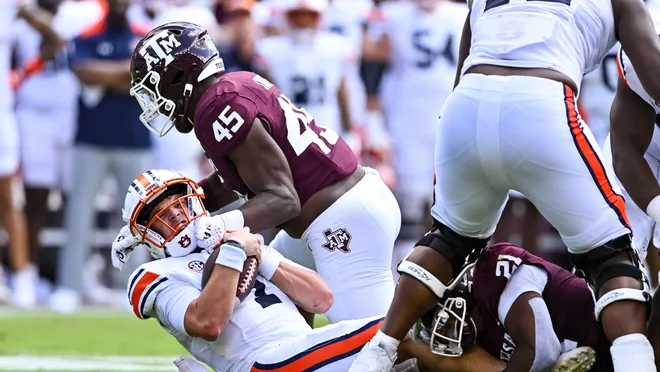 The majority of our issues in the passing game this season hasn't been the guy slinging the rock around. When you don't have a clean pocket or time to go through your progressions, that's a major problem. Look at guys like Carson Beck, no I'm not comparing Thorne to Beck, but look at the time that guy has in the pocket. He's never under any pressure and has time to get to his 2nd, 3rd, and 4th read almost every time he drops back. Of course he's going to look elite.
When you have time and have receivers that can create separation and win the 50/50 matchups, everyone praises the quarterback when, in reality, he's only 1/3 of the recipe.
I know we're all tired of hearing this, but I'm going to jump right back on this "talent gap" argument. It's not as severe as some people make it out to be. Unfortunately, the margin of error in the SEC in being a 6 or 7-win team and a 9 or 10-win team is very slim. You can survive a talent gap in this league depending on where you're lacking as long as it isn't in the trenches.
Auburn's offensive line is a decent unit at best. Out of the 14 SEC teams we're probably somewhere between 11-12 at the position as far as talent goes. On the defensive side of the ball, our front is solid, but we lack depth and Hugh even admitted that's why we haven't played with pace on offense up until Saturday.
I think the wide receiver position speaks for itself. We have a few pieces, but lack a true go-to playmaker. At the end of the day, with a mediocre offensive line and mediocre receiving corps, what you're seeing is a byproduct of that.
Auburn has played four teams where they had equal or better talent and won all four. Auburn also only lost by one score to the two best teams they've played so far. Again, yes there is a talent gap, but we're a lot closer than people think.
We have to get out of this "fire everyone, the world is ending" way of thinking when our problems are obvious and being addressed. Check the recruiting rankings and stay plugged in on that front because Auburn's time is coming. We've weathered the worst of the storm and have a great opportunity to be heading into the Iron Bowl with four straight wins.
Most of us predicted 7 wins coming into the season and have a great chance to do just that. It was unfortunate that we had to play four of our five toughest games consecutively, but it is what it is. Imagine the atmosphere in Jordan-Hare when Alabama comes to town and we're riding a four-game win streak. That will be an absolute dog fight and I expect Auburn to have more than puncher's chance to win that football game.
Get off the crazy train. The darkness is behind us. Get behind Payton Thorne, your starting quarterback, and let's finish this season on a high note.
First order of business: take care of Vandy. War Eagle Forever.