I had that feeling. I told you I did. It wasn't just based on wishful homer thinking or just relying on Auburn magic. I had that feeling. Auburn wasn't going to be as bad as their offense looked on the road at Texas A&M. Georgia isn't as powerful as they have been the last two seasons.
It was the first SEC game and the first big game of the Hugh Freeze era inside Jordan-Hare Stadium. It wasn't going to get stupid. It never got stupid. It was actually pretty pleasant for about 56 minutes of game time or so.
Auburn took the lead. Getting a first quarter field goal from the Tigers while Georgia yet again couldn't score any first quarter points felt good, but it was cautious. We knew what Georgia had on the sideline. We know what this year is mostly going to be. We knew the score popping up on jumbotrons around the nation wasn't going to incite some sort of hysteria, but Auburn wasn't getting killed like many of the best Auburn fans said would happen.
Then Auburn took more of a lead. Auburn ran the ball a little more, enough to get Jarquez close enough to run one in. It was 10-0 Auburn over #1 Georgia. I told you I had a feeling. It was going to be a nice, old school Deep South's Oldest Rivalry.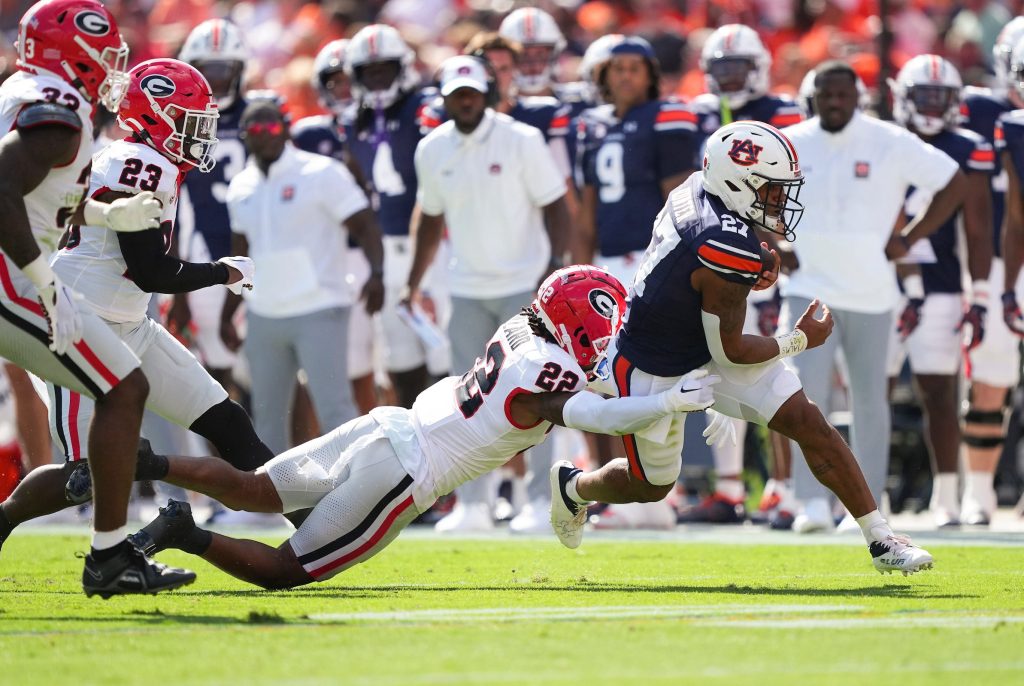 Then Auburn lost some of that lead and then lost the lead as a whole, as Georgia tied it up 10-10 going into halftime.
Auburn was tied with the #1 team in the nation, and it didn't feel like one of those games where Auburn got a few shock points to start it off and the real real Georgia started to show up once they got warm. It just felt like they scored 10 points and then the other team scored 10 points.
"Just win the second half," I told 14-year old Baby Blogle.
Georgia came out of the half with the ball, so a stop to show that the momentum wasn't going anywhere had to happen. It did. On the first play, Georgia completed a pass, then fumbled it back to Auburn. It was the stop that was needed. It was a stolen drive. It was a tiny bit of magic, but really just a football play.
Three plays later, Robby Ashford ran through the Georgia line, broke a few tackles, and high stepped into the endzone. Auburn held the lead again. Guys, this thing might actually happen.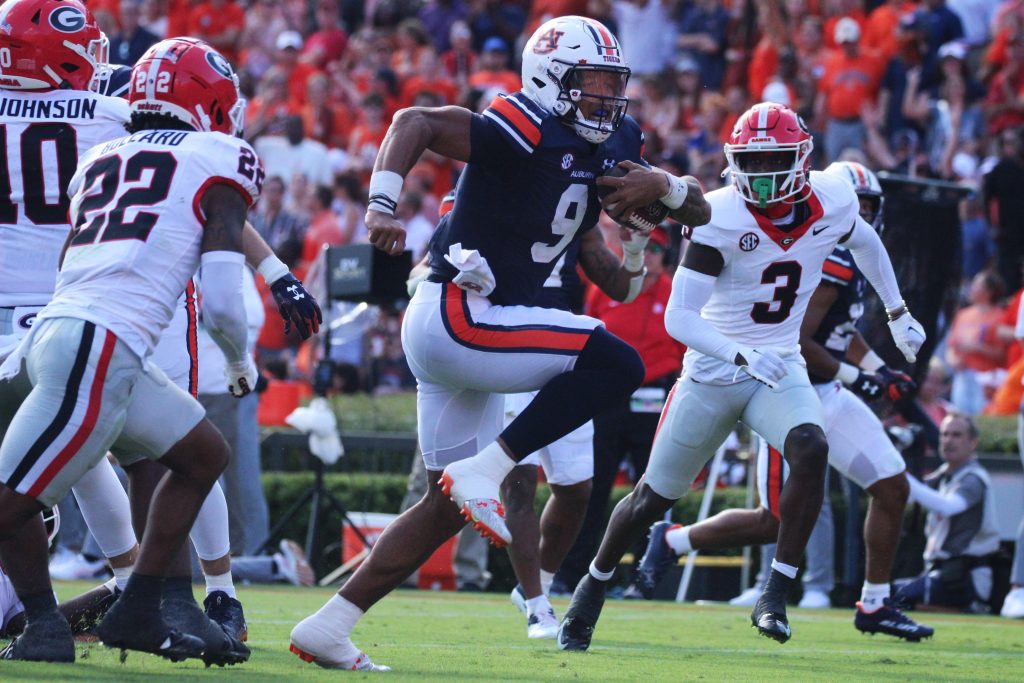 On Georgia's very next play, they appeared to fumble again. Ok that was Auburn magic. Auburn was about to go up 14 early in the 2nd half, and honestly that might've been enough to put Georgia away.
But the camera showed otherwise and the Bulldogs got to keep the ball. However, they didn't score on that drive, the ended up punting. Auburn still led Georgia 17-10 with about a quarter-and-a-half to play.
But Georgia did score their next drive, and the next drive, and the next drive. It didn't feel like that, but they did. In the middle of all of that, it was still just tied at the end of the 3rd quarter.
"Just win the 4th quarter," I told 14-year old Baby Blogle.
But what was a 7 point lead, with another field goal to make it a 10 point 2nd half for Auburn, turned into a 7-point deficit. Auburn scored 10 in the 2nd half, and Georgia scored 17. Auburn didn't win the 2nd half or the 4th quarter.
The biggest reason was obviously Georgia discovering Brock Bowers. Was it because the defense changed? Or because Georgia was holding onto the gameplan until the 4th quarter. Or because some of Auburn's best defenders were out. Or because he really was only open about 2-3 times, but people have blown it up?
Remember, he made two one-handed catches on bad throws while he was pretty decently defended. He's just good. He extended drives that may have lost them the game because he's good.
When it comes down to it, Auburn played with what some people still call the best in the nation. I know that wording might diminish what Auburn did, but you know I question motives about rankings with every ounce of my being.
It's Year 1 folks… actually let me just finish this out with what I tweeted after the game.
They blow out 2 cupcakes. They fly to the West Coast after midnight and scratch out a win. They go on the road for their first SEC game and let a bad matchup pull away. After that, they go toe-for-toe, and mostly outplay the #1 team in the nation. It's year 1. They don't suck.

— War BOOgle (@WarBlogle) September 30, 2023
They don't suck. They could've beaten Georgia in a very normal football game. That's what they can be, and what they are… in year 1.