You get this game once every two years, unless the SEC expands and it requires Georgia to travel to Jordan-Hare in back to back seasons, messing up all sorts of perfect Amen Corner majesty. The Georgia Bulldogs come to the Plains once every two years. One day out of 730 days.
It's arguably the 2nd biggest rivalry game on Auburn's schedule. If you live in the Eastern Time Zone, you might call it the biggest rivalry on Auburn's schedule. Either way, it's not the Iron Bowl, and it doesn't have to be. It may not mean everything to Auburn's season, but to many people, and much of Auburn's roster, it is their game.
Georgia has won A LOT over Auburn the last two decades. It doesn't make sense. Georgia hasn't been dominant during that whole span. Auburn hasn't been bad that whole span. Bad Georgia teams have beaten good Auburn teams in that whole span. Good Auburn teams have beaten #1-ranked Georgia teams in that whole span.
It doesn't make sense. It's not domination. It's a spurt. A blip. Much of it has just been an inexplicable outcome not based on the full season's results. People say you can throw the record books out in the Iron Bowl, which is not true. The better team usually wins. But it does appear to be true in the Auburn-Georgia rivalry.
I saw kids that didn't breathe air until the iPod was invented come out this week and say we shouldn't call this a rivalry anymore due to the lopsided record in Georgia's favor since they've been alive. Please, kid.
Even with Georgia winning a lot, even with Georgia winning the last six, the Dawgs only own a seven game advantage. For those that couldn't get into Georgia's elite math school, that means that Auburn held the advantage while some of you were just hitting puberty. For years, and fairly recent years, the overall record was dead even.
Did we say the rivalry wasn't a rivalry anymore when Auburn won 7-of-8 in the 80s or 6-in-a-row in the 50s? No, because you didn't experience it.
The fact of the matter is that Georgia has won many games over Auburn in the last 20 years when they shouldn't have. Years when Auburn was markedly better than the Bulldogs in every game but this one.
And now you see what Kirby is doing in Athens the last few years and think that's what Georgia has been this whole spurt. Georgia had been underperforming the last two decades until Kirby implemented Saban's loophole recruiting. The last 2-3 years are not what Auburn-Georgia has been since you were born.
Skip to this year and Georgia was preseason ranked #1, as most would agree they should've been. But they've come out in games against Ball State, UT-Martin, and UAB and been unable to get into the endzone until the 2nd quarter or given up way more points than any Top 25 SEC team should give up, let alone the 2-time defending national champions.
Then they hosted South Carolina and went into halftime down 14-3. Of course, they were able to come back and win by 10 against a mediocre team, but this isn't your newborn's Georgia. Their offense struggles mightily early and their defense gives up points to teams that you can't remember what conference they're in.
Has Auburn's offense shown much against better teams? No. Not on the road. But they're at home this week. The game you only get once every two years. It's Auburn-Georgia. It's different. It's been stupid for quite a bit. But it hits different.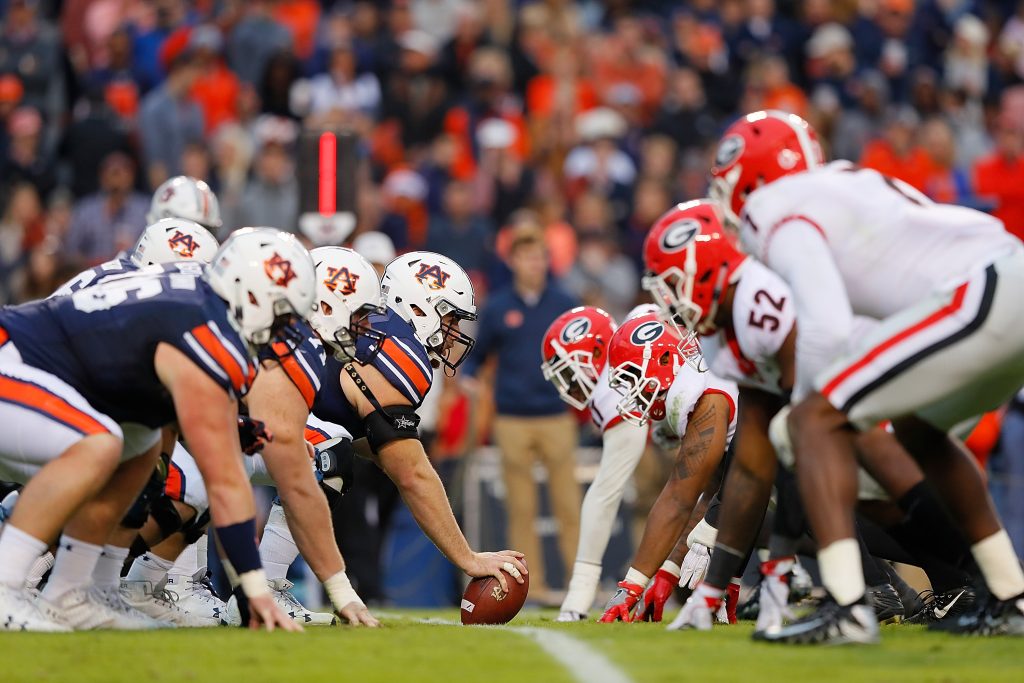 The last time Auburn beat Georgia (both at home) was 2017 when the Tigers throttled the #1 Dawgs. Before that was the Prayer at Jordan-Hare in 2013. Neither were huge shocks that Auburn won, but they were the heart-ripping types of losses that last forever.
What better time than now to give them another one as the unranked, laughed at, beat down, forgotten Auburn Tigers taking down the 2-time champions? It would hit just as hard as the ones before. It would be better if it was in November, but that's for another day.
When Auburn plays Georgia in Auburn, there's always a chance for magic, a hint of nostalgia, and the feelings that make being an Auburn fan great. It's Pat Dye. It's paper shakers. It's Bo Jackson. It's Junior Rosegreen. It's Cadillac. It's the Deep South's Oldest Rivalry.
It will be a slugfest with defense dominating on both sides of the ball. Auburn makes one more play and gets one back in this rivalry in the same that Georgia has done many times: when they weren't supposed to.
Auburn 17, Georgia 14